If you're working with a bride with alternative taste (one who cringes at the sight of three tiers of white fondant wedding cake), you'll love this collection of cakes that cast the norms aside.
Check out these top 7 avant-garde cakes, featuring tiers of bright and bold colors, sculptural shapes, and delicately artful styles.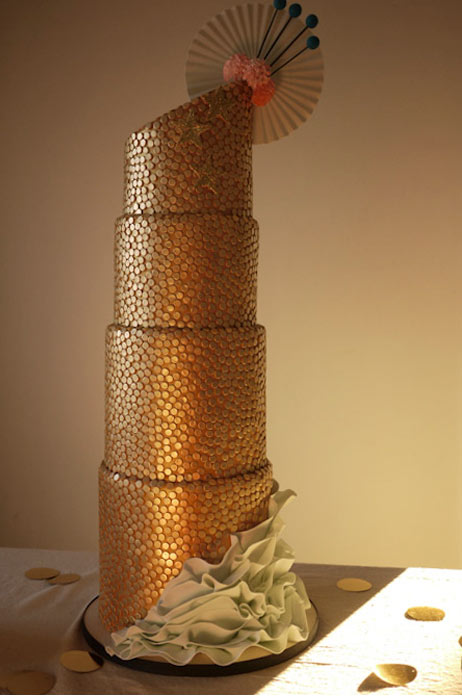 Photo via Charm City Cakes 
Gold polka dots and ruffled bottom cake:
This stupendously gorgeous cake would be the talk of the town, at any wedding! I love the confetti-like gold sequin dots covering this towering cake. The shape is very architectural, too. The slanted top tier and the fantasy pinwheel flower poking out of the side both complete this cake with class.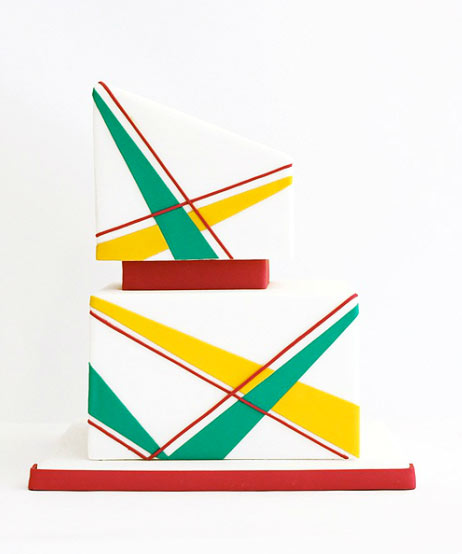 Photo via Eat Cake Be Merry 
Modern art cake:
It's like modern art for your mouth! This amazing cake features a slanted top tier and a design that is not unlike the artist Piet Mondrian's grid-based (and controversial at the time) paintings. I love the unique color choice of poppy red, emerald green and sunshine yellow. This cake would feel at home at both an artful wedding and perched on a plinth at a modern art gallery.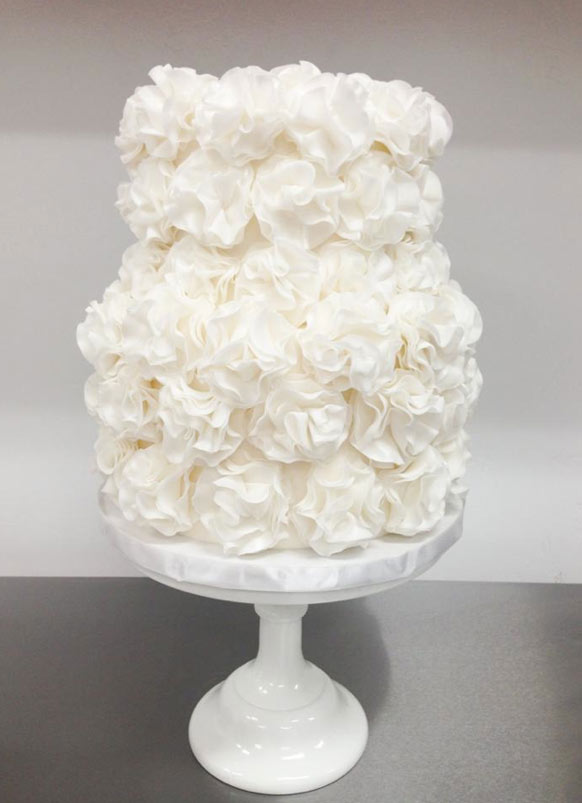 Photo via Sweet & Saucy Shop
Artful white puffy cake:
I love the sculptural look and feel of this white ruffled puffy sugar flower-covered confection. Doesn't it look like a modern art cloud? I like the idea of this cake echoing the design of a bride's dress: a tight bodice and a billowing cloud of ruffly flowers as the skirt!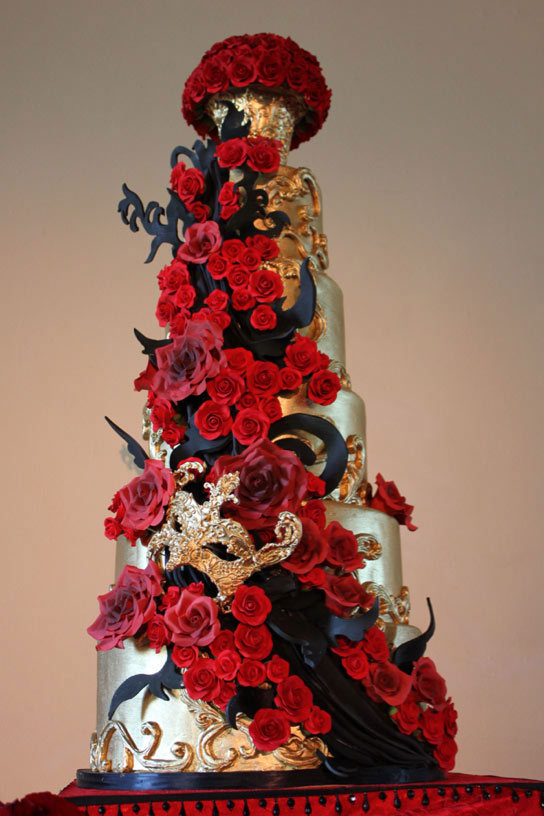 Photo via Cake Coquette
Phantom of the opera themed cake:
This incredible towering gold, black and red blockbuster of a cake was based on The Phantom of the Opera. The cake has a darkly romantic feel to it with the amazing blood red roses, gold fondant tiers and black fondant curls. Opulent, mysterious and very Avant-garde for a wedding cake.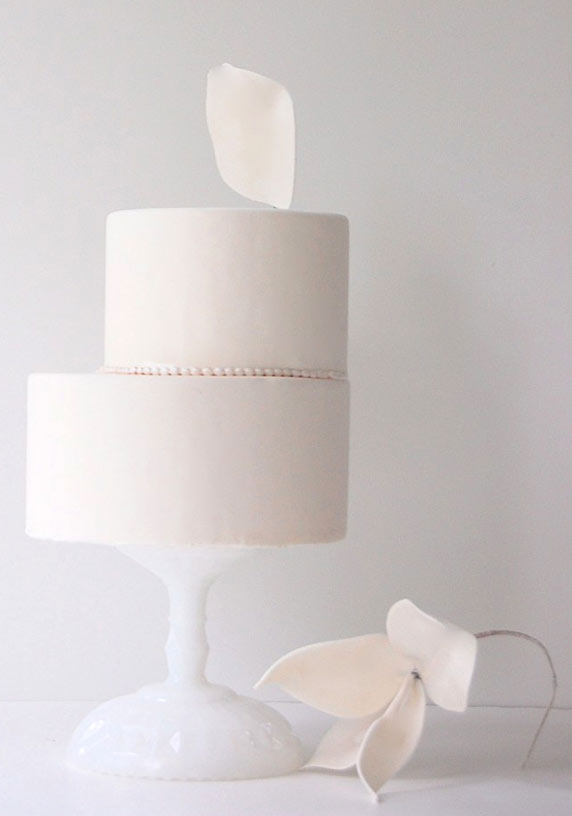 Photo via Maggie Austin Cake
Minimalist white cake:
As simple as this cake looks, it has an overall conceptual art feel with its bright white coloring. The tiny pearlescent beads and one single perfect petal sitting on the top, as though held up by air, are the perfect complementary embellishments. I love how the top tier sits nestled to the far right, like a cake step.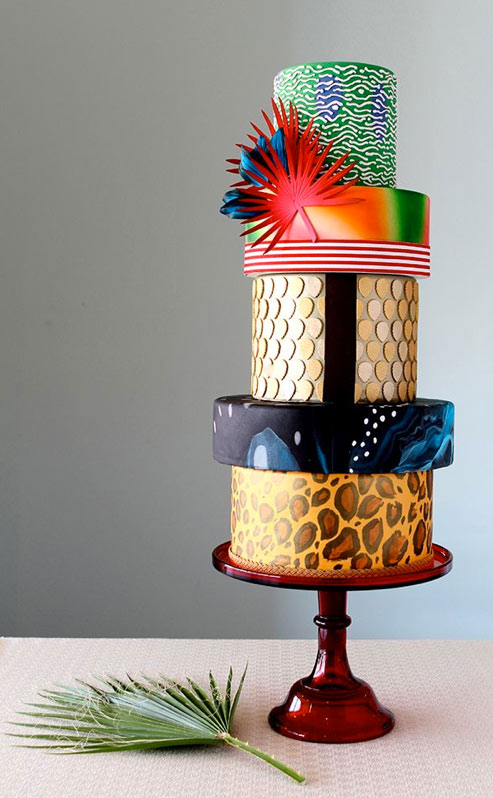 Photo via Charm City Cakes West 
Tiers of beautiful madness cake:
This gorgeous cake is designed by Katherine Hill of Charm City Cakes West, and what a stunner it is. One would think that combining so many different bold patterns and bright colors would cause clashing, but because the cake is so clean in its design and each tier is so different, it works! I love this cake, and the red palm frond and electric blue flower give it gorgeous added texture too.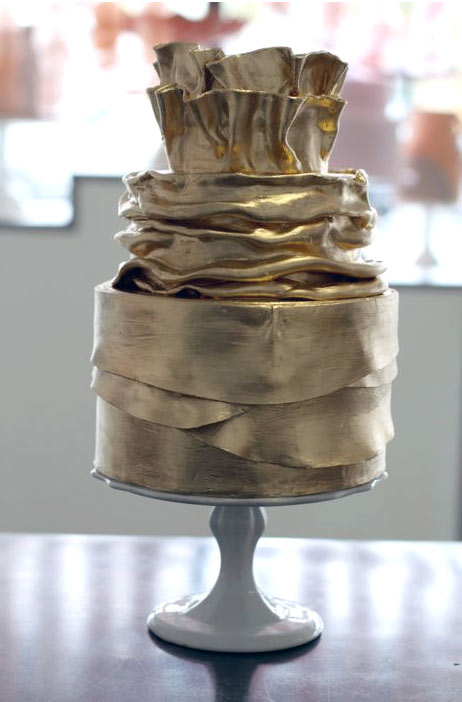 Photo via Sweet & Saucy Shop
Gold ruffled and ruched tiered wonder:
Champagne, caviar and a gorgeously gold cake! This cake reminds me of an episode of Say Yes To The Dress where a woman spends $34,000 on her dream wedding gown and it's a metallic silver Marie Antoinette gone 1980s gorgeous avant-garde dress. I love the gold wrapping and ruching of this ruffled cake!
Interested in exploring wedding cake possibilities further? Check out Craftsy's latest wedding cake design classes and projects. And come back to the Craftsy Blog tomorrow for a round up of absolutely gorgeous black-and-white cakes!
Which avant-garde cake is your favorite?