Trend forecasting is a surprisingly essential part of being a cake designer. In order to create beautiful cakes you need to keep up to date with new and innovative techniques, ideas, styles and fads.
Fortunately, we're always taking note of any current styles that just keep popping up so we've compiled a quick and handy roundup of what we think will be the definite and definitive 2015 cake design trends.
Discover the stunning cake trends that everyone will be talking about in 2015!

Photo via Juniper Cakery
Buttercream & naked
Lots of people aren't too keen on the taste or texture of fondant. Even delicious and good quality fondant have guests turn their nose up at the sheer sweetness of the stuff. Due to this we've noticed a definite rise in the request for buttercream covered or even naked cakes.
Buttercream cakes, however, certainly aren't what they were 20 years ago. They come in a variety of chic forms from super smooth tiers, fashionable ombré effects to carefree layered naked cakes. If you're designing and planning a buttercream cake think about stylish color palettes, sharp edges and corners, tempting drizzles, or stunning edible flowers!
Discover the art of working with buttercream with Joshua John Russell's FREE Modern Buttercream mini-class and sign up today for more tips, ideas and fabulous techniques!

Photo via Bluprint member Sockerrus
Sequins
Adding glitter and shine to a cake is the perfect way to instantly evoke a sense of glamor and impressive edible sequin encrusted tiers is one of the best ways to do this. They add a fabulous amount of texture alongside their hand-painted glimmer and their nod towards fashion helps make them not only look decadent but on-trend.
Don't go too overboard with this look and instead try to balance out any other tiers with different decorative effects from plain fondant, lightly textured or rustic buttercream! Why not even try the toppled look and add edible sequins to the top of the cake and falling down the sides gradually disappearing.
Make your own stunning sequin encrusted cake with the help of Erin Gardner's Cakes in Full Bloom class and enroll now! You'll also learn how to create bold and beautiful sugar flower arrangements — perfect for glamorous sequin effect cakes.

Photo via Juniper Cakery
Patisserie
An extra chic look can be achieved with the addition of tempting French patisserie-style treats such as madelines, macarons or mont blancs! Traditional French wedding cakes used tempting desserts in their construction as well as decoration with towers or tiers adorned with petite bakes royal iced to the sides (or attached with delicious caramels) and finished with tied ribbons or flowers.
Create cakes with a little je ne sais qoui and think about re-creating a unique macaron tower with carved cake as it's base shape, quirky color schemes or add different fondant decoration elements to the design. Why not even mix and match different patisseries from profiteroles to miniature pain au chocolate up the sides of towers or tiers.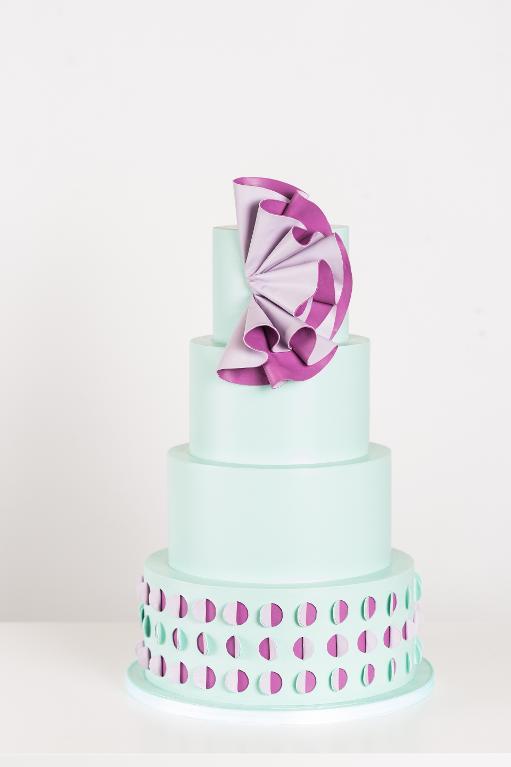 Bold
Steal the show with bold and bright cakes at any party with colorful and scene stealing cakes. This trend is perfect for anyone wanting a statement cake, but hoping for a more vivid and modern style design. Adding vibrant color to cakes can involve a number of fantastic different techniques and with cake design innovations growing by the day you'll certainly be spoilt for choice! Tinting fondant for different tiers or decorative elements is the most obvious solution with hand painting bright details another great way to liven up a design.
The gorgeous cake above features an amazing new technique and idea for adding some lovely pops of color throughout your next cake design! If you'd love to discover how to make your own bright and inspired cake design why not sign up for Rachael Teufel's Creative Cuts for Color Reveals today!

Photo via Juniper Cakery
Ornate
Statement cakes have been quite the favorite trend during 2014 with more and more people opting for lavishly decorated cakes rather than towers of cupcakes or cake pops. At our wedding consultations alone we have more couples asking for either dramatic designs involving edible gold painted flourishes, fondant swags, larger sugar floral arrangements, Rococo frames or plush quilting work.
For ornate styled designs why not take your influence from specific eras or art and history. Rococo is perfect for cake as it's highly decorative, romantic and decadent. If you're looking for a more elegant than ostentatious look than Georgian elements are aesthetic balanced, poised and sophisticated. Or if you're feeling rather ambitious why not opt for Italian Renaissance art and architecture as your inspiration for a look that's more dramatic and bold.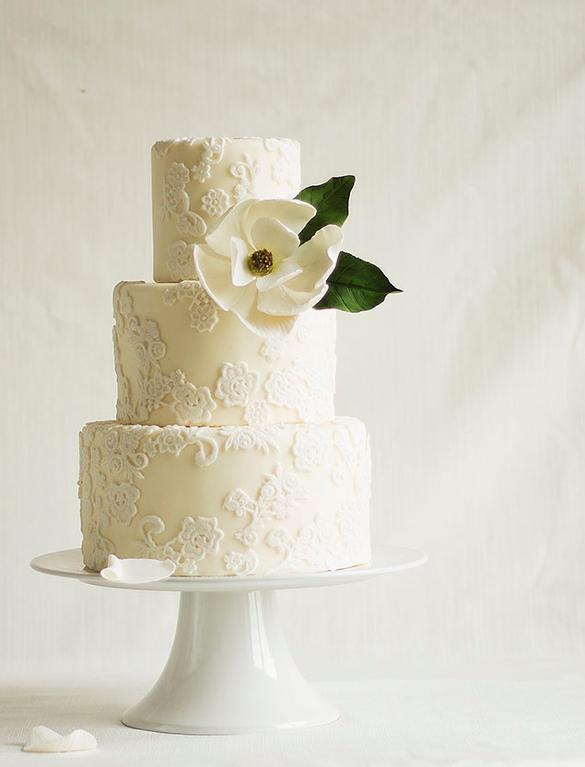 Photo via Bluprint member ModernLovers
Porcelain & pale
Clean and elegant white on white cakes have also been appearing more frequently amongst cake decorators and they definitely evoke a wonderfully refined feel. We absolutely love how they remind us so much of timeless Wedgwood china. This color and style trend is perfectly fitting for more lace and floral driven wedding designs.
Remember that if you're creating a cake utilizing this chic look the trick is to keep it simple, understated and to always keep texture in mind. Some ideas would be to implement architecturally influenced bas-relief ideas, rustic and realistic florals and foliage, delicate lace work, or sophisticated royal icing detail!
Now we just bet your creative mind is itching to get designing and creating a fabulously on-trend cake! Remember to have fun, be creative, and soak up all of the gorgeous inspiration around you to help make the most show-stopping cakes!
Special Savings on Popular Cake Decorating Classes
Learn from the best instructors. Get up to 33% off classes you can watch anytime, anywhere, forever.Enroll Now to Save »
<!– End CTA 33% off cake classes>