It's here at long-last, the final day of the 12 Days of Bluprint, which means more holiday fun for you.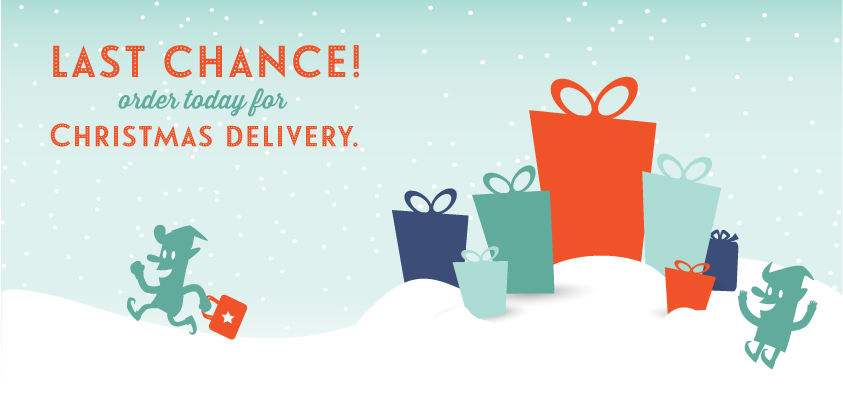 But first, a reminder: It's your last chance to purchase yarn, fabric and project kits in order to get your delivery in time for Christmas (US only). So be sure to order today!

Bluprint is gearing up for the holidays, and we want you to share the meals, memories and magic that you love most about this wintry and wonderful season! We joined in on the fun by sharing some of our favorite traditions below, from decorating cookies in Christmas Eve to joining friends and family for cheer-filled gatherings. Share your own experiences below in the comment section today—we'll feature a selection them on our blog on December 24, 2013 and highlight your holiday spirit!
"I love hanging out with my excited little cousins on Christmas Eve. We read stories, write Santa notes and call the Santa hotline to track his sleigh."
–Caroline Wood, Email Associate
"Gingerbread decorating on Christmas Eve—we whip out the frosting and candy and decorate the heck out our lil' men…one year my little sister even made a Lady Gaga gingerbread cookie!"
–Elysian McNiff, Acquisitions Editor
"As a youngster, I'd wake up early to "graciously" help cook cinnamon rolls for breakfast before tearing open gifts with the family. Then, drawing upon all my patience, I'd help prepare a feast, help do the dishes, and when everyone else was recovering from a food coma, I'd have free reign and a clear conscience to spend the rest of the day playing my new video games on Sega and N64. A good lesson in giving and receiving!"
–Michael Lengel, Senior Marketing Manager for Social
"As a kid, on a whiteout winter day, there was nothing I loved more than playing football out in the yard with my older brothers. Thankfully, the snowman was the only one who ever got hurt."
-Nick Linkow, Jr. Copywriter
"My favorite family tradition is that every year my family attends the Mizzou vs. Illinois Braggin' Rights game. It's my favorite sporting event, and it's always a nail-biter—go Mizzou!"
-Emma Binbeutul, Recruiter
Comment below today and your story might be selected to be featured!