Happy soup season! I'm ready to sit by the fireplace and while waiting for a simmering pot of soup to bubble and spurt on the stove all day long.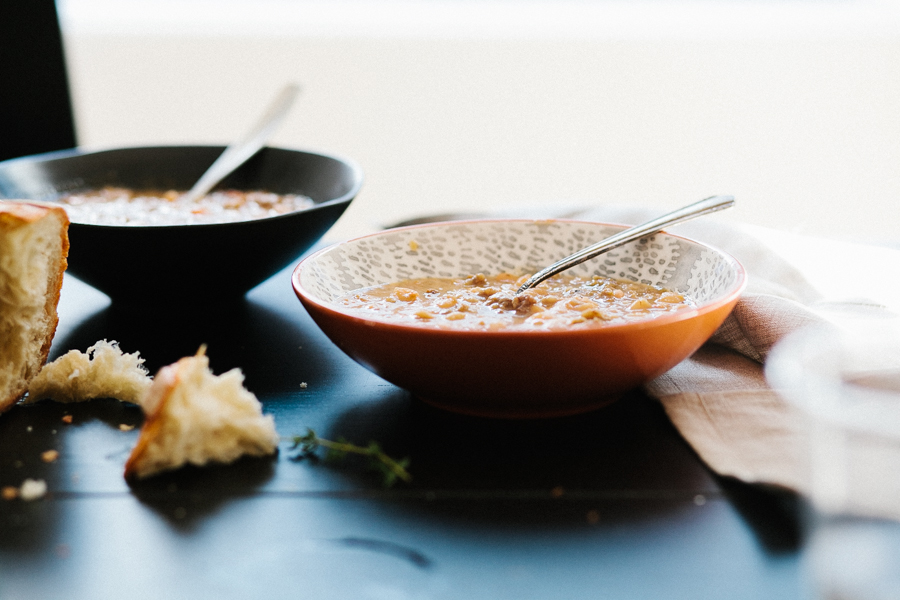 Let's celebrate the ease of soups: Many can be made with what's already in the pantry, the ingredients are typically inexpensive, the process requires minimal work on your part and most soups are full of flavor and nutrition.
One of my favorite weeknight meals is a classic White Bean Soup.
About the recipe
With a bit of sausage or bacon, this soup has a rich, smoky flavor and is hearty without much meat. If you're a vegetarian or you're making it for someone who is you can leave it out.
I prefer to start with dry beans because they're significantly cheaper than canned beans and when cooked along with all those vegetables, they soak up all the flavor as they simmer and soften. 
Feel free to use what herbs you have on hand. I love the flavor bay adds, and I think that white bean soup isn't itself without rosemary — but thyme and sage are also lovely in this recipe. 
One final note before we get to the recipe: Many recipes call for the use of chicken stock, but this soup  use water. The vegetables (and the bacon or sausage) actually makes its own stock while cooking.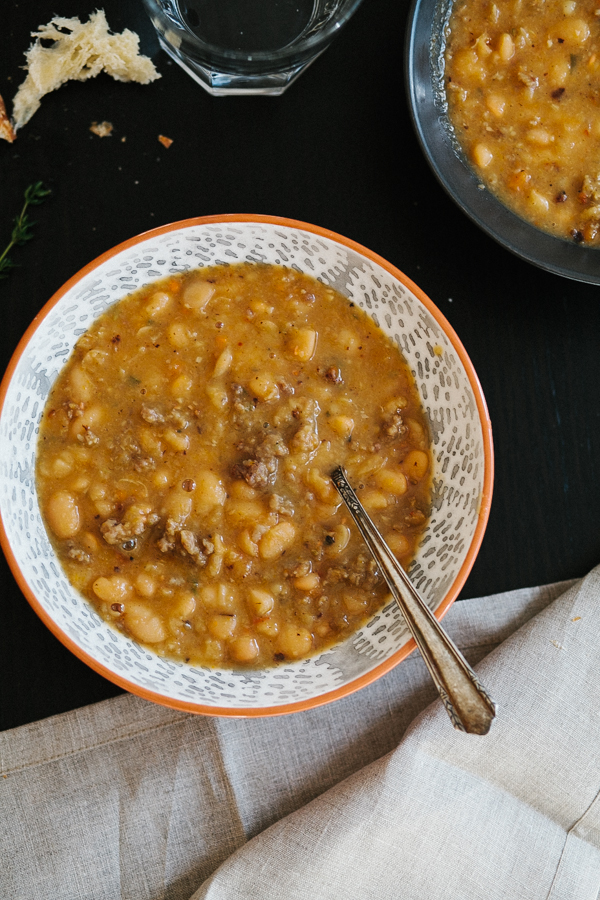 White Bean Soup Recipe
1 lb. sausage
Olive oil (optional)
2 onions, medium dice
3 carrots, roughly chopped
3 celery ribs, roughly chopped
Salt
6 garlic cloves, roughly chopped
2 bay leaves
1 tbsp. minced fresh rosemary
1 lb. white beans
10 cups water
Step 1:
In a large dutch oven or pot set over medium-high heat, add the sausage. Break up large pieces and cooked until browned. 
Step 2:
Remove the sausage from the pan. If there's less than a couple tablespoons of fat from the sausage, add a bit of olive oil.
Step 3:
Add the onions, carrots and celery, along with a pinch of salt, and sauté until translucent and tender, about 5 to 7 minutes.  Add the garlic, bay and rosemary and sauté for 2 minutes more.
Step 4:
Add the beans and give the whole mixture a good stir.  Pour in the water and add a hefty pinch of salt. 
Step 5:
Bring the pot to a simmer, then cover. Simmer until the beans are tender and starting to break apart to create a thick stew. If the soup is too thick, feel free to add a bit more water. This process should take about 2 to 3 hours.
Step 6:
Add the sausage back in and continue to simmer until ready to serve. Taste and adjust the seasoning. 
Leftovers will keep in the fridge for one week or in the freezer for up to three months.