The deep brick red color and high density of bubinga give it an undeniable visual and physical presence — this wood has authority. It can be a bit intimidating to work but fortunately has enough favorable properties to make it still very accessible beneath the woodworker's tools. Read on to discover more unique characteristics of wonderful bubinga wood.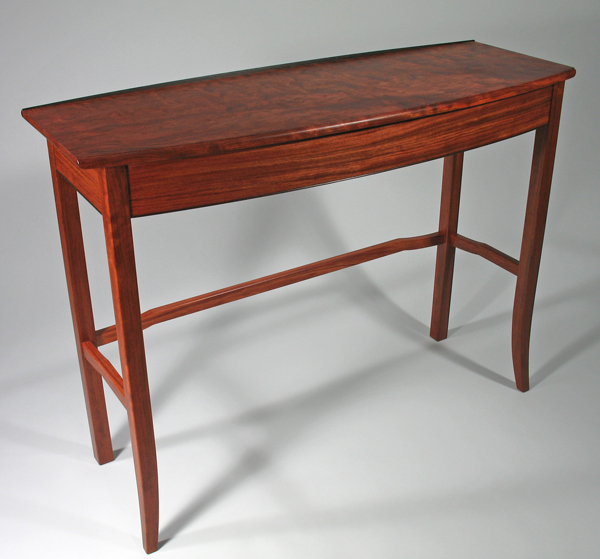 What is bubinga wood?
Bubinga is a beautiful wood species, but the charm of wood is always more than impressive color. Bubinga's rich reddish tones are laced with darker annual ring lines that can produce striking flatsawn surfaces, such as for showy panels.
On the other hand, the lines are more subdued and uniform on rift and quartered faces. Riftsawn bubinga thus makes an excellent choice for shaped table legs, for example, where, rather than competing with the designed curves, it gives them importance with its visual and physical weight.
Figured bubinga is another story — a gorgeous one. My favorite is "waterfall" figure with its random swirls and shadings. This is most dramatic on flatsawn surfaces and can make a knockout table top. On the rift surface, the figure tends to shift to a patchy, mottled shimmer that has its own appeal. Bubinga can also produce beautiful broad, ropy curly figure and pommele figure. Spectacular veneer is also available.
The bubinga table by the author in the opening photo, has a figured top with the remainder riftsawn.
The photo below shows, from top to bottom, riftsawn, waterfall and flatsawn bubinga boards, unfinished.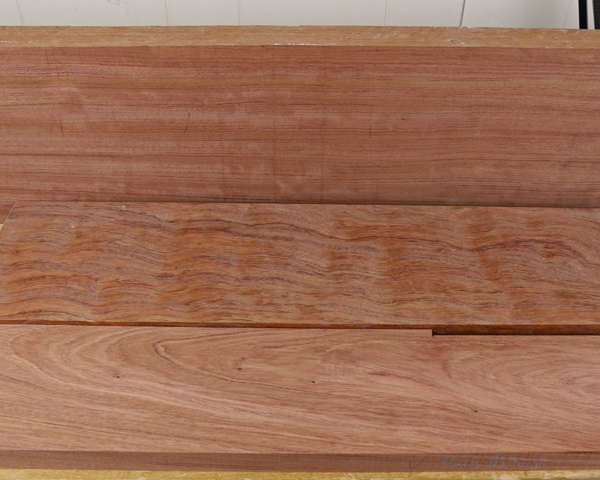 Bubinga is big and tough
The bubinga tree (Guibourtia spp.) is very large — up to 150 feet in height with long, clear trunks 3 to 6 feet in diameter. Enormous slabs of remarkably clear lumber can be had from these trees, with prices up to several thousand dollars for a single mammoth board. (There's your snazzy corporate conference table.) The sapwood is narrow and off-white in color. To my knowledge, the species is not threatened.
Bubinga is an incredibly strong wood by any measure. It is denser than white oak, hard maple and almost all other common domestic species, on par with honey mesquite. Its surface hardness approaches double that of white oak, and even slightly exceeds persimmon, which is used for golf club heads!
The shear strength of bubinga is particularly exceptional, exceeding nearly every other commercial species, so it is extremely resistant to splitting. In summary, don't worry too much about this stuff denting, splitting or breaking.
Despite this, in my experience, one defect to look out for in bubinga boards is compression failures. These are random irregular cracks across the grain that can be very subtle, especially on roughsawn surfaces. They represent failed wood structure, possibly occurring when the huge tree is felled, and disqualify that section of wood from use.
The toughness of bubinga makes it an excellent choice for shop tools and jigs, as shown here. The bubinga dovetail markers have proven very durable.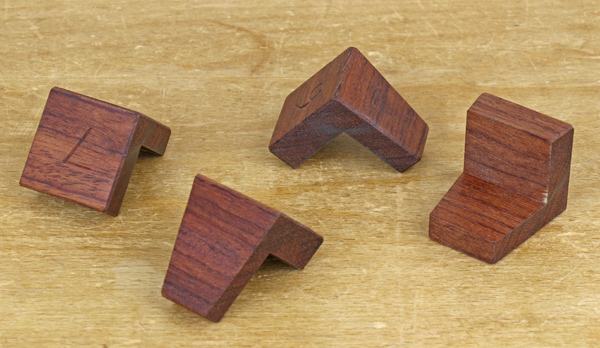 Shrinkage values average 5.8% radial and 8.9% tangential with a T/R ratio about 1.5. In practice, bubinga behaves well with modest movement.
You can handle it
Bubinga is an entirely approachable wood as long as you are patient with it and adjust your tools and techniques to work with its properties. Surprisingly, it is not very difficult to plane and saw, though it requires sharp tools and somewhat more muscle. Chopping with chisels is pretty slow going but sharpness and patience conquer all. There is virtually no give with this wood so joinery must fit well.
Unfigured bubinga usually planes cleanly but tearout with figured boards may be problematic. Fortunately, all bubinga scrapes and sands very well to yield resplendent surfaces. As expected, it holds very clean shaped edges.
Sawing on the table saw tends to produce burnt edges unless the machine has enough power and a sharp blade to allow the wood to be moved through at a good pace. For thick stock such as leg blanks, I prefer to mostly bypass the table saw and instead use the bandsaw in conjunction with the jointer and planer.
This board of 8/4 riftsawn bubinga is ideal stock for blanks for shaped table legs: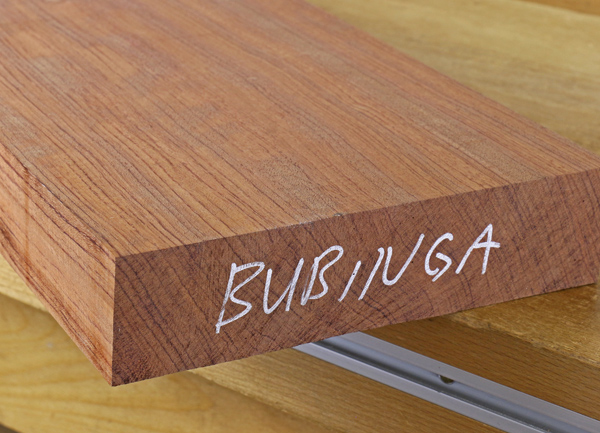 Contrary to some reports, I have found no problems gluing plain or figured bubinga with PVA glues for joinery and urea formaldehyde for laminations. I like to finish bubinga with thin applications of solvent-based varnish, which make figured bubinga really pop, as in the photo below.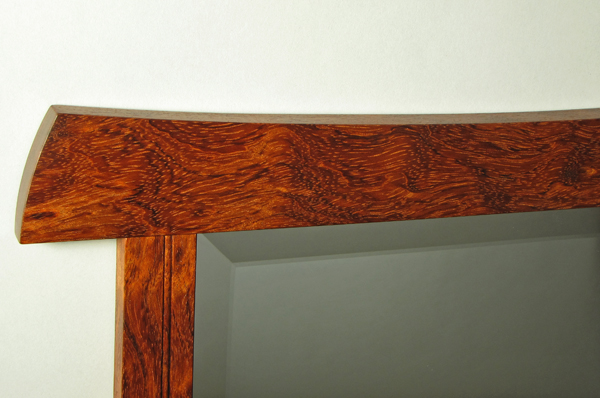 Consider using bubinga for anything from small accessories to major furniture, especially tables. Don't be put off by its toughness. Instead, get hooked on its beauty, especially highly figured material, and go make something with wonderful bubinga wood.
Free for you!
Bring out the character and texture of any woodworking project with the FREE mini-class Flawless Finishing. Sign up today to gain instant access to HD video lessons and expert instruction from furniture maker Robert Spiece.
Enroll for FREE here >>
Have you tried bubinga in a project?