Weaving with paper yarn may sound unfeasible, but it actually can be used in plaited baskets and experimental pieces, and also has an astounding tradition for producing fine cloth for clothing in Japan. Similar to linen fiber, paper yarn has a wonderful crispness, which is part of its charm.
Whether you weave off loom or on a loom, paper as a material may have just the right qualities for you to work with.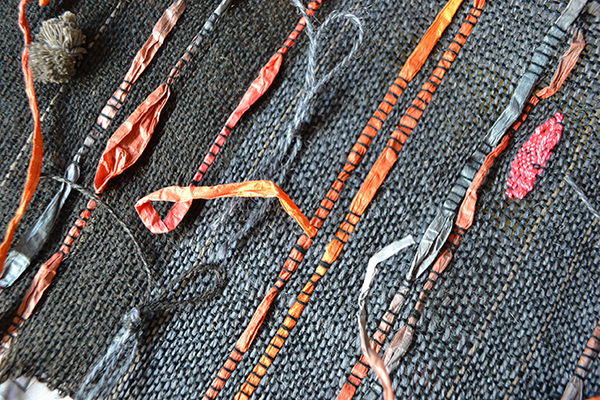 Different types of paper yarn
Folded paper strips
One of the most common forms of paper yarn for weaving is long folded strips commonly used to introduce school children to weaving in an under-over fashion without a loom. These can be used to create fun place mats or try these little woven heart baskets. Patterned papers are so appealing and more complex woven baskets can be created with the same folded strips. Paper from newspapers, gift wrap or glossy magazines will provide good materials for weaving these three-dimensional objects.
Rolled paper
Rolling paper gives another strong textural quality to a woven cloth. The print and images still retain their charm in weaving and are a great way of using paper as a table runner and disguising the news in the process. Roll the paper with the help of a skewer preparing all of the wefts for weaving. To emulate the cloth shown below, use a fine cotton warp thread with a wider than normal sett and areas of cramming threads in the warp to vary the rhythm of the weave. Plain weave will work well and provide a strong base for the rolled paper.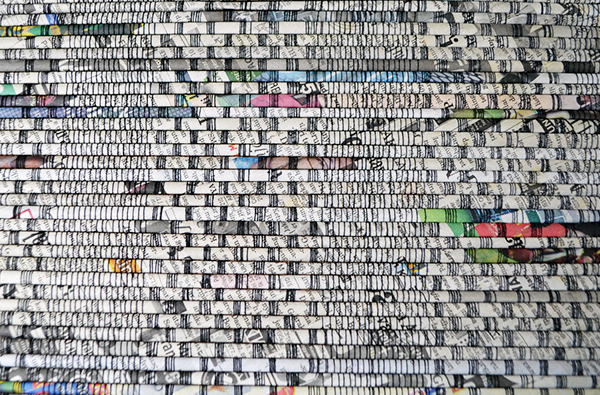 Unspun paper yarns, tapes and twines
These types of yarn are readily available in many places. They are also very easy to dye by using dyes for cellulose fiber, such as fiber-reactive dyes.
You can also paint and dip dye as you please. Yes, you can wet them to do this. As these yarns are usually quite stiff, their best feature is the untwisting capabilities, which can be used in a cloth in specified places.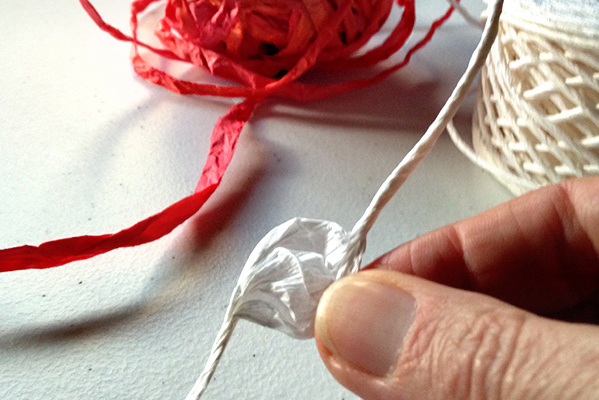 The paper tapes have other unexpected features, allowing you to weave in sound! The paper tapes rustle like taffeta if cloth fringes include the papers.
Plain weave isn't the only weave structure used with paper yarns. Many different weave structures beyond this can be used to bring out the unique characteristics of paper.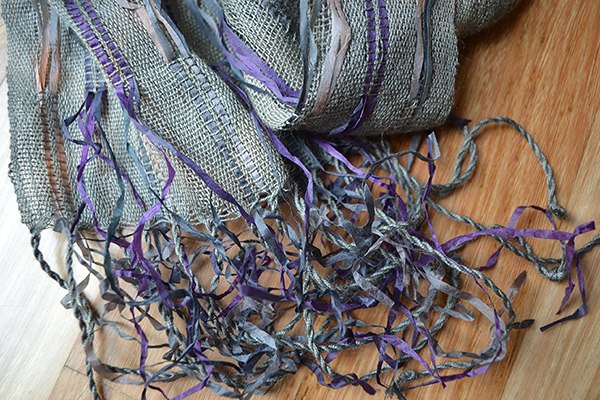 Spun paper yarn
The ultimate paper yarn for weaving is spun paper. This is more like yarn than the tape-style yarns and it has reached a high level of expertise and quality in the Japanese Shifu tradition.
This yarn is very fine and suitable for clothing. It is made from handmade paper of very high quality called Kozo. I have experimented with Kozo paper to spin yarn and even with limited skills, the process is extremely rewarding. Fine papers from Nepal and Bhutan have also been used for this type of spinning. See a lovely rustic example of Nepalese Lokta paper yarn spinning.


Newspapers can also be used to spin a yarn although it isn't of the same quality for clothing. Artists such as Greetje van Tiem have used newspaper spun yarn for weaving and other yarn crafts in interior textiles.
Adventures in using what you've got
Preparing paper for weaving in any form, for a cloth or a three-dimensional basket, is rewarding because you are building the materials to use, then working them with your own process into an object. It can be approached as a recycling project too.
Ask Google about paper yarns and see what delights others have been weaving. Have a go – even just to experience the sensation of paper in weaving.
Have you tried weaving with paper yarn?