Have you ever wanted to repeat a successful project but struggled to remember exactly what you did? Have you ever promised to share a draft with a friend, but been unable to recall all the details? It's immensely frustrating to realize that you have to stop and revisit a problem you have already tackled because you didn't write down what you discovered.
Keeping records of your weaving projects takes a little bit of time, but taking simple weaving notes can save you hours later on.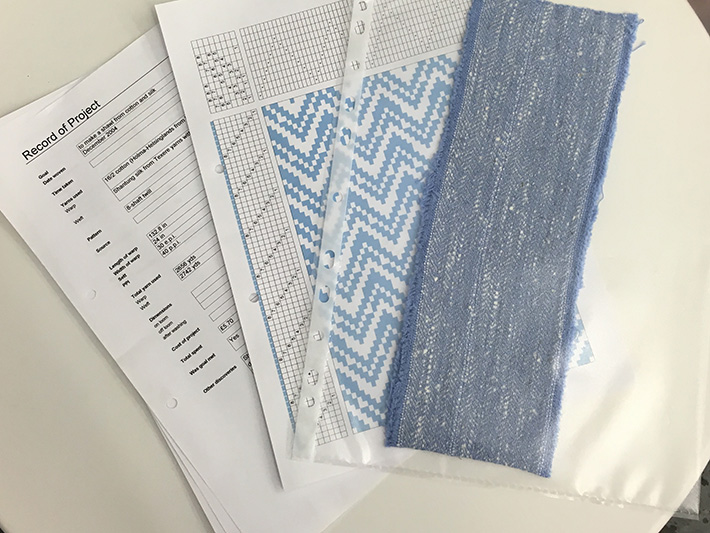 The medium doesn't matter
You may have a strong preference for pencil and paper; you may be a fan of all things digital. It doesn't matter. Organize your weaving notes in a manner that suits you and you will be much more likely to maintain them.
Use folders to sort projects into categories that are useful to you: this could be by end product (scarves, towels, rugs) or it could be by weave structure (twills, double weave, lace). One advantage of electronic record-keeping is that it is very easy to store your notes by product AND by weave structure — but if you are diligent, you can manage this on paper, too.
Whichever option you choose, you will need to find a way to label your woven samples — because you are sampling, aren't you? — so that you can match them to your notes. When I kept mainly paper records, I filed them in a ring binder and used plastic pockets to hold samples. Now that I keep most of my weaving notes electronically, I write key information on mini luggage tags and pin those to my samples.
The nitty gritty
So what should you record? There are two kinds of information that I like to be able to look back at.
First, the technical information
This technical information is what we usually think of when we talk about weaving notes:
What threading did I use?
How long was the warp?
How many ends?
What was the sett for that yarn?
How much did it shrink?
You will want to keep a copy of the draft you used, whether it came from a book, an online resource, or was one you designed yourself. The other technical information — relating to yarn, sett, finishing, etc. — can be recorded on a standard record sheet,
The reflection
There is a second kind of information that is equally valuable.
The goal you set out to achieve with your project
Your reflections on the project afterward: What went well? What didn't work out? What did you learn? Were you satisfied with what you achieved?
You may think the lessons you have learned are unforgettable — especially if you have just had a terrifying experience with the warp from hell! But in (we hope) a lifetime of weaving projects, there's a lot to remember. Make it easy by writing it down!