This vegan bread pudding recipe is a personal favorite of mine, and only requires five ingredients! Plus, it's simple to make and incredibly delicious.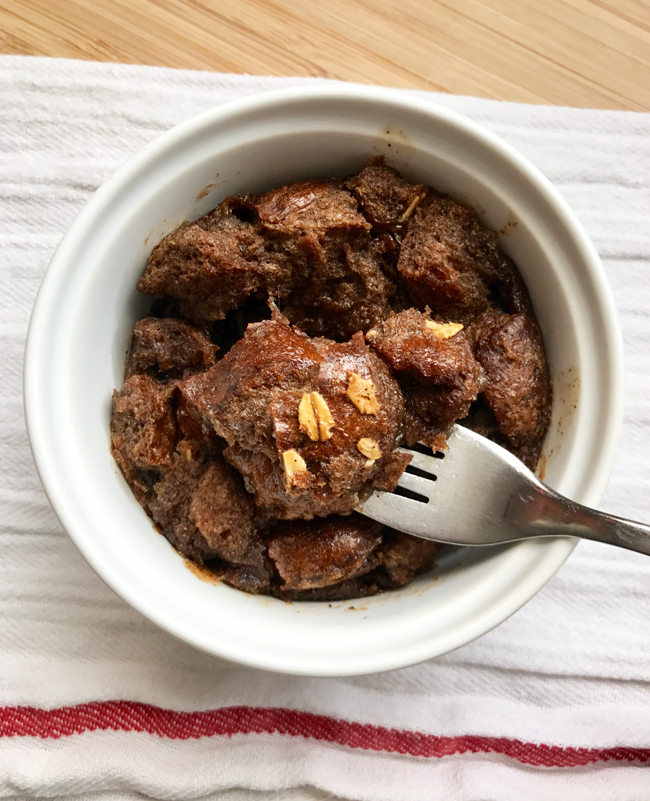 You can use any kind of bread — vegan or not — and I bet most of the other ingredients are already in your pantry. The best part? You can make a single serving, and the recipe can be doubled, tripled or quadrupled easily!
This bread pudding recipe combines coconut milk and brown sugar, which is a really delicious flavor combination that pairs well with both simple and complex-tasting breads.
Read on for the recipe and a few add-ins to spruce up this easy bread pudding.
Each addition brings another layer and depth of flavor. They are all definitely worth trying independently, but feel free to experiment with using two or more of the add-ins listed!
Vegan bread pudding recipe
You'll need:
For one serving:
Small ramekin 

2 ounces stale bread

⅓ cup coconut milk

2 tablespoons brown sugar

¼ teaspoon cinnamon

¼ teaspoon vanilla extract
For four servings:
8″ square cake pan

8 ounces stale bread

13-ounce can coconut milk

½ cup brown sugar

1 teaspoon cinnamon

1 teaspoon vanilla extract
Step 1:
Grease ramekin or cake pan. Preheat oven to 350 F (you can also use a toaster oven for a single-serving ramekin).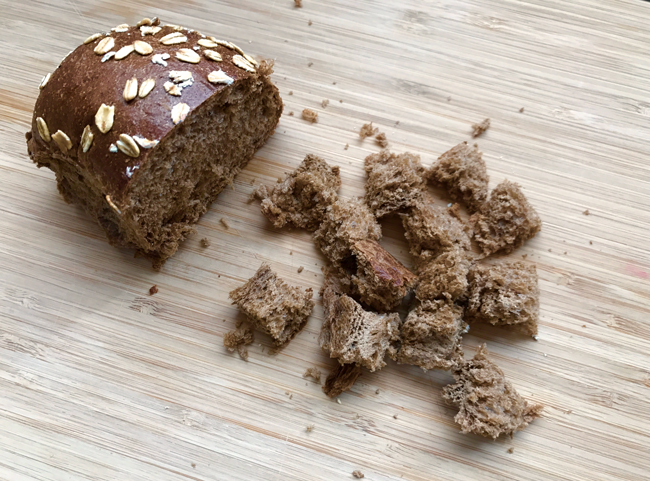 Cut bread into small cubes. I find the texture of bread pudding to be more enjoyable when the bread is stale and tough. However, you can absolutely use fresh bread; just cut it into cubes and let it sit out in open air for an hour before moving onto the next step.
I used squaw bread for this batch of pudding, but you can use whatever kind you have on hand. 
Step 2: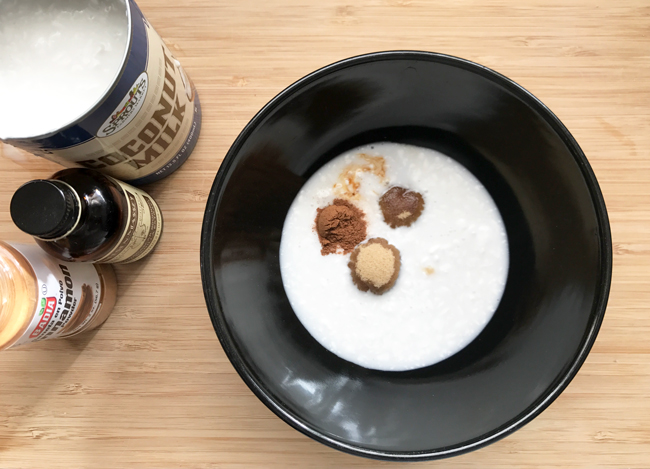 In a bowl, whisk together coconut milk, brown sugar, cinnamon and vanilla. Add stale bread cubes to mixture and let soak for 10 minutes. If using fresh bread, soak for 2-3 minutes.
Step 3:
Transfer bread mixture into ramekin(s) and bake for 25 minutes, or 30-35 minutes if using a cake pan. Serve immediately. Enjoy!
Apple or peach vegan bread pudding
In addition to the ingredients above, you need:
1 granny smith apple or peach

2 tablespoons brown sugar
Step 1:
If using a Granny Smith apple, peel and core the apple. If using a peach, remove the pit. Halve and slice the fruit thin.
Step 2:
In a small pan, heat a tablespoon of coconut oil. Sauté the fruit over medium heat until it starts to brown and soften, about 4-5 minutes.
Sprinkle brown sugar over the fruit and continue to cook for another 2 minutes.
Step 3:
For 4 servings: Place all of the fruit mixture in the bottom of an 8″ square pan, then place the bread mixture over the top and bake.
For 1 serving: Place 2-3 tablespoons of the fruit mixture in the bottom of the ramekin, place the soaked bread mixture over the top, then bake. The remaining fruit mixture should be cooled and can be kept in the refrigerator for up to 3 days. Eat it as another snack, mix in with oatmeal, or use for bread putting in the days following.
Must-try vegan bread pudding mix-ins
Sliced fruit and berries, such as blueberries, bananas, ripe mango or strawberries
Mix in after soaking bread, just before baking.
1 serving:  2 heaping tablespoons
4 servings: ¼ – ⅓ cup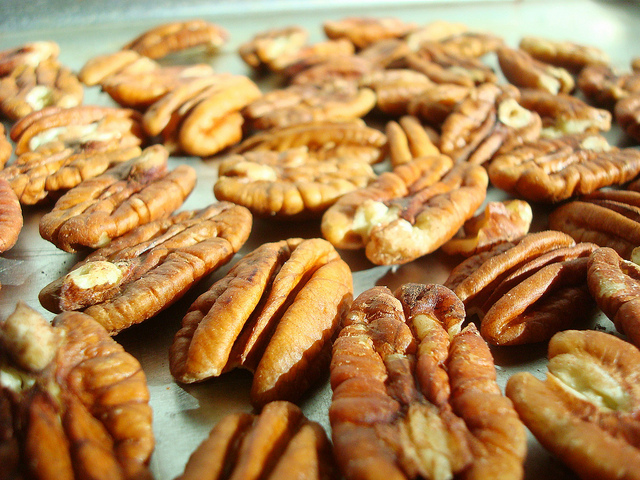 Chopped pecans or almonds
Mix in pecan or almond pieces or sprinkle over the top before baking.
1 serving: 1 tablespoon
4 servings: ¼ cup
Raisins or dried cranberries
Soak raisins along with the bread before baking.
1 serving: 1 tablespoon
4 servings: ¼ cup
Cardamom
Whisk cardamom into the coconut milk mixture.
1 serving: ⅛ teaspoon
4 servings: ½ teaspoon
Rum
Whisk rum into the coconut milk mixture.
1 serving: 1 teaspoon
4 servings: 4 teaspoons