Here's an appealing prospect for vegans: an easy, vegan banana bread recipe that contains neither dairy nor eggs.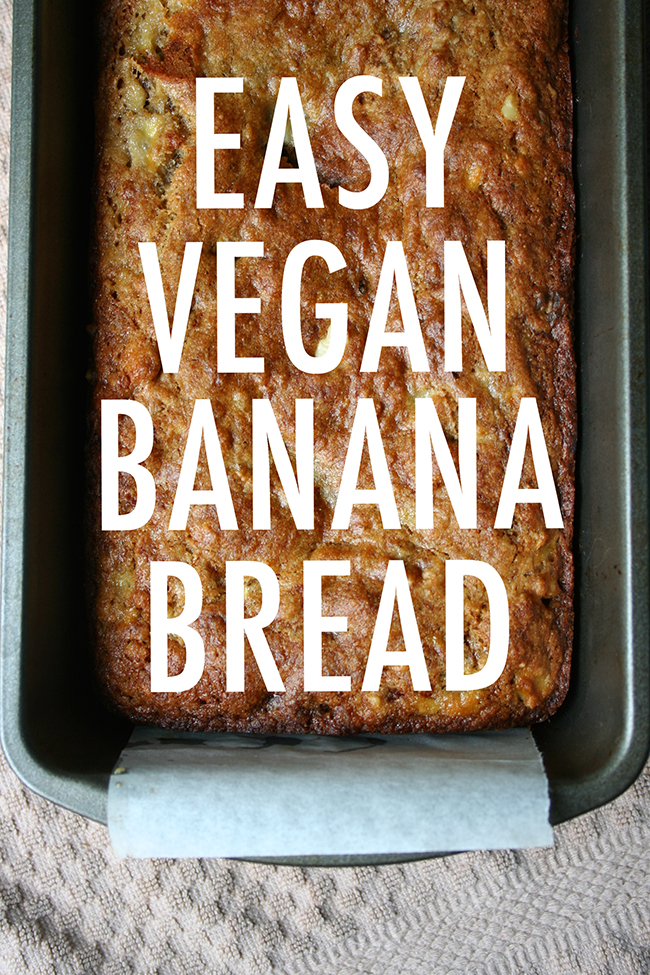 Photos via CakeSpy
This recipe for banana bread without eggs is a great baking project for newbie vegan bakers.
In addition to imparting flavor, banana has binding properties. This means that in a recipe that contains no egg, the fruit can help keep the quick bread from crumbling apart post-baking. 
This simple recipe offers many rewards: First, it's a guarantee that your house will smell like heaven while it bakes. Second, once baked and cooled, you'll be rewarded with a tender, moist loaf that's rich in banana flavor, complemented by caramely brown sugar and the rich flavor of toasted walnuts. It's an ideal breakfast bread, but it can play double duty as a (somewhat) virtuous teatime snack or dessert. 
Even if you're not vegan, this recipe is a delicious alternative when you find yourself low on eggs. It's a keeper!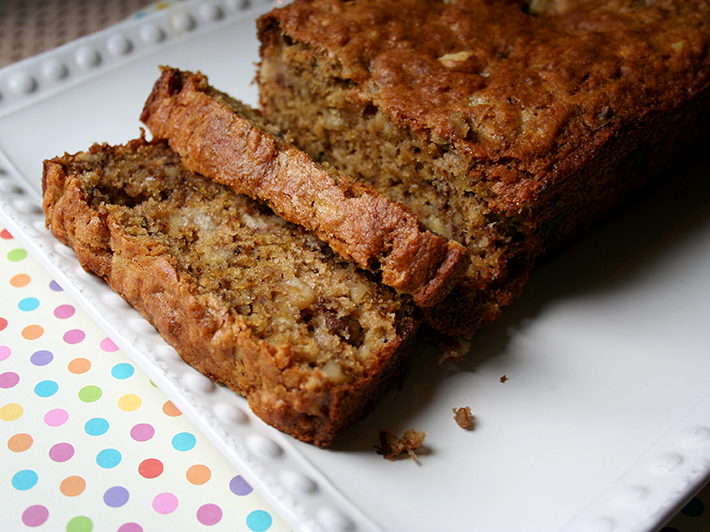 Vegan banana bread without eggs
Makes about eight 1″ slice servings
1 cup all-purpose flour
¼ cup whole wheat flour
1 teaspoon baking soda 
½ teaspoon salt
1 1/3 cups mashed, very ripe banana (about 3 medium)
½ cup brown sugar, packed 

½

cup plain soy milk yogurt (or other non-dairy yogurt) 

½

cup vegetable oil, plus more for greasing pan
1 teaspoon vanilla extract 
1 cup toasted chopped walnuts (optional)
Step 1:
Preheat the oven to 350 F. Generously grease a 9″ x 5″ loaf pan. Line it with a long strip of parchment paper that extends on either end of the pan; these will act as "handles" for easy removal later. Grease the top of the parchment that's contained in the pan, as well. 
Step 2:
In a large bowl, sift together the two types of flour, baking soda and salt. Set aside. 
Step 3:
In a separate large bowl, mix the banana, brown sugar, yogurt, vegetable oil and vanilla extract until completely incorporated and cohesive.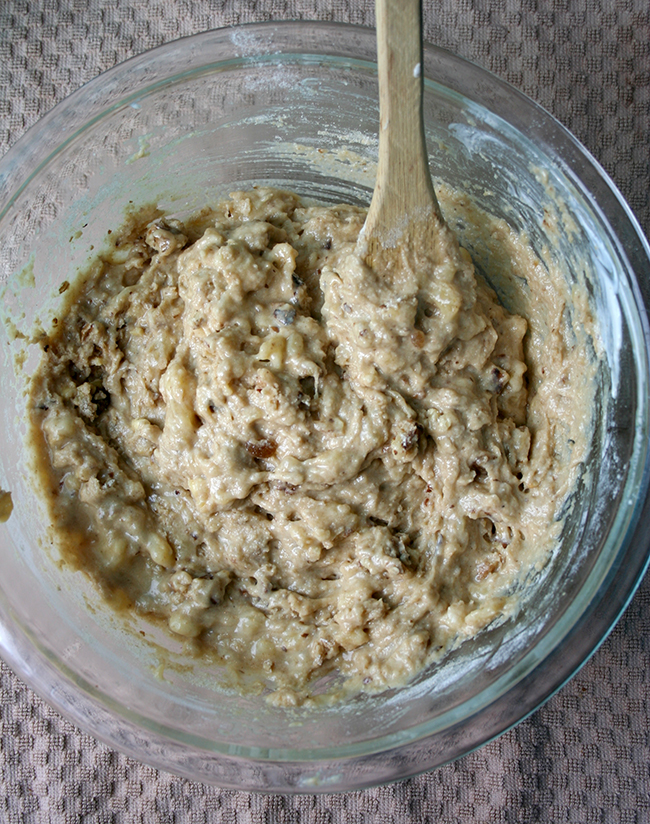 Step 4: 
Combine the wet ingredients, dry ingredients and nuts (if using), mixing until just combined and moist (some lumps are OK).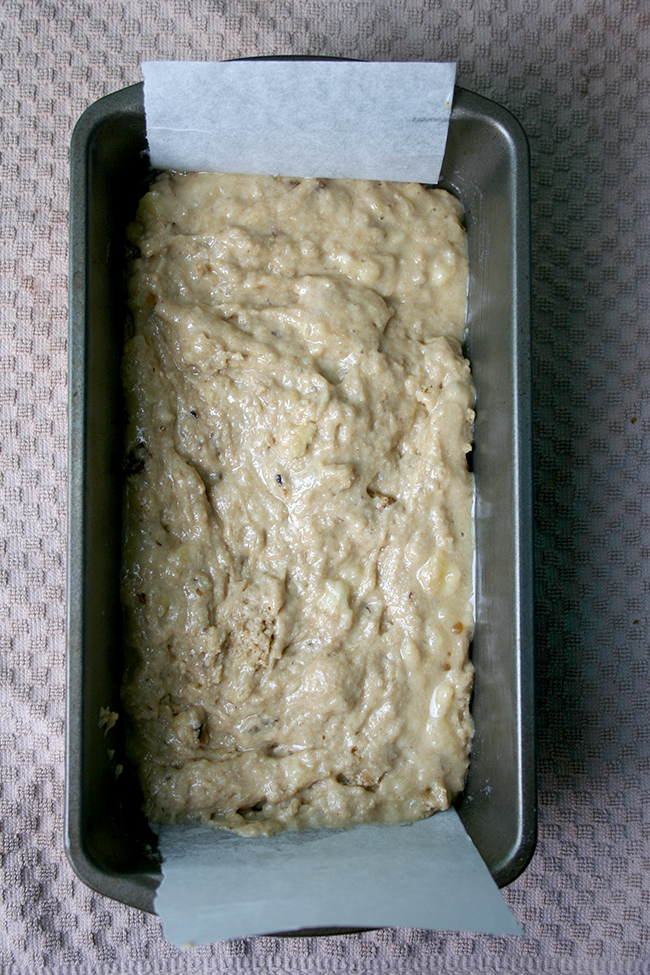 Step 5:
Spoon the thick batter into your prepared baking pan. Bake in the preheated oven for 50-60 minutes, rotating at about the 30-minute mark. If the loaf appears to be browning too rapidly on top when you rotate the pan, tent with aluminum foil for the remainder of the baking time.
Step 6: 
Once a toothpick inserted in the center comes out mostly clean, remove from the oven and transfer to a wire rack to cool completely. Once cooled, you can lift the bread out of the pan with the parchment paper "handles" and transfer to a serving plate. Serve in thick slices.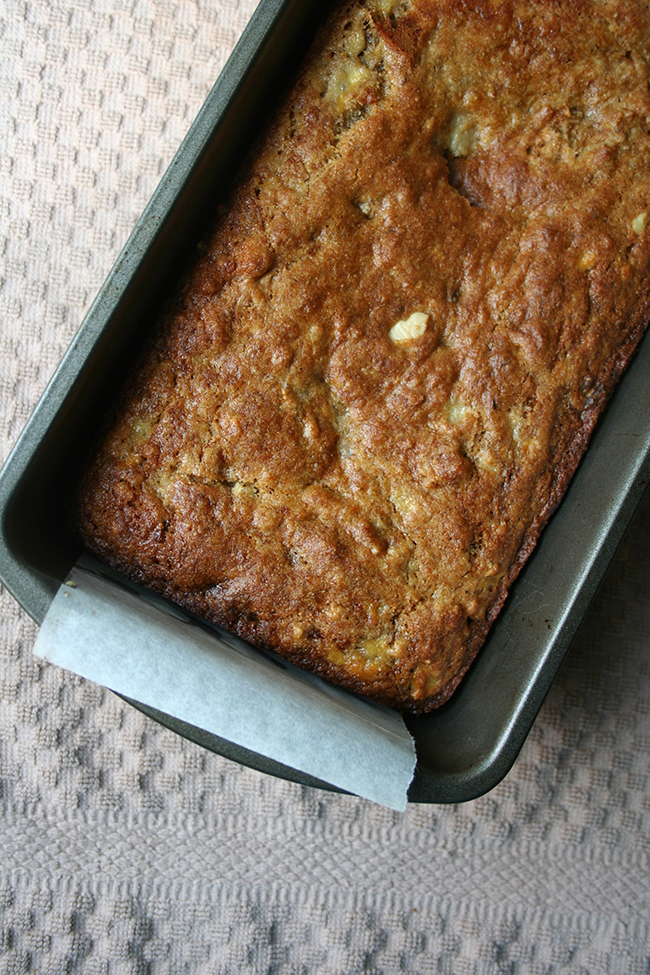 Store in an airtight container at room temperature for up to 3 days, or freeze for up to 1 month. Serve at room temperature or warm. 
Recipe notes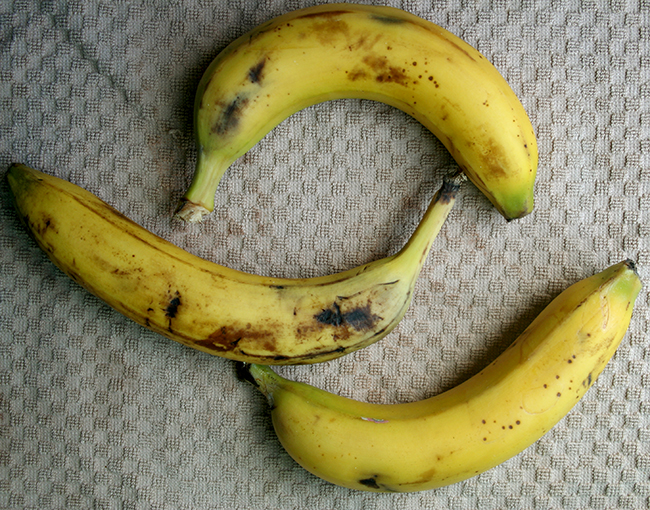 When it comes to the bananas you use for this recipe, the riper the better. The bananas naturally become sweeter as they age, so this is the perfect place to use those brown bananas that are no longer appealing for out-of-hand eating. 
Regarding the soy yogurt called for in the recipe, you can substitute any non-dairy yogurt, such as almond milk or coconut milk yogurt. Just take note that the type of yogurt you use may impart a flavor on the finished bread. If you do not need to adhere to a dairy-free diet, you can use regular plain yogurt, as well.
The nuts in this recipe are optional. You can omit them entirely, or substitute another type of your choosing.