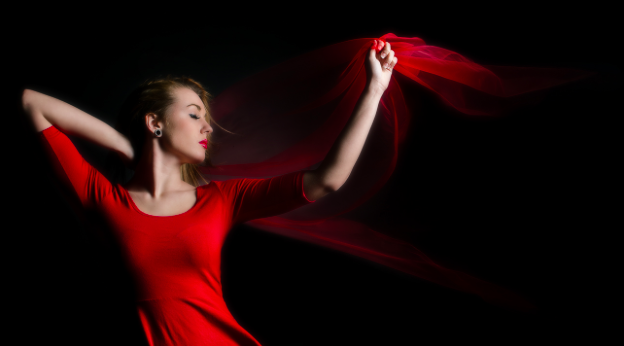 Something that is often overlooked, and you might not think to include, is placing props in a photo. Take this photo above; if I just took a photo of the woman standing there it would have been just another photo. But taking that sheer red curtain and having her hold it as a fan blew added a new dimension and gave the photo a voice: the photo now has emotion.
Consider scouring through your house and consider picking up a bunch of props.
If you take portrait photos for clients in your studio, having silly stuff for them to dress up and play with can be a great way to loosen everyone up and inject a little fun into the situation. Even if the ultimate goal of the shoot is a serious portrait, starting off with some funny props encourages your subjects to relax, become comfortable with you and be themselves. Stuffed animals, over sized pillows, a whacky wig: they will all do the trick and get people laughing.
You'll also want to consider some more practical props as well.
Such as a few pieces of stylish furniture you can quickly move in and out of the scene. Furniture makes people at ease and you can capture more realistic settings of families and others. Anything you can do to break the typical mould of studio photography will help your photography stand out.
If you are just shooting for your portfolio and for the experience of taking photos, take a trip down to the local costume shop. The local costume shop has an abundance of costumes and cheap accessories you can pick up to enhance your photos. You might even want to see if you can barter. Ask the costume shop if you can shoot the costumes on one of your models, and in exchange you will give them updated photos of their costumes in stock for free.
I am doing that next week. I will be picking up a replica dress from the movie, "The Seven Year Itch" and photographing a model with a fan placed beneath her so we get the blown dress look. While the photos are for a client, I also intend to have a little fun and try some new ideas.
Props and accessories will create atmosphere in any shoot. Its up to you to identify which accessory or prop will suit each scene. A basketball for a teenage boy, flowers for a pretty girl, the subject will dictate the prop or accessory. If you get to know them, you will quickly identify the right accessory to bring out their personality.
For more tips regarding setting up your own home photography studio head here.