Creating machine embroidery that will be quilted is a fun and challenging endeavor. No matter the size of the project, planning is the strategic factor to success.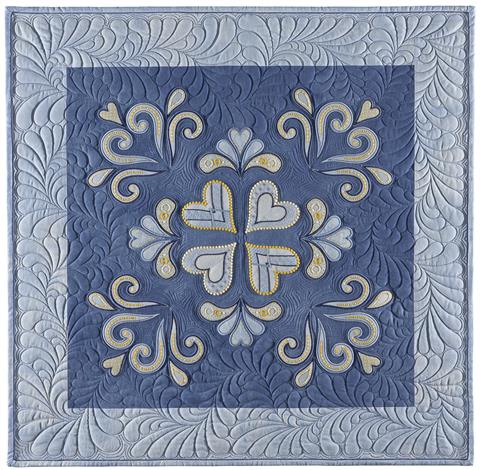 Photo via Sarah Vedeler
Key elements in the design process include determining the purpose of the quilted object, the type of machine embroidery design that will be used, and how the object will be quilted. In thinking about what you are going to make, think ahead as to whether this will be a functional quilted work, such as table linens, clothing or a child's quilt, or whether it will be used as a decorative piece, like wall hangings or throw pillows. Once you have decided what and how you will use your project, you are ready to think about machine embroidery designs and quilting.
Let's take a look at the three main types of machine embroidery designs most often used for quilted projects.
Appliqué designs
Factors to consider are:
1. Decorative appliqué stitches:
Satin stitch appliqué designs require good stabilization so that the dense embroidery threads have a good base. The stabilizer may affect the flexibility and softness of the final design. Correctly stabilized satin stitches work well in functional quilts.
Blanket stitch designs are soft and require a light stabilizer. These designs are generally used as fusible raw-edge appliqué. While these designs may fray slightly, generally they hold up quite well to washing
Motif stitch designs are an intermediate density between satin and blanket stitches and require a light to medium stabilizer.
2. Embellishment stitches used on appliqué fabric shapes may vary from none to a lot of stitches. However, because the fabric shape is a part of the design, the entire shape is never covered with dense fill stitches, so the appliqué remains soft.
Embroidery designs with filled stitches
These designs have the most thread density, require the most stabilization, and can be beautiful when used in quilts.
Redwork or thread sketched designs
These designs are very light and require a light stabilizer. The stabilizer is important to prevent distortion of the design after laundering.
Tips for using machine embroidery in quilts
Now, let's talk about how these designs can be quilted most effectively with some examples to help you understand how these different types of designs will interact with the layers of a quilt and the influence of different types of stabilizers and thread fills.
The machine embroidery design should dictate how the project should be quilted. Thus, when you are planning your project, it is wise to think about how you would like to have it quilted. Will it be quilted by hand or by machine? If it is quilted by machine, will you do it yourself with free-motion quilting or longarm quilting? If it is quilted with a longarm machine, will you choose a custom quilting design or have it quilted with a pantograph from edge to edge?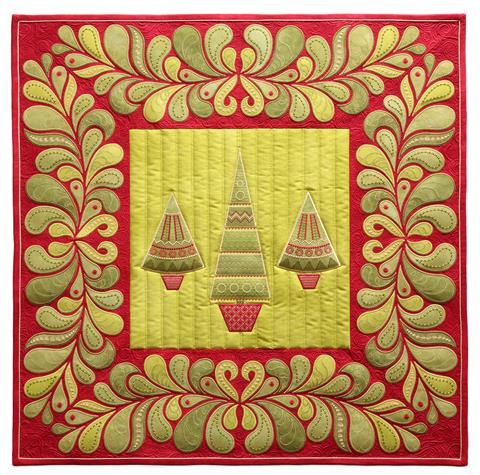 Photo via Sarah Vedeler
The example above is an appliqué quilt with embroidery designs by Sarah Vedeler. This quilt is custom quilted with dense background quilting in the borders, which is balanced by the machine embroidery appliqué feather designs. The trees have grid background quilting.
It is important to note that the center tree has horizontal lines of quilting that coordinate with the embroidery design. This quilting is needed because the shape is larger and would be too puffy without those lines of quilting.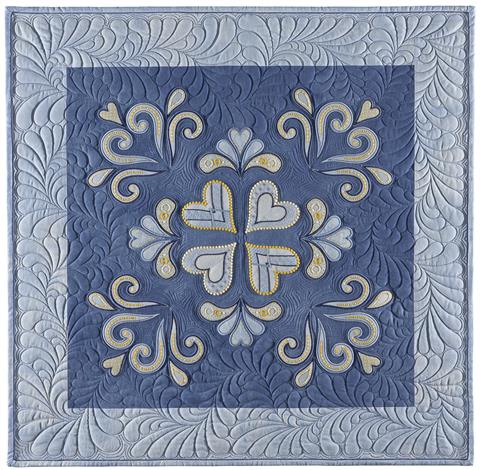 Photo via Sarah Vedeler
This Jazzolicious Pillow, also by Sarah Vedeler, is a similar machine appliqué project. You can see the depth of the quilting in the feathered border and the echo quilting that is done around the appliqué shapes that make up the center motif.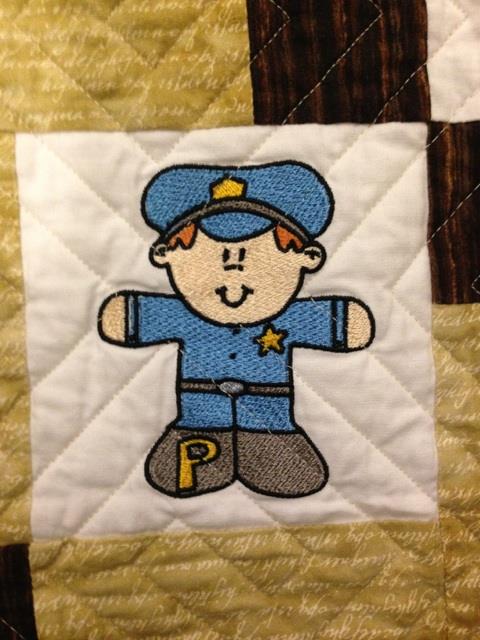 This cute little machine embroidered policeman design was done with a fill stitch and the quilting was done with an edge-to-edge pantograph design on a longarm quilting machine. While many stitchers would question stitching over an embroidery design, this looks great. In this case, the quilt is for a child and will be laundered over and over, so functional quilting is a must.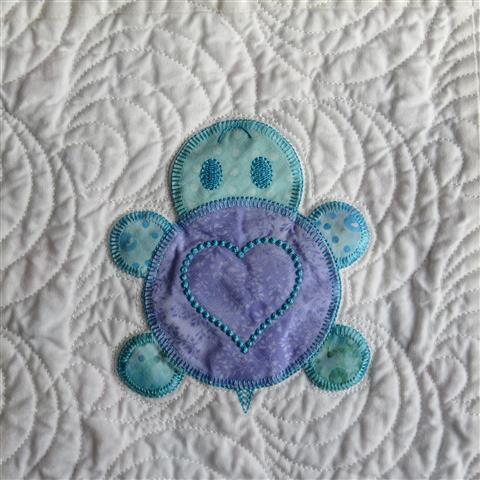 This is an example of an appliqué design that has been laundered many times. You can see that the appliqué shape was not quilted, but the large circle was outlined. Outlining the heart would have been an option for quilting in this case. Even so, the blanket stitch has held up well on this quilt.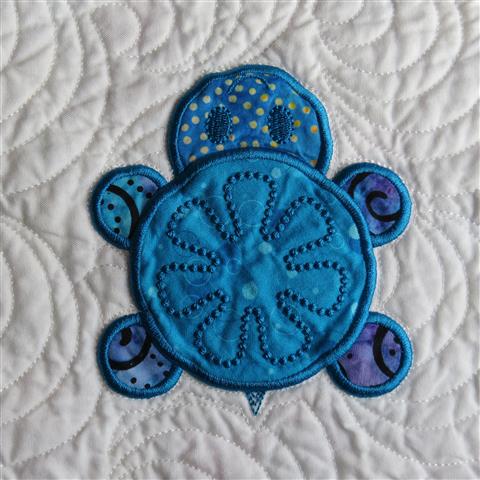 Here's an example of a satin stitch that was not adequately stabilized during the machine embroidery step. You can see how the satin stitch looks ruffled from many washings. This would not have happened if the correct stabilizer had been used.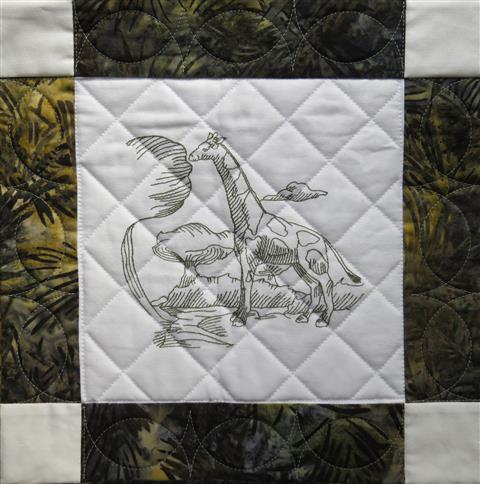 This is a redwork design that has grid quilting in the block. There are many different styles of quilting grids. With this type of design it is important to make sure the focus is not on the quilting but on the machine embroidery design.
I hope these examples have been helpful. The most important thing to remember when designing any machine embroidery project that is to be quilted is that you want the hard work you have done with the machine embroidery to be enhanced by the quilting and to keep the focus on the machine embroidery.
Check out The Machine Embroidered Quilt with Eileen Roche and Elegant Embroidered Quilts with Amanda Murphy for much more detailed information and step-by-step instruction on using machine embroidery in quilts.
Have you made a quilt that has machine embroidery in it? What did you learn?