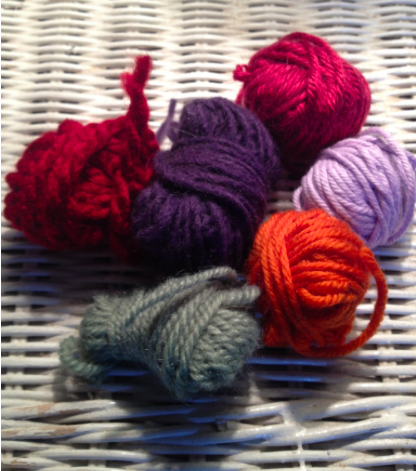 We all know stash busting ideas for what to do with yarn when we have less than a skein left. You can almost always be sure you have enough yarn to make a hat or a quick pair of hand warmers, perhaps. But what do you do when you get down to those little balls– the ones that have only a yard or two of yarn left? If you're like me, you can't quite bring yourself to throw them away because it seems too wasteful.
Here are some ultimate stash-busting ideas.
1. Really small projects like a bookmark.
As a book-lover, I prefer bookmarks made with thin yarn, so extra sock yarn or  lace works well. This lace bookmark wouldn't take much yarn. Also, might I suggest holiday ornaments? My friends and I once made a knitted tree for a charity auction, for which we knitted ornaments: miniature sweaters, mittens, scarves, and stockings. They were kind of a pain to make (small things may be cuter, but they're harder to create), but the ornaments would be a nice touch to any crafter's home. Maybe you can make a multi-colored item, using up two or more remnant balls.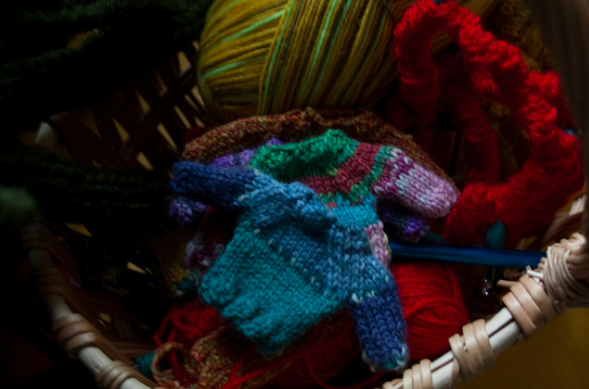 2. Knit it up into I-cord.
I-cord can add a useful, elegant touch for many knitting projects, or any craft project, really. It can't hurt to have some lying around. You can create several inches from only a little yarn. I've used it for bag handles, for tank top straps, and decorative touches on projects. Think about what projects you're working on that would coordinate well with the stash yarn you have. Or just knit several small balls into I-cord to create this.
3. Knit a beautiful blanket, like my friend.
The blanket she is working on is the knitting equivalent of those rag rugs our grandmothers used to make. She gathered up all her tiny yarn balls and got all of her knitter friends to hand theirs over, too. Yes, yarn of all weights. The bulky yarns are knitted on their own. The thinner yarns are being matched together and knitted together. It's not going to be the "prettiest" blanket and it's going to have a lot of ends to weave in, but I think it will be awesome in its own way. This stash busting blanket will tell the whole story of my friend's knitting history.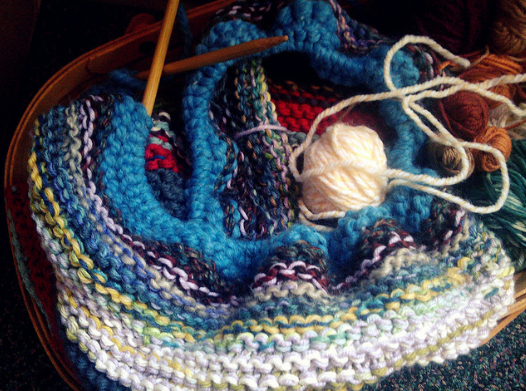 4. Finally, stuff any toy.
This is an idea that can incorporate all the ends you cut off your finished projects, too. Scrap yarn works well as a supplement to stuffing in knitted toys, like this ball or a stuffed animal, like this Pocket Bunny.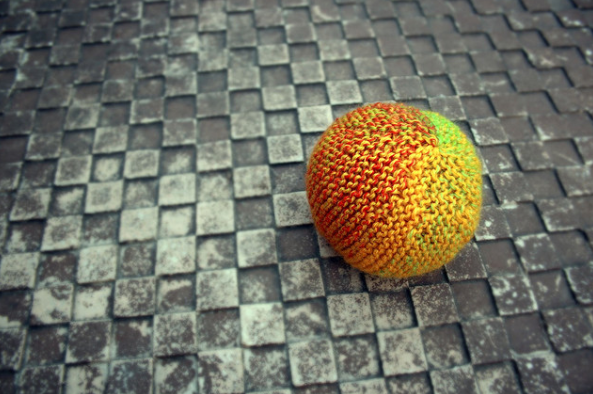 Some patterns will suggest using that puffy stuffing for an outer layer and supplementing with those little pellets. Those of us with pets or small children might be reluctant to use the pellets, so I've started saving my scraps, instead. Cut into 5 or 6 inch pieces, they aren't a choking hazard, but they still squish up well.
Special thanks to Meryl over at My Bit of Earth for use of the pictures, for being such a good knitting buddy, and for making that cute little ball for my sweet pup.
These are some of the ways I use up my yarn to the very last bit. What are your ultimate stash-busting ideas?