These two-ingredient banana pancakes prove that sometimes the simplest ingredients can yield the most spectacular results. These tasty cakes require only bananas, eggs and about 10 minutes of your time to make a healthy, homemade breakfast a delicious reality! 
Photos via CakeSpy
It's pretty incredible how much flavor these pancakes offer with a mere two ingredients.
Of course, if desired, you can also amp up the flavor by adding any number of additions. With this simple pancake recipe under your belt, you'll have an easy breakfast solution that's perfect for weekend brunch, but also easy enough to make on a weekday!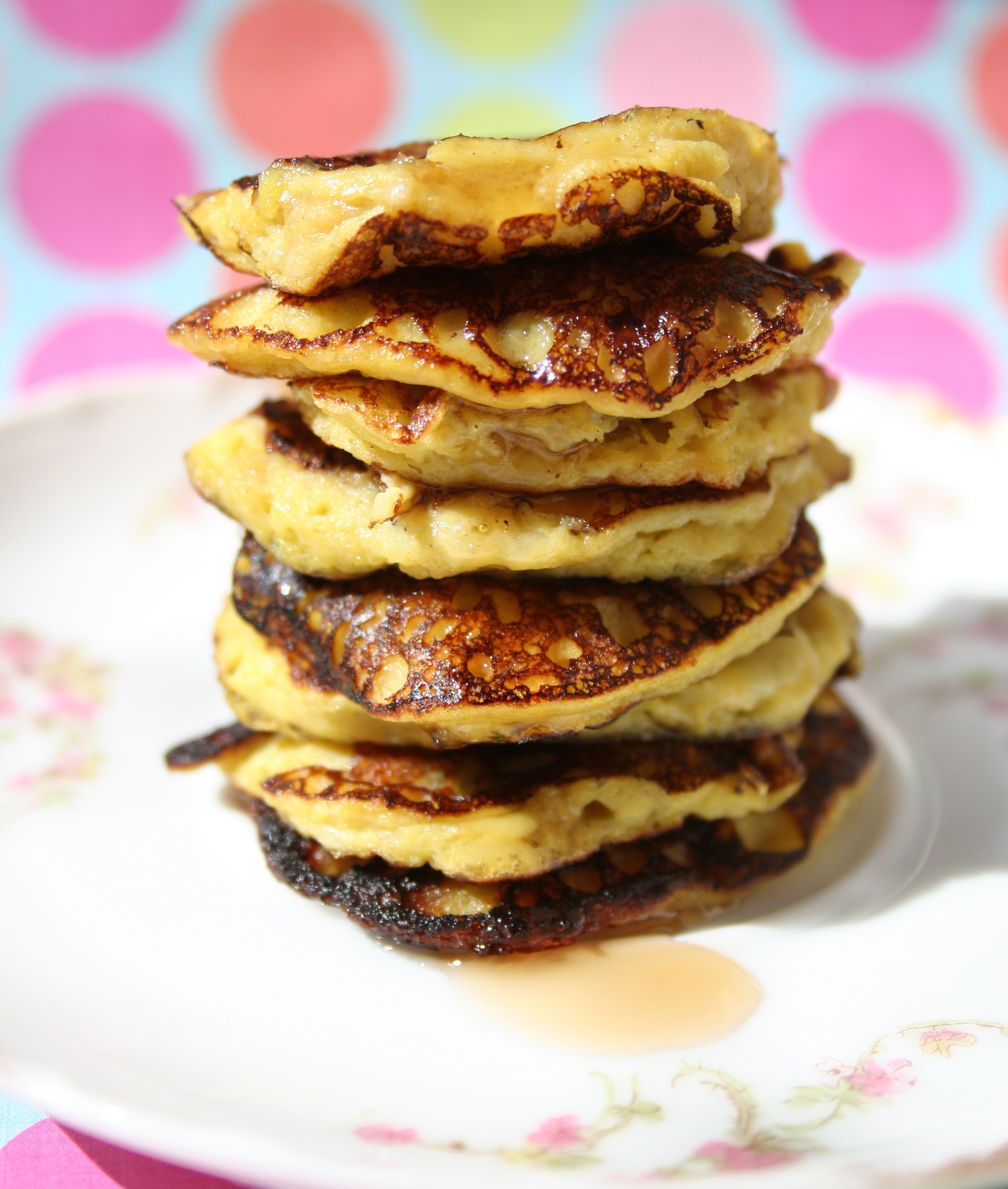 Two-ingredient banana pancakes recipe
Ingredients:
2 eggs, room temperature
2 medium, ripe bananas
Step 1:
In a medium bowl, mash the bananas. I did this using clean hands.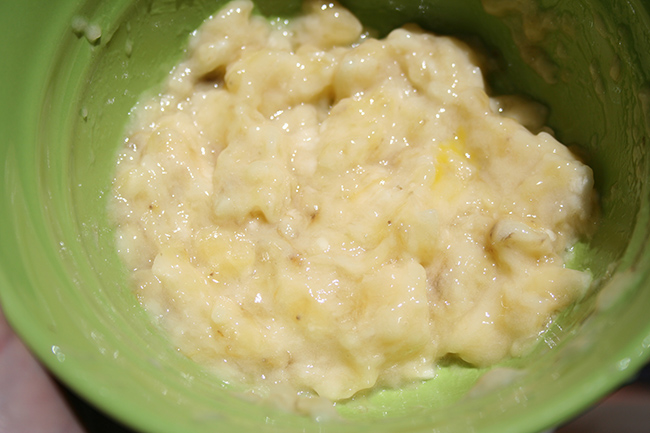 Step 2:
In a large bowl, whisk the eggs vigorously for 2-3 minutes, until foamy and lightened in color. This vigorous mixing helps the pancakes attain volume. 
Step 3:
Fold the mashed banana into the egg mixture, gently mixing until the mixture becomes cohesive. Add any other flavorings/mix-ins at this time (see below for suggestions).
Step 4:
Place a pat of butter in a skillet, and place it over medium heat. Once the butter is slightly bubbly, you can start cooking your cakes! 
Step 5:
Pour the batter onto the hot skillet one tablespoon at a time. You can cook a few pancakes at a time, space permitting. Cook until edges begin to bubble and a spatula slides under the pancake effortlessly. Depending on your skillet and the heat of your stovetop, the time may vary, but about a minute is a good guideline. Flip and cook the second side, noting that it will take slightly less time to cook than the first.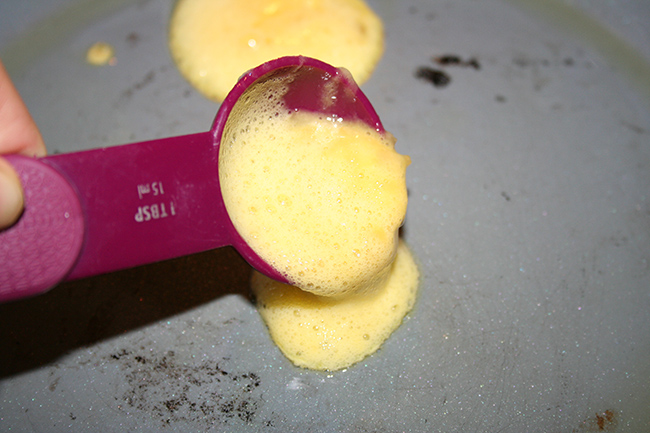 Note: Be careful! Even if you're a pancake-flipping pro, you'll have to get used to the different texture of these flourless pancakes. They're a bit more delicate than pancakes with flour, so flipping might be challenging on your first few pancakes. Don't worry — even the mangled-looking ones still taste great. 
Step 6:
Transfer the finished cakes to a serving platter. Continue until you've finished with the batter, replenishing the butter in the pan and adjusting the heat of the stovetop as needed. Garnish as desired, and serve immediately.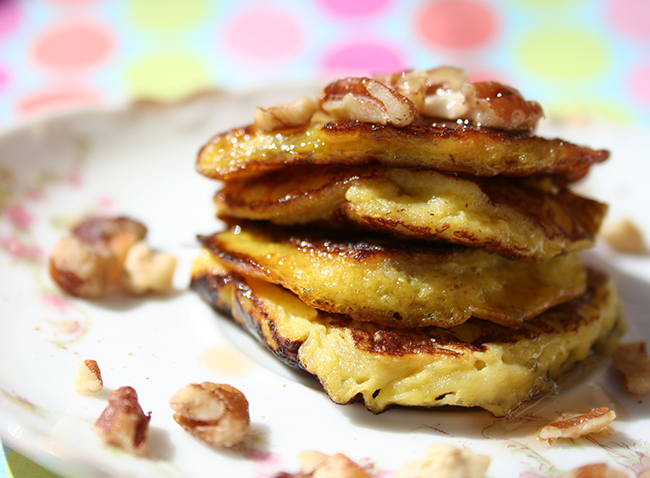 Recipe notes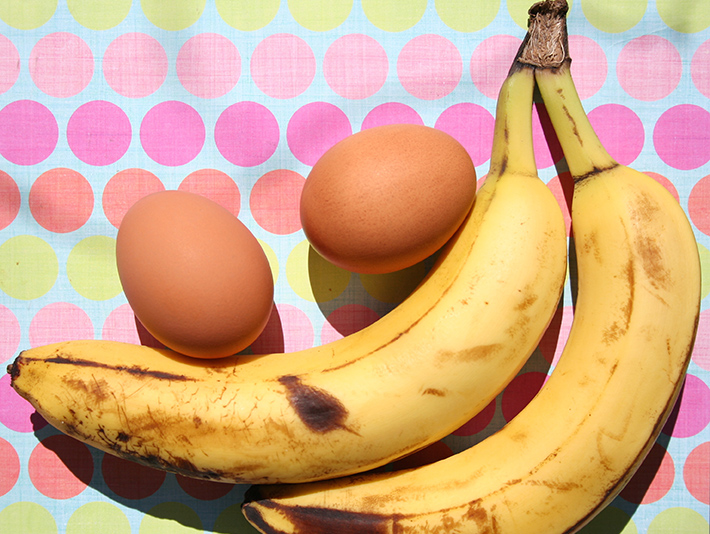 Pancake size
Since these pancakes are somewhat delicate and can be tricky to flip, I favored them in a smaller size. If you want larger pancakes, simply use more batter. The cakes may require a little more or less time to cook, depending on size.
Alternate cooking fats
If you prefer not to use butter for cooking the pancakes, no problem. Olive oil, coconut oil, vegetable oil or even non-stick spray work fine. 
Scaling this recipe
This recipe can be made in a larger or smaller scale. For lighter appetites, one banana and one egg will do. If you need more pancakes, simply double the ingredients for a larger recipe yield. 
Amp up your banana pancakes!
Consider some additional flavorings or mix-ins to tailor your pancake experience to your liking: 
Flavorings
If you like a little added flavor in your pancakes, by all means, add it! Here are some potential ways to punch up the flavor:
Add a pinch of salt
Stir in ½ teaspoon vanilla
Shake in a bit of cinnamon
Add 

½

teaspoon of honey
Mix-ins 
Go ahead, mix something in your pancakes for more flavor! You can add:
A handful of toasted nuts
Chocolate chips (they're a little messy, but tasty!)
Shredded coconut
Dried or fresh fruit
These are just a few ideas — add any flavorings or mix-ins your heart desires!