Brioche is a pastry, yes, but it's also one of the loveliest knit stitches you'll ever see. Yesterday we shared a brioche knitting tutorial on the Craftsy Blog (and you may also want to take a look at Nancy Marchant's class, Explorations in Brioche Knitting). Today, we wanted to show you how it's even lovelier when you use two colors!
The two-color brioche stitch creates a design that looks a bit like a k1, p1 rib. Like ribbing, brioche is reversible and creates a raised ridge on some parts of the design. However, brioche is knitted just a bit differently than ribbing. Instead of simple knits and purls, slipped stitches and yarn overs create the unique design. (If you're interested in the technicalities, check out Sarah Johnson's Brioche Stitch article that explains the brioche stitch in more detail.)
The two-color brioche stitch is the perfect stitch to try if you want to do something a little different with your knitting. Start with these patterns and see where the brioche stitch takes you.
Cinnamon Brioche
Doesn't this make you want to curl up with some tea? Oh, and I'll take two more of those cupcakes, thanks.
One of the great things about the two-color brioche stitch is that if you want to change up the look, you can just flip it over. This Cinnamon Brioche tea cozy pattern is totally reversible, so that if you turn it inside-out, the cinnamon brown becomes the prominent ridge, reversing the color pattern.
Lakedale Jacket

See those pretty columns on the front and around the collar of this jacket? That border is knit using the two-color brioche stitch. And because the edges are reversible, you can wear the collar like the model is wearing it, or fold it over to reveal the reverse two-color stitch. There's no wrong side!
.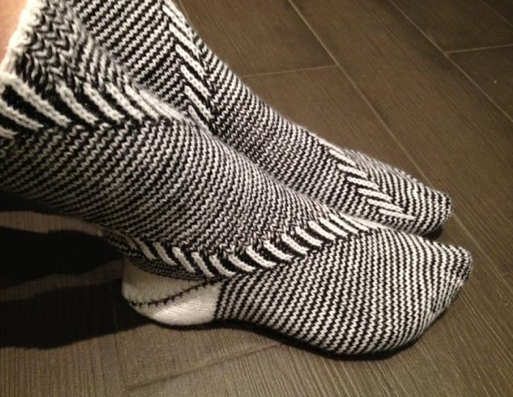 Photo via GaBoSocks
Eternity Socks with Spirals
The only part of this pattern that's a two-color brioche stitch is the spirals that wrap around the leg and foot. You probably won't wear these socks inside out to take advantage of the reversible stitch, but notice how the brioche raises the stitches in the spiral, making them stand out even more in the design.
.
Jacki Revisited Icelandic Style Scarf
This scarf was designed by Craftsy instructor Nancy Marchant, aka the Queen of Brioche. This is a slight variation on Nancy's one-color Jacki scarf provided to students of Nancy's Explorations in Brioche Knitting class, which covers everything you need to know about brioche, from shaping to joining colors.
Knit this scarf in one color, as in the original pattern, or try two of your favorite colors like Nancy did in this gorgeous variation.
.
Super Thick Brioche Car Seat Blanket
These tiny blankets are perfect for car seats and strollers since they won't drag the ground. Because they're knit using two-color brioche, no wrong side will ever show, even if the baby kicks the blanket around.
Because brioche is reversible, it makes a thicker knit — perfect for projects like these blankets or warm scarves.
Ripple Hat
Traditionally, knitted hats have a ribbing around the brim that gives a little bit of stretch so the hat will fit perfectly. You can achieve the same stretch with this pattern, which uses a two-color brioche on the brim.
.
Have you ever tried to knit two-color brioche? What did you like about it?