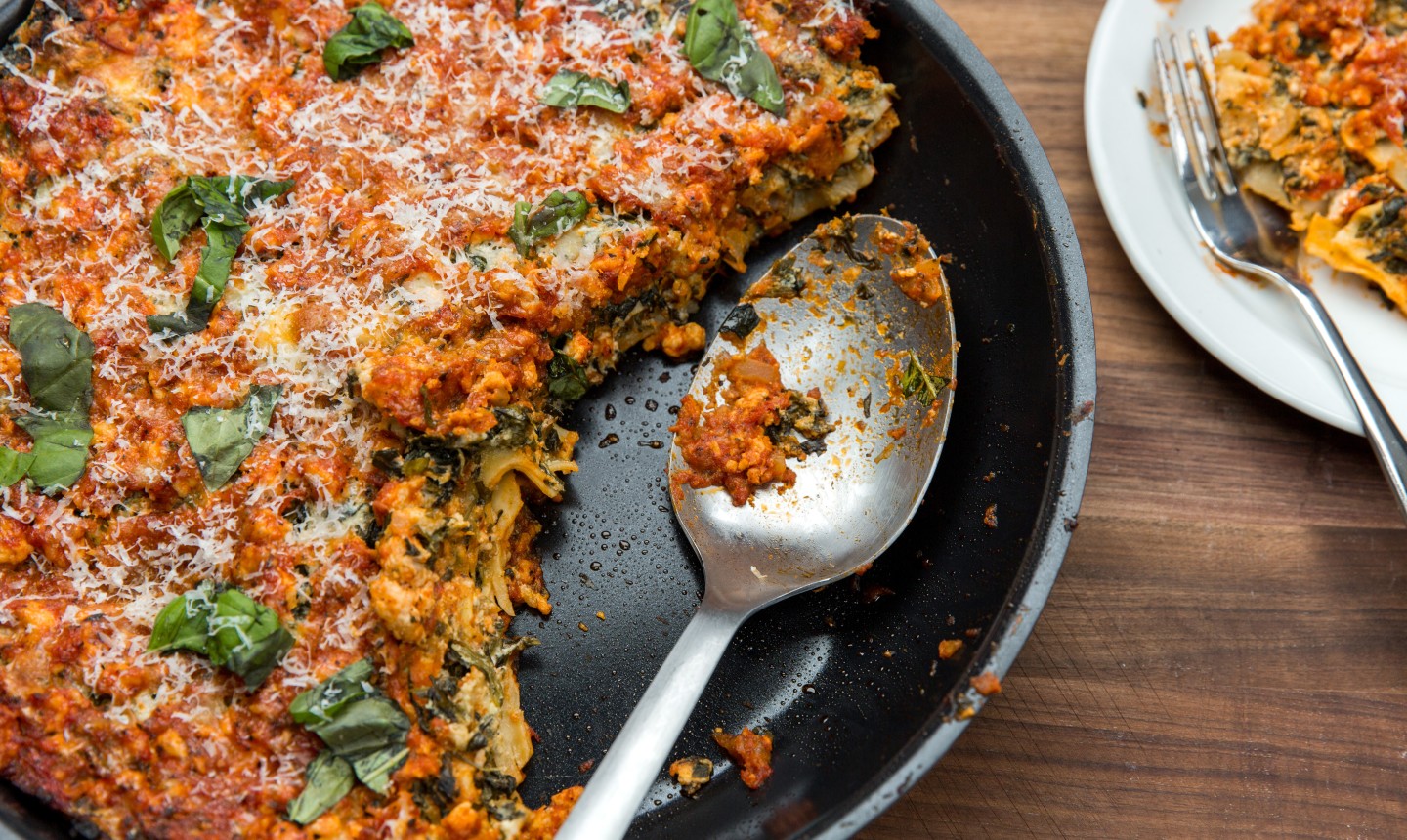 If you're anything like Today Show weather anchor Dylan Dryer, your weeknight menu requires minimal prep, minimal mess and minimal cleanup. The simple solution? A dinner you can make in one pot, like this new take on lasagna (and all the other dishes in Dylan's cooking class with chef Ryan Scott).
The best part of this turkey lasagna isn't the goat cheese (hard to believe, right?). It's that it all comes together in one sauté pan, with only 30 minutes of prep needed.
Turkey Lasagna with Goat Cheese, Basil and Parmesan
Yield: 4 to 6 servings
Ingredients
1 pound lean ground turkey
1 large yellow onion, diced
3 tablespoons garlic grated on a rasp grater
One 24-ounce jar of your favorite spaghetti sauce
2 teaspoons brown sugar
2 teaspoons dried basil
2 teaspoons onion powder
2 teaspoons garlic powder
2 teaspoons salt
1 teaspoon freshly grated black pepper
2 cups Monterey Jack cheese
1 cup ricotta cheese
1 cup goat cheese
½ cup Parmesan grated on a rasp grater, divided, plus more for garnish
1 egg, beaten
2 cups chopped fresh basil, plus more for garnish
2 cups chopped spinach (frozen, drained)
10 no-boil lasagna noodles
Instructions
1. In a large, ovenproof nonstick skillet, cook the turkey, onions, and garlic over medium heat until the meat is no longer pink, 6 to 8 minutes. Stir in the spaghetti sauce, brown sugar, dried basil, onion powder, garlic powder, salt and pepper. Remove half of sauce mixture to a medium bowl and set aside, leaving the remaining half in the pan.
2. In a large bowl, combine the Monterey Jack, ricotta, goat cheese, ¼ cup of the Parmesan, the egg, chopped basil and spinach.
3. Arrange half of the lasagna noodles in a single layer over the meat sauce, breaking some to fit around the edges of the pan. Spread the cheese mixture evenly over the lasagna noodles and top with a second layer of lasagna noodles. Spread the remaining meat sauce on top of the noodles and sprinkle with the remaining Parmesan.
4. Cover and bake at 350 F for 30 minutes, then uncover and continue baking until bubbly and browning at edges, 15 to 20 minutes more. Garnish with torn basil leaves and Parmesan and serve.