Variegated yarn holds a special place in my heart. The very first project I ever knitted — a scarf, of course — was stitched with a variegated yarn. (You'd laugh so hard if you saw it. It was uneven and had lots of holes.)
If you're unfamiliar with it, a variegated yarn is just a yarn that's dyed using more than one color. You've probably seen them on the shelf calling to you, and maybe you've even tried knitting with them.
For many knitters, these variegated yarns sometimes look better on the shelf than they do when they're knit up. Don't let another variegated yarn disappoint you on the needles.
Use these tips to make the most of the colors in gorgeous variegated yarn.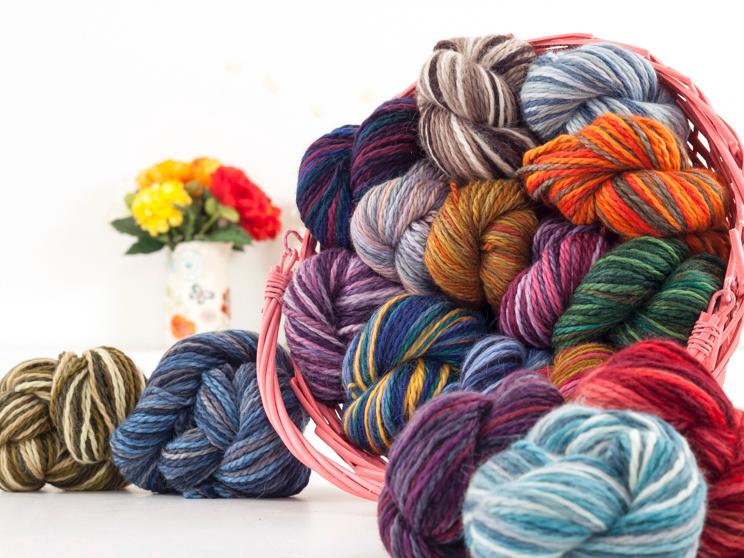 Cascade Baby Alpaca Chunky Paints Yarn comes in several different variegated colorways
Keep embellishments to a minimum — or skip 'em altogether.
A lot of knitters have a problem knowing when to stop. Ever debated for hours over exactly how long that scarf should be? I feel similarly about embellishments like embroidery and duplicate stitches. I just don't know when to stop adding them! When we use variegated yarns, there are already so many colors at work there. Why distract from that with unnecessary extras? Save those for the solid colors.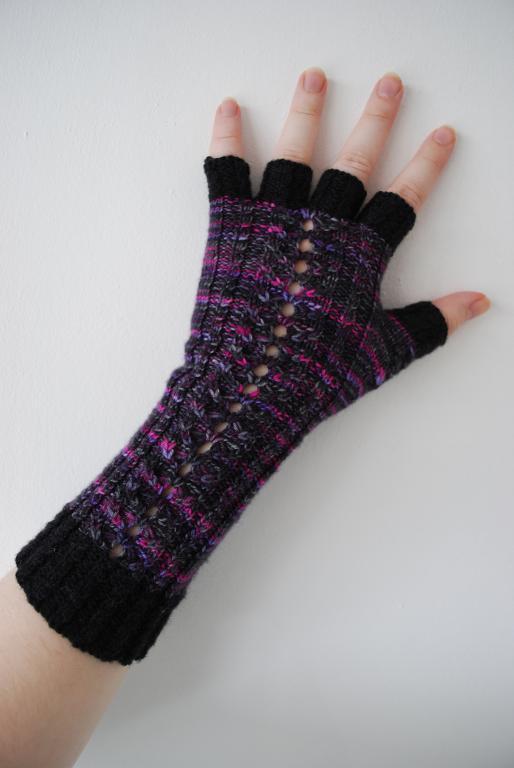 Photo via Craftsy member Nativestar
Long vs. short color repeats
This is one of the first things to consider when you're figuring out how you'll use your variegated yarn. If you can grab just part of the strand and see the color changing every few inches, you'll know that the color repeats are shorter. This means that for a project like the Honey Quartet gloves pictured above, you'll get narrower stripes of color.
With long color repeats, stripes on a smaller item like gloves will change color less frequently. However, for projects with longer rows like blankets, a long color repeat might be more desirable. It all depends on the effect you're going for.
Start in the same spot for projects worked in pairs.
Recently I used a variegated yarn to knit the pair of socks pictured above. I knit my socks on double-pointed needles one at a time, so when I cast on for the second pair, I didn't pay attention to which color was next on the skein. This resulted in each sock looking radically different in color. Notice how the sock in the front has a red stripe on the cuff, while the sock behind it doesn't see solid red until the foot. Oops!
The inconsistency in color wasn't very important to me — or to my boyfriend who received the socks as a gift — but if it were something like mittens or sweater sleeves, I might feel differently. If you want your pair to match perfectly, check out which color you started with on the first project and be sure that's where you're starting with the second project. For example, if your first sock started with green, you'll want to cast on beginning with green for the second sock.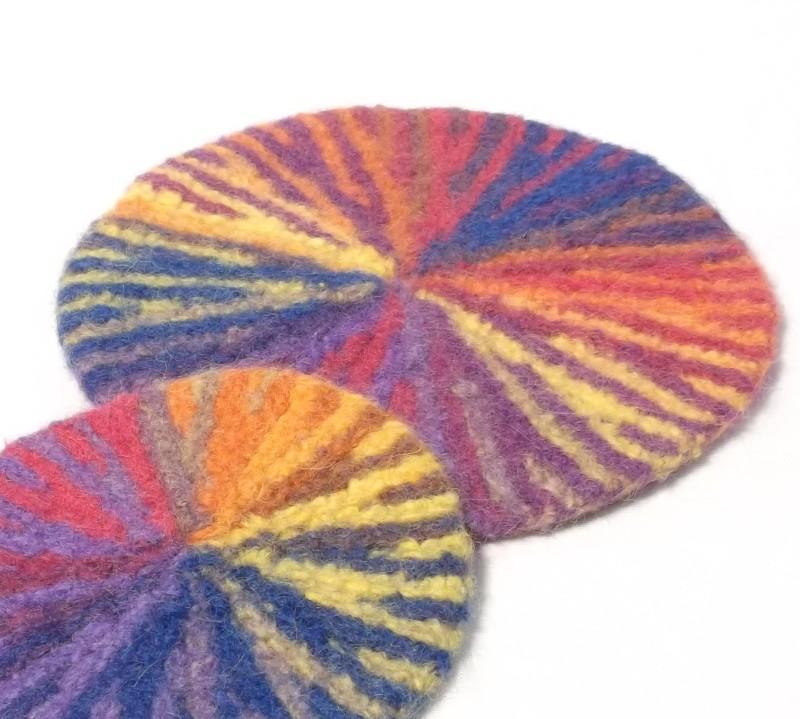 Photo via Craftsy member Claire Fairall
Find patterns designed for variegated yarns
Some designers are so crazy about variegated yarn that they design patterns specifically for the colorful yarn. The Starburst Felt Table Mat pictured above, for example, uses short rows and a chunky-weight wool that's then felted in the washing machine. The short rows and variegated yarn work well together, don't you think?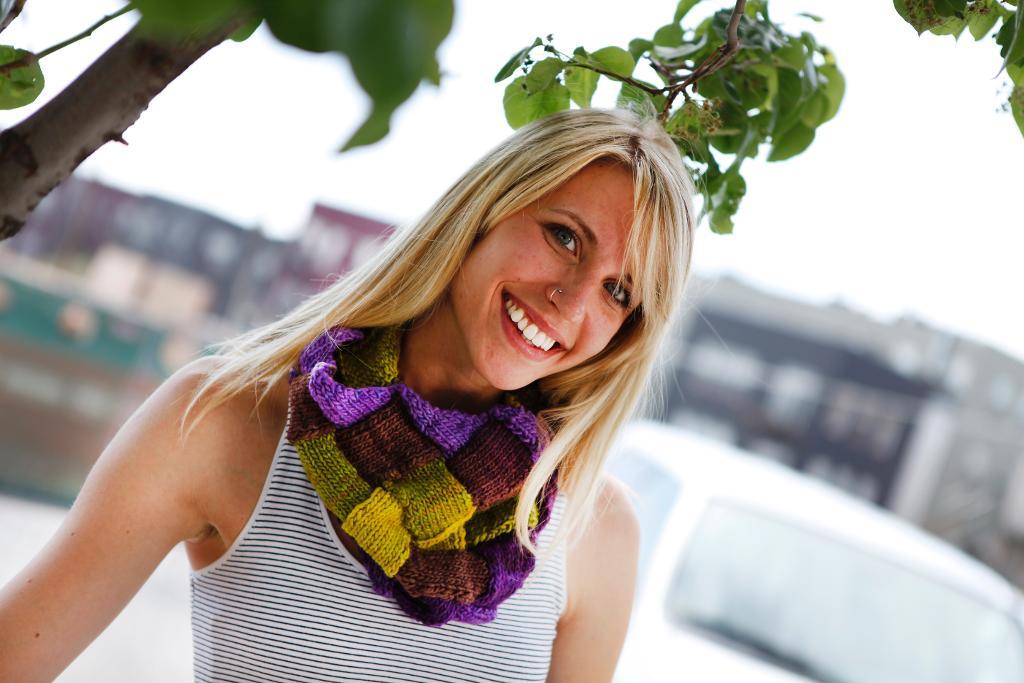 Photo via Craftsy instructor Gwen Bortner
Try different techniques
If you swatched and swatched and still can't seem to make the varigated yarn look the way you want, switch up the technique. A technique like entrelac, for instance, changes directions and makes pools of color that are completely different than just knitting rows of stockinette stitch. Check out Craftsy instructor Gwen Bortner's Entrelac Neck Warmer pictured above. Gwen used an ombre yarn with variegated colors, but the entrelac technique makes the yarn look completely different than when it's knit in plain back and forth rows.
Gwen offers this pattern exclusively to students enrolled in her Entrelac Knitting class, so enroll today to get the pattern and learn this fabulous technique that's perfect for variegated yarns.
Have you ever stitched a project with variegated yarn that didn't turn out exactly how you thought it would?