Every year I have grand plans for an epic holiday cookie platter. Some years these plans come to fruition and other times not. Now with these nutty thumbprint cookies already made, I have high hopes for this year.
A cookie plate comes in handy when school parties pop up or you need a sweet little something to give to the teachers. They make a great hostess gift and are fun to pass around while the presents are being opened. And let's be honest, even if these cookies are the only one on the platter everyone will be thrilled.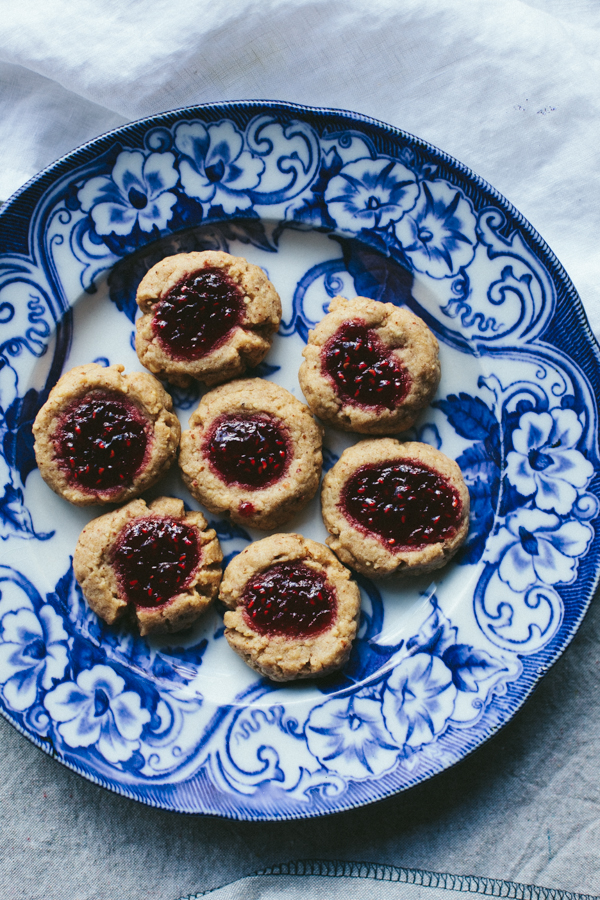 Many cookies can be made ahead and then frozen, and these beauties are no exception.
So into the freezer they go (first I will snag one or two, thank you) and then I'm ready for whatever holiday needs demand a cookie platter. 
Thumbprint cookies are classic this time of year.
Perhaps its because the deep red jelly that makes it reminiscent of a ornament. Either way, they are simple, one batch makes many cookies and everyone loves them.
But these thumbprint cookies are exceptionally special. First they start with a base of deeply toasted pecans. Toasted until nearly copper throughout and they smell delightfully roasted. To reiterated that cozy, roasty flavor I've also browned my butter. 
Browning butter is something I do often as it adds another layer of flavor to whatever it is you are adding it to.
I'm telling you pasta with brown butter and finely grated Parmesan is a beautiful thing. When you boil the butter beyond the initial bubbles eventually the milk solids in the butter will start to caramelize and give you a nutty wonderful scent. 
So you see, these are special, and holiday cookie platter or not, I'm quite certain you need them.
Thumbprint cookie recipe
Ingredients:
3 sticks / 1 1/2 cup) unsalted butter

6 ounces / 1 1/23 cups pecans, toasted 

3 ounces /1 cup confectioners' sugar

3 cups / 14 ounces unbleached all-purpose flour

1 teaspoon kosher salt

2 teaspoons pure vanilla extract
2 tablespoons whole milk
1/2 to 3/4 cup red raspberry preserves with seeds
Directions:
1. In a large saucepan, brown the butter until nutty and golden in color. Before the butter browns it will bubble up (watch it carefully) and let settle. Swirl the pan to release the scent (it will smell toasted) and to look for the milk solids to have caramelized. Remove the pan from the heat just as you notice the color change.
2. Set the butter aside to cool for 10 minutes. Preheat the oven to 350 F and line two baking sheets with parchment.
3. In a food processor, pulse the pecans until finely chopped. Carefully add the butter and confectioners' sugar. Pulse until combined.
4. Add the flour, salt, vanilla and whole milk, then process until a very soft dough forms.
5. Roll about 1 tablespoon of the dough in your hand then gently press your thumb into the center to create an indentation. The dough may be a bit crumbly but when pressed together it holds.
6. Once all the dough has been formed, will the indentation in the cookie with a bit of jam. 
7. Bake the cookies for 20 minutes or until just golden around the edges.
8. Let the cookies set up on the baking sheet for a few minutes before removing.
If kept in an airtight container these cookies will keep for one week or they can be frozen for up to one month.