I'm not very picky about my machine sewing thread. In fact, I have been happy with many different brands and find that any problems are usually due to other factors.
But when it comes to sewing by hand, thread makes a world of difference in my experience and the results. The best type of thread for your hand sewing project is one carefully suited to your task.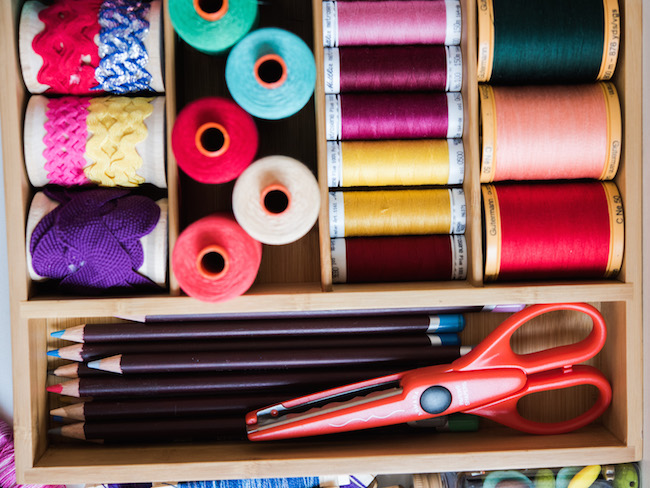 The best thread for utility sewing
Some hand sewing projects need to be extremely durable. Perhaps you are sewing a button back onto your favorite winter coat or repairing a strap that's pulling away from your beach tote.
When hand sewing items that will see heavy use, select a heavy-weight thread in a synthetic fiber such as polyester. Coats & Clark's Button & Craft Thread is an excellent choice. 
If your utility sewing involves an outdoor item, such as canvas for a playground canopy or a decorative pillow for your patio, look for a thread designed specifically for outdoor use. These threads will withstand sun exposure and temperature fluctuations far better than typical thread.
Thread for sewing garments by hand
In contrast, when choosing a thread for garment sewing, focus mainly on matching the color of your thread to your project. Whether you're repairing a tear in a blouse or finishing a machine-sewn garment with a hand-stitched bias binding, finding a thread that blends well with the color of the cloth is essential.
Whenever possible, bring your cloth to the shop to choose a thread in person. I prioritize color matching for garments above brand preferences and thread weights.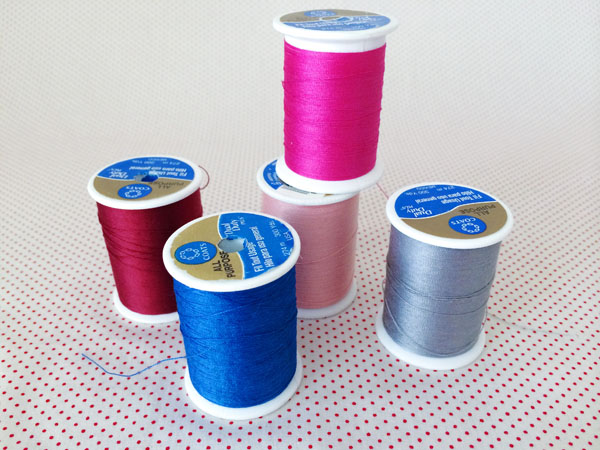 Usually the best thread for your clothing is an all-purpose polyester thread. Unlike 100 percent cotton thread, polyester works well for knit, stretch and permanent-press fabrics because of its stretch and recovery. It also won't shrink, a characteristic certainly better for clothing repair.
Thread for hand-sewn appliqué
When appliquéing a shape onto a background fabric, you may not want your stitches to show at all. You could hand sew with invisible thread, called monofilament thread.
But while your stitches will be practically invisible, so too is the thread while you're working with it. Threading the needle and managing clear monofilament thread requires an abundance of light and will likely tire your eyes.
The best thread for hand sewing appliqué is a fine-weight thread such as Aurifil 80 wt. This thread is strong but fine, ideal for needle-turn appliqué or the blind stitch. Although it is colored, with a reasonable match you won't see the stitches as the fine thread sinks right into the fabric. 
Some types of appliqué don't aim for invisible stitches. For example, Alabama Chanin–style appliqué uses chunky, visible stitches in Button Craft Thread. This type of appliqué is perfect for beginners.
Thread for hand-pieced patchwork and hand quilting
Many quilters enjoy piecing and quilting by hand. Working with a high-quality thread such as Aurifil 50 wt will absolutely enhance these slow sewing tasks. Think more sewing, less tangling and breaking!
These are issues with any repetitive hand-stitching task, as the thread becomes worn by being drawn through fabrics again and again. Aurifil makes very strong, smooth threads that can even support multiple stitches loaded onto your needle and pulled through all at once.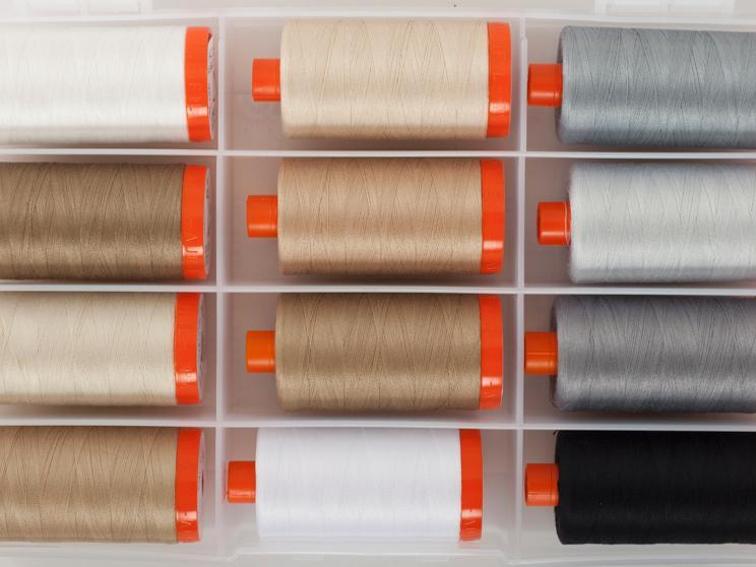 Some threads marketed for hand quilting have a special coating to help them glide through fabric with ease:
Coats & Clark makes Dual Duty Plus Hand Quilting Thread, which is a cotton-covered polyester thread with a finish.
Guetermann makes a Hand Quilting Thread that is a waxed cotton. My experiences with Guetermann's Hand Quilting Thread have been disappointing, however. It is a stiff, curled thread that's still prone to tangling. 
You'll likely have better results if you coat thread as needed for your hand sewing tasks. Natural beeswax or artificial thread conditioners such as Thread Magic work wonderfully to reduce abrasion and knotting. After cutting a length of thread for use, run it along the conditioner before stitching.
Or, invest in Aurifil 50 wt for your hand quilting projects. Aurifil typically doesn't require threaed conditioners.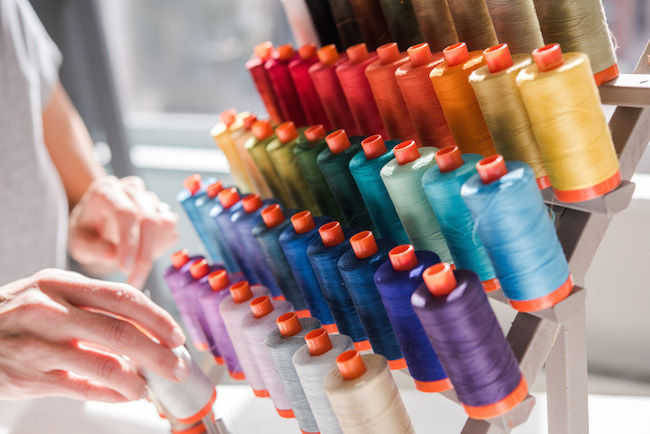 Although it takes a bit of planning ahead, acquiring the best thread for your hand sewing project will certainly pay off. Fortunately, each spool is more than enough for most projects, so you'll soon have a nice collection of useful threads on hand when the need arises!