While Thai cuisine is famous for its bold, spicy flavors, this Thai sticky rice with mango recipe is a surprisingly subtle and lightly sweet dish. It has a wonderful cooling effect when enjoyed following any of the zesty recipes such as pad Thai, red curry chicken, and hot and sour soup from Craftsy class Thai Cooking Essentials.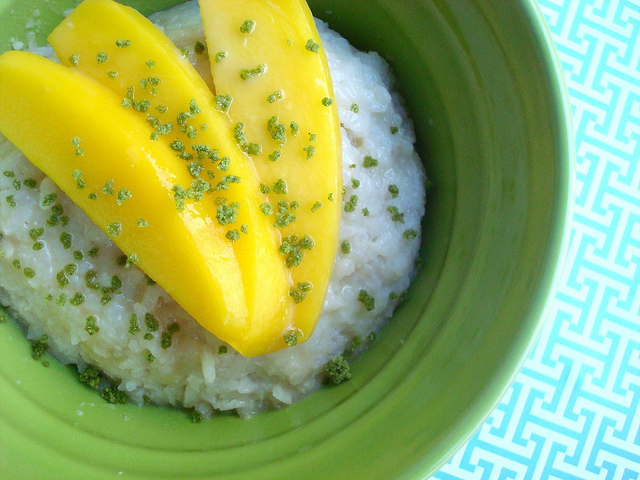 Photos via CakeSpy
Learning how to make Thai mango sticky rice, an essential of authentic Thai cooking, is easy, and decidedly open-ended, making it a welcome addition to your food and cooking repertoire. The rice can be steamed using a rice cooker or simmered on the stovetop to perfection, and you can determine the sweetness of the dish by spooning as much or as little of the sweet coconut milk mixture on top of the finished individual servings.
Getting hungry? Here's a Thai sticky rice with mango recipe that's sure to please!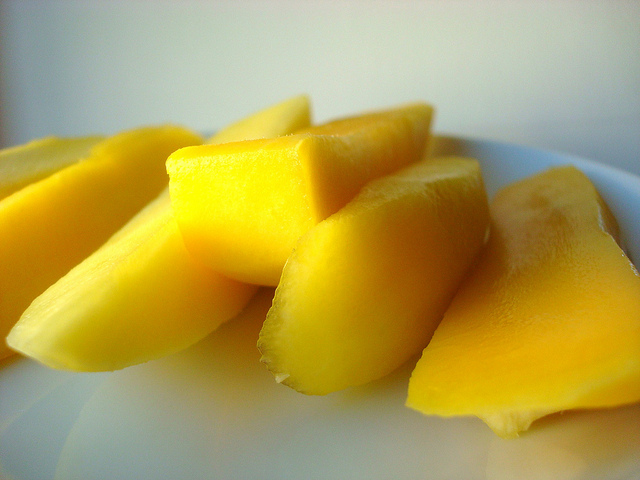 Recipe Notes
Mango for it
Don't have fresh mangoes available where you are (or perhaps they're just really, really expensive)? Use fresh papaya or peach slices instead, or use a melange of tropical fruits. The taste will be different, of course, but the flavor will still be great.
Rice is nice
How to find the correct type of rice for this recipe? We found that it was easiest to find the sticky rice required for this recipe in an Asian market. When we asked for "Thai sticky rice" the associate knew exactly what we were looking for. It may also go under the names "Thai sweet rice," "sticky rice" or "glutinous rice."
While regular white rice could be used for this recipe, the texture isn't quite as satisfying as the sticky rice paired with the smooth, cool fruit and sweet topping. This is to say: it's worth a trip to the store to purchase the sticky rice.
Sticky fingers
Sticky rice will become more sticky the longer it sits, so if you want it super sticky, make it several hours in advance. This is true for both cooking methods listed below.
Presentation
In researching traditional mango sticky rice, we came across a number of different presentations. Some will display the sliced mango on the side of a scoop of rice; others will feature a scored mango half atop a bed of rice. Yet others will sculpt the mango as if it were a piece of art. Choose whichever presentation works best for you, or keep it simple, as we did, with a simple garnish of several slices of mango on top of bowls of the sweet sticky rice.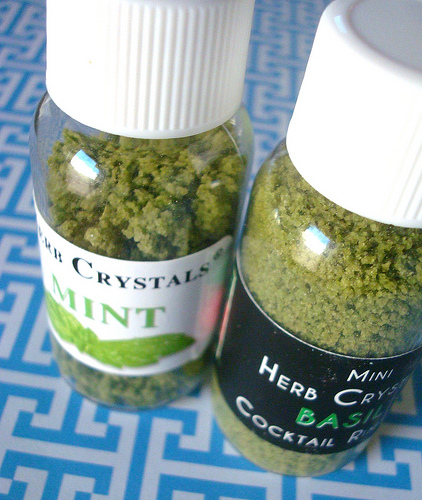 It is traditional to garnish mango sticky rice with mint or basil; for a delicate finish, consider using crystallized herbs such as these. We used the crystallized herbs taught in the Craftsy course Creative Flavors for Cakes, Fillings & Frostings, which work very well for other desserts, too.
Storing sticky rice
If you don't think you'll be eating all of the mango sticky rice in one sitting, you can reserve the rice after Step 3. It will keep for 24 hours without drying out. Simply reserve some of the coconut milk mixture to drizzle on top of the rice. Serve warm, heating it in the microwave or stovetop, or cold. It tastes good both ways. Drizzle the reserved liquid on top directly before serving.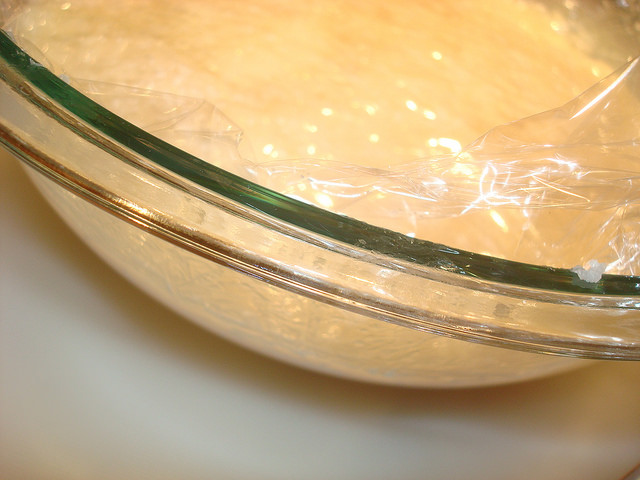 Mango sticky rice recipe
Recipe adapted from Epicurious
Makes 4 Servings
Ingredients
1 ½ cups sticky rice
1 ½ cups canned or fresh coconut milk
½ cup palm sugar, or substitute brown sugar
½ teaspoon salt
2 ripe mangoes
Step 1:
Soak the rice for 20 minutes to 4 hours in water. Drain, and cook, either by steaming in a rice cooker, or cook on the stovetop (directions for both methods below).
Step 2:
While the rice is cooking, heat the coconut milk in a saucepan and heat on low-medium heat until it is hot, but do not let it boil. Remove from heat, and gently whisk in the sugar (brown sugar will impart a taupe color) and salt.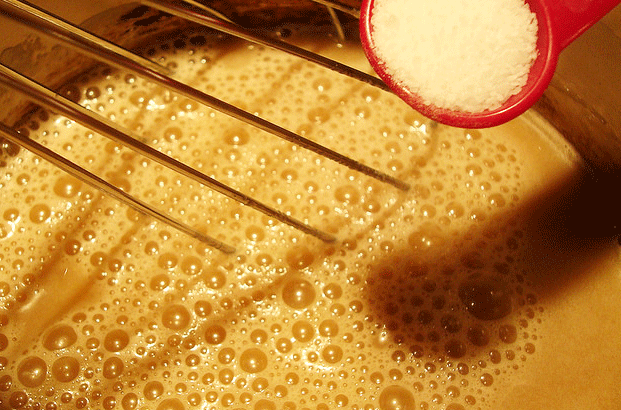 Step 3:
When the rice is cooked, transfer it to a bowl. Pour 3/4 cup of the coconut milk mixture over the rice; keep the rest to the side. Stir to ensure the rice and milk are evenly mixed, then let it sit for 20-30 minutes to allow it to absorb the milk and let the flavors blend.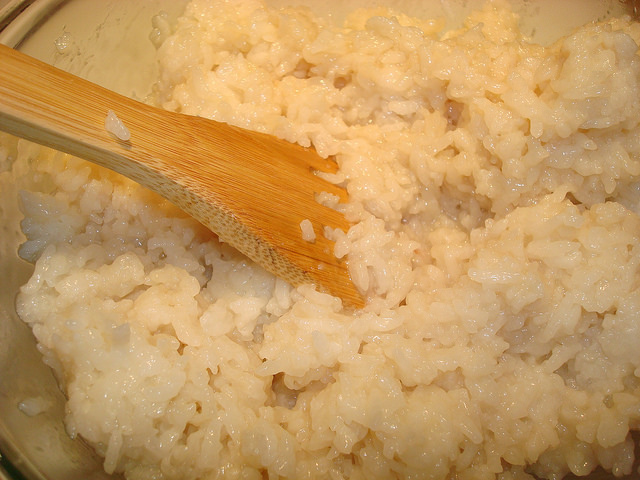 Step 4:
Peel and slice the mango into thin, long portions.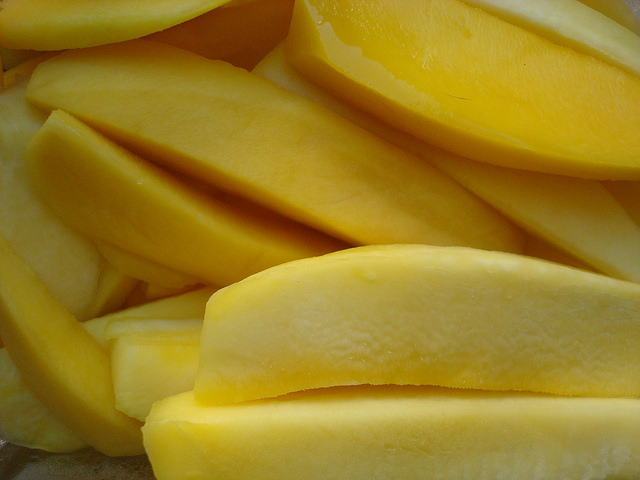 Step 5:
Now, it's time to assemble. Place a scoop of sticky rice on each plate or bowl, and place a few slices of mango on top or on the side. Stir the remaining coconut milk, and drizzle on top to taste.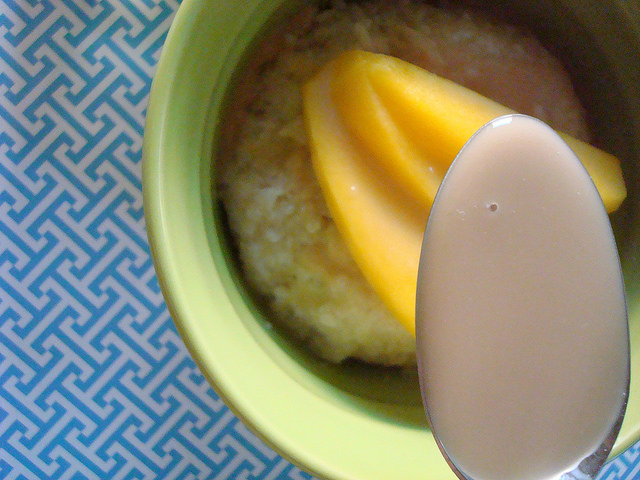 How to cook sticky rice on the stovetop for this recipe
Step 1:
Soak the rice in water for 20 minutes to 4 hours.
Step 2:
Drain the rice, and transfer it to a saucepan. Add 1 3/4 cups water. If you want your rice to be even slightly sweeter, stir in 1 tablespoon of brown sugar.
Note: On the stovetop, you can also make your rice extra coconut-y by swapping all or part coconut water for plain water in Step 2. This is optional.
Step 3:
Place the saucepan over medium-low heat, and bring to a low boil. Once it comes to a low boil, reduce the heat to low and place a lid on top of the rice, slightly askew so that the steam can escape.
Step 4:
Allow the mixture to simmer for 20 minutes. Do not uncover or stir for this period of time. After 20 minutes, check on the mixture: if the liquid has been absorbed, remove from heat. If it has not, re-cover and check every 2-3 minutes until it has been absorbed. Once the liquid has been absorbed, remove from heat and place the lid on top of the rice, not askew this time but completely covered.
Let the rice sit for 10 minutes before proceeding with the next recipe steps.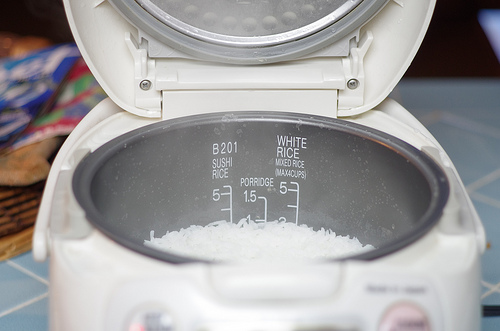 Photo licensed via Creative Commons by Flickr member David Prasad
How to steam the rice in a rice cooker for this recipe
Step 1:
Soak the rice in water for 20 minutes to 4 hours.
Step 2:
Drain the rice. Place it in your rice cooker; add 2 cups of water, and stir.
Step 3:
Set your rice cooker for the amount of liquid that's in the bowl. The process may differ depending on the rice cooker.
Step 4:
Turn on your rice cooker, and let it do its thing.
Step 5:
When the rice cooker switches off, let the rice sit for 5-10 minutes before proceeding with the next recipe steps.
What types of Thai food do you like to cook?