When you pick out a gorgeous piece of fabric, do you ever think about the hundreds of decisions that went into designing it and all of the people that helped turn the design into something tangible? Do you ever wonder why a design is available in a certain color way and not in another? The textile design and production process is pretty fascinating, and it's a team effort, involving more people than just the fabric designer.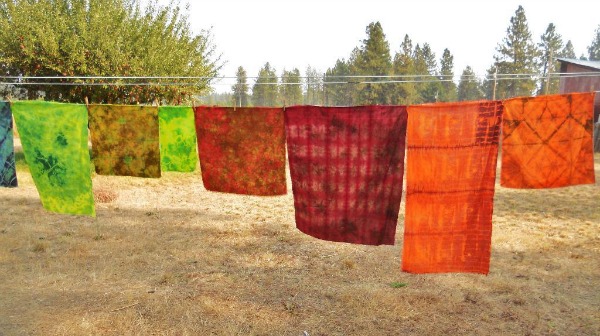 Photo via Bluprint member kathyriggs
The 411 on textile colorists
Some fabric designers, like Amy Butler and Anna Maria Horner, have become household names (in the sewing community, anyway), and have branched out beyond textile design, with lines of lifestyle products and popular sewing books. But even big-name fabric designers have a little help in making design decisions, and that's where textile colorists come in. A textile colorist works with the textile designer to decide on the colors used for each fabric pattern, including developing multiple color ways. They work for manufacturers of home goods, apparel, and, of course, textiles.
Textile colorists usually have degrees in art or textile design. They have an understanding of color theory, as well as the process of developing and manufacturing fabric. They are in tune with color trends (think Pantone's color reports); textile colorists are directly responsible for that shade of blue that you're seeing everywhere lately. A textile colorist might eventually become a textile designer or stylist herself, after gaining several years experience working as a colorist.
Thinking of becoming a textile colorist?
You'll need to be familiar with computer design programs, like Illustrator and Photoshop, understand fabric structure and the manufacturing process, and have technical skills in fabric dyeing. You'll also need a great portfolio of your work to help you land a job. You can work on building your portfolio now by experimenting with color combinations and saving your favorites. You'll also want to pay attention to color trends and general trends within the fashion industry. If you're a student, get involved with your school's chapter of the American Association of Textile Chemists and Colorists.
Or do you just want to play one on TV?
If you just want to be a textile colorist in your spare time, look for ways to bring your own design ideas to life.
Spoonflower is custom fabric printing company, and you can have your design printed on fabrics suitable for garment sewing, such as silky faille, cotton voile and interlock knit. At around $25 per yard, the price of custom fabric isn't too much more than what you would pick up at your local fabric store. Spoonflower uses eco-friendly, water-based ink to print your design, and you can also make your design available for sale to the Spoonflower community (earning you a little pocket change to buy more fabric!).
Another option is to try your hand at dyeing fabric. Check out the Bluprint class The Art of Cloth Dyeing with Jane Dunnewold to learn how to make your own fabric for quilting or garment sewing. Or, really get your hands dirty by hand printing your own fabric at home (here's a good DIY fabric printing tutorial from Poppytalk and another on using craft foam from Phoebe Gander).
You might also enjoy our post on fun techniques for dyeing fabric at home and our virtual tour of a fabric factory.
Have you designed your own fabric before? What did you sew with it?