Have you heard about our new Knit-Along? Together with designer Bristol Ivy and the Bluprint knitting crew, we're knitting the cozy, cute Tealeaf Sweater — and it all starts today!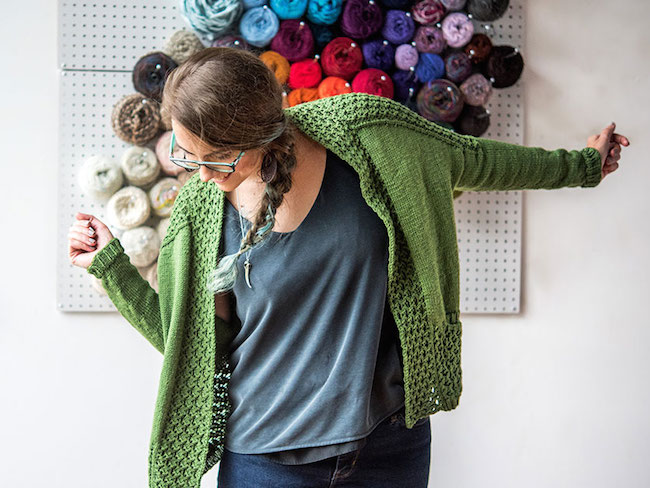 Wondering what the hype is about? Here's why we're so jazzed about this new KAL.
1. The timing couldn't be better.
The knit-along officially starts today, and if you follow along week by week, you'll have a finished sweater in six week. That's right at the end of October — and smack dab in the middle of fall, when you'll want plenty of cozy sweaters to layer on.
2. In case you didn't already know, Bristol Ivy totally rocks.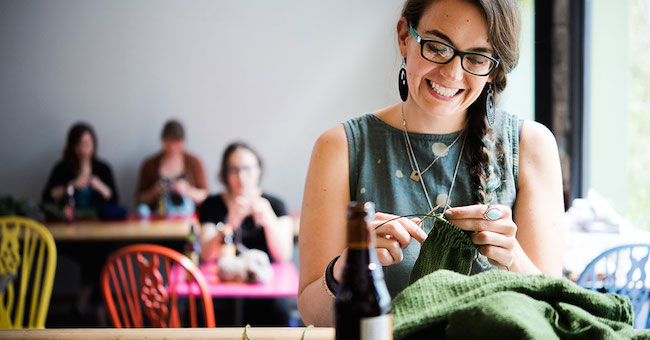 Bristol is such a super cool knitter. Not only are her designs beautiful, but they're also smartly put together — and the Tealeaf Sweater is no exception. Plus, she's full of knitting knowledge, which she's sharing in her weekly video tips. You can ask her all kinds of questions in the video player, or follow her on Instagram throughout the KAL.
3. Oh, that yarn!
You know what makes or breaks a project? Yarn. We couldn't be happier with the soft, luxurious yarn Bristol chose for the Tealeaf Sweater.
While a solid color lets your stitches shine (especially the lace!) you're not limited to those shades. This Cloudborn yarn comes in a few other cool colorways, including a drip-dye collection, our one-of-a-kind splash yarn and a line dyed by Lorna's Laces.
4. You'll learn loads along the way.
Lace, pockets, short rows — the list goes on! This sweater covers so much ground that you're bound to learn something new as you go. Even experienced knitters will pick up a few tidbits from Bristol and from our knitters here on the blog.
And don't let that intimidate you: Remember that Bristol and the whole community will be there to walk you through the tricky spots.
5. There's no need to worry about fit.
If you've put off knitting sweaters because you're worried about getting the right fit, procrastinate no longer! The sweater is designed with loads of positive ease, so even if you're a little off, it'll likely still fit. And the pattern includes sizes for bust sizes from 30″ to 58″.
6. We're all along for the ride.
Knitting is more fun with friends! More than 2,000 knitters from around the world are joining us. And getting involved with the whole community is simple:
Share your progress on Instagram and Facebook with the hashtag #SweaterTogether.
Follow along on Ravelry.
Join the conversation in the video player.
Subscribe to the Bluprint Knitting Blog to hear about our team's knitting journey (more than two dozen knitters at Bluprint HQ are knitting along!).
We'd love to have you join us! Enroll here to get the planning sheet, pattern and video tips. Let's get knitting!