A T-shirt might just be the best garment ever invented. Easy to sew and so comfortable to wear, the activities of our modern lives would not be the same without the T-shirt. Have you sewn one yourself? Give one of these patterns a go and show off that fabulous knit fabric in your stash.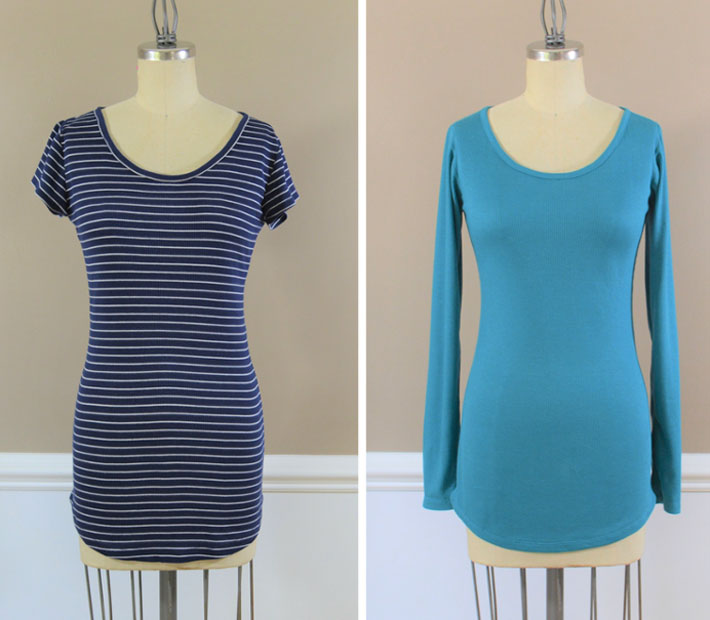 Photo via Craftsy member The Sewing Addiction
1. The Perfect Tee
Every wardrobe has a place for that perfect item, and this might just fill in the category of T-shirt. With a variety of sleeve lengths, extra length and interesting shirttail hem it could be great to pair with leggings.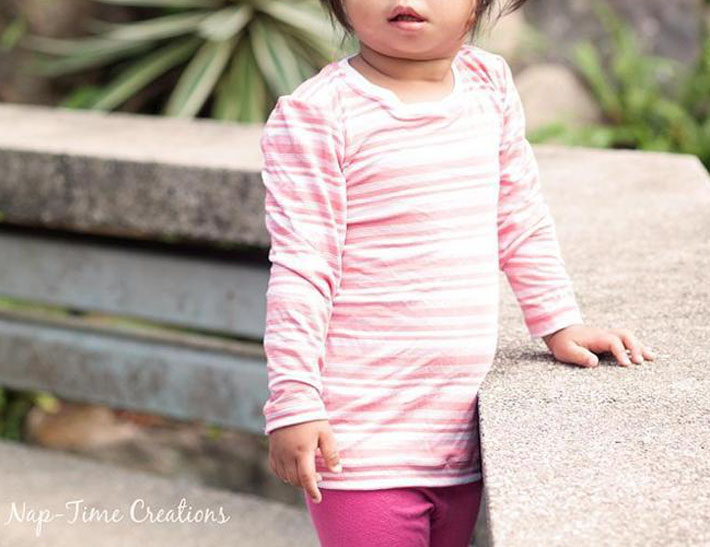 Photo via Craftsy member Nap-Time Creations
2. Girls Free T-Shirt — Long and Short Sleeve
Here's a pattern to sew for a little one — and it's free! This pattern is sized from 2 years to 12 years, so you can reuse it as she grows.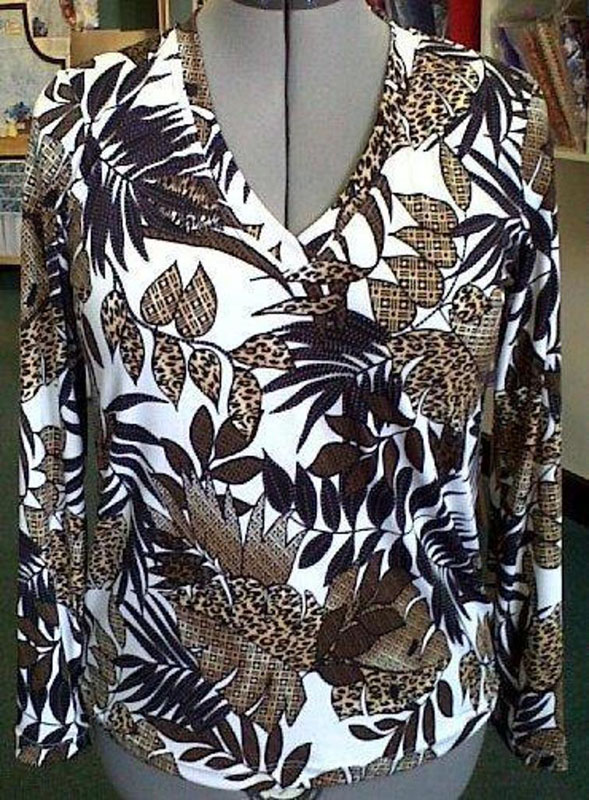 photo via Craftsy member Sewing patterns on the net
3. Lycra Fit T-Shirt
For a variety of necklines options, try the Lycra Fit T-Shirt. This pattern includes a V-neck, round neckline, a polo neckline and a variety of hemline and sleeve lengths.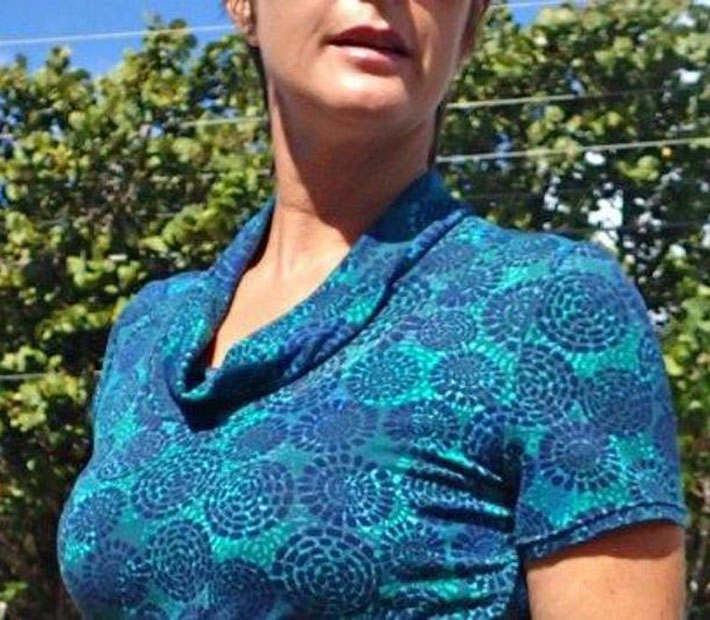 Photo via Craftsy instructor SoSewEasy
4. On-a-Roll T-shirt
For a RTW-inspired interesting neckline, try the On-a-Roll tee, which features a roll-over neckline — perfect for a soft and slinky knit.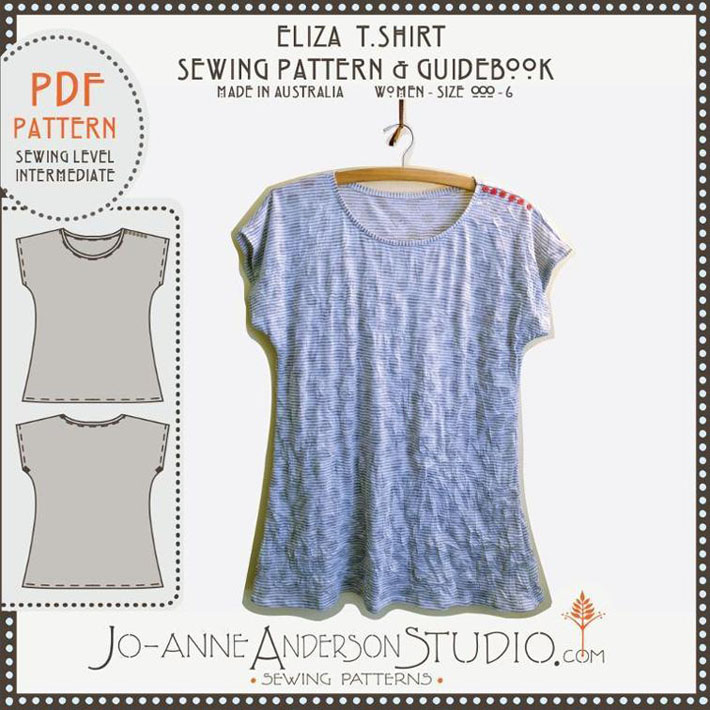 Photo via Craftsy member Jo-Anne Anderson Studio
5. Eliza T-Shirt for Curvy Plus Size Women
A pattern designed for C- and D-cup models, this pattern covers range of sizes. The illustrated guidebook that accompanies the pattern includes instructions for adjusting the garment length and width across a range of sizes.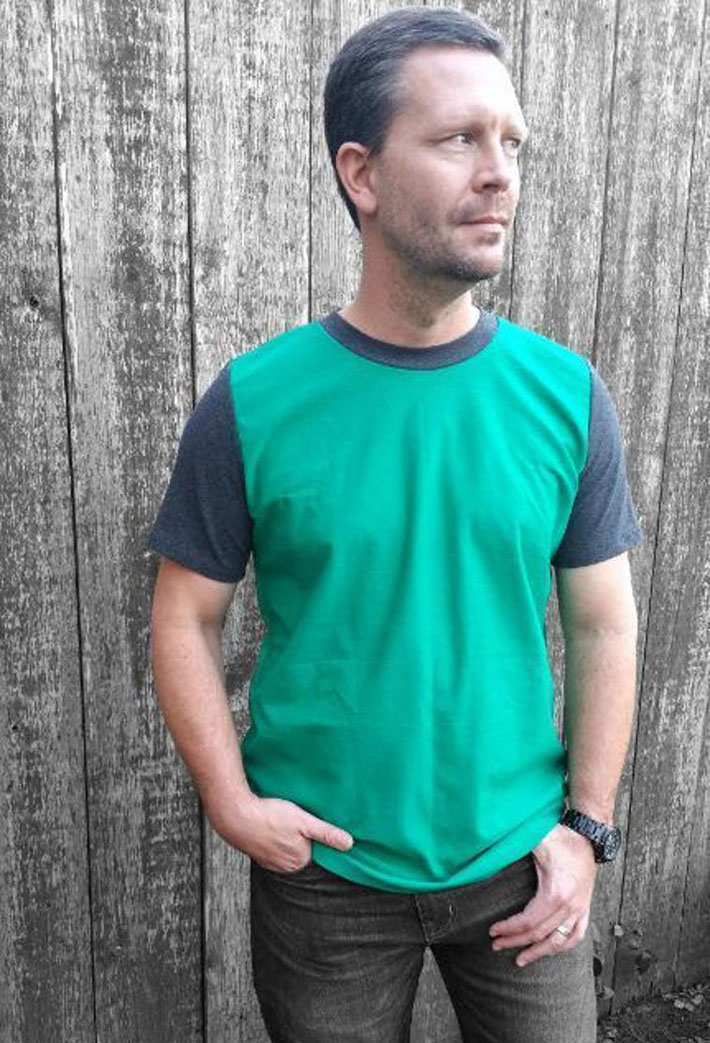 Photo via Craftsy member Stitch Upon a Time
6. The Huntsman Shirt
Here's one for the guys. The Huntsman shirt is a versatile pattern that includes a round or V-neck, sleeve length variations and eight sizes, from XS to 4X. Mix your knits to create the cool color-block version as shown above.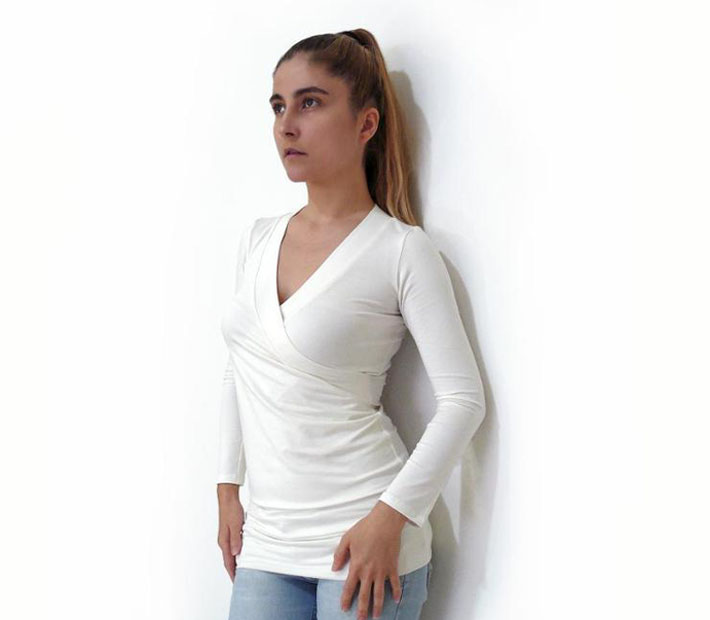 Photo via Craftsy member LAVitaly
7. Women's Jersey/Knit Top
For something slightly more glamorous but just as easy to sew and wear, try this jersey/knit top. Side seam ruching and a deep V-neckline, make it more flattering than your average tee, and options for long or short sleeves make it extra versatile.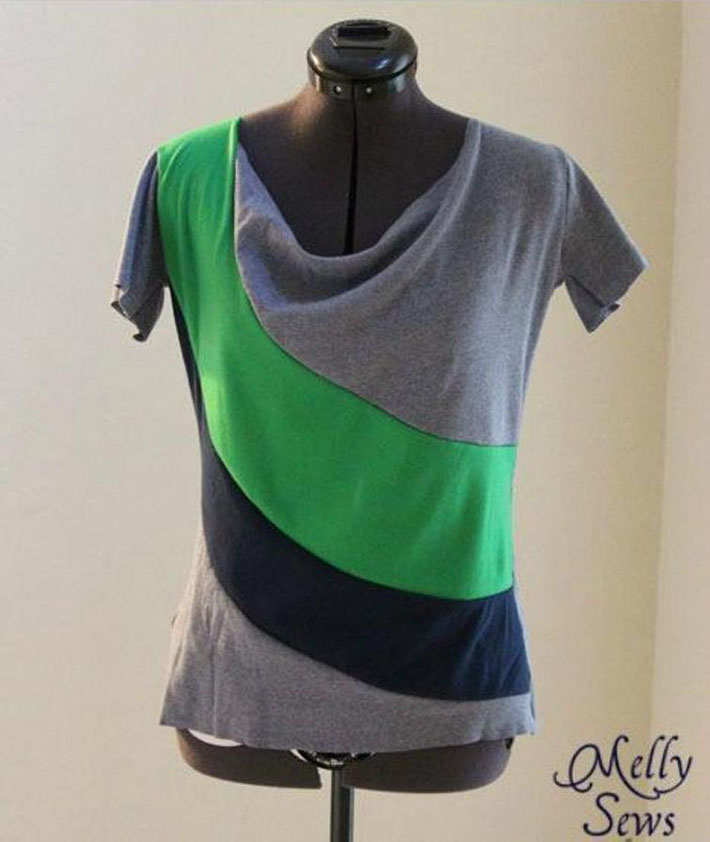 Photo via Craftsy member Blank Slate Patterns
8. Draped Color-Block T-Shirt
Want a great way to use up some remnants of pretty knit fabrics? Try the Draped color block t-shirt pattern. You can use multiple fabrics or all one fabric to create this pretty draped neck top.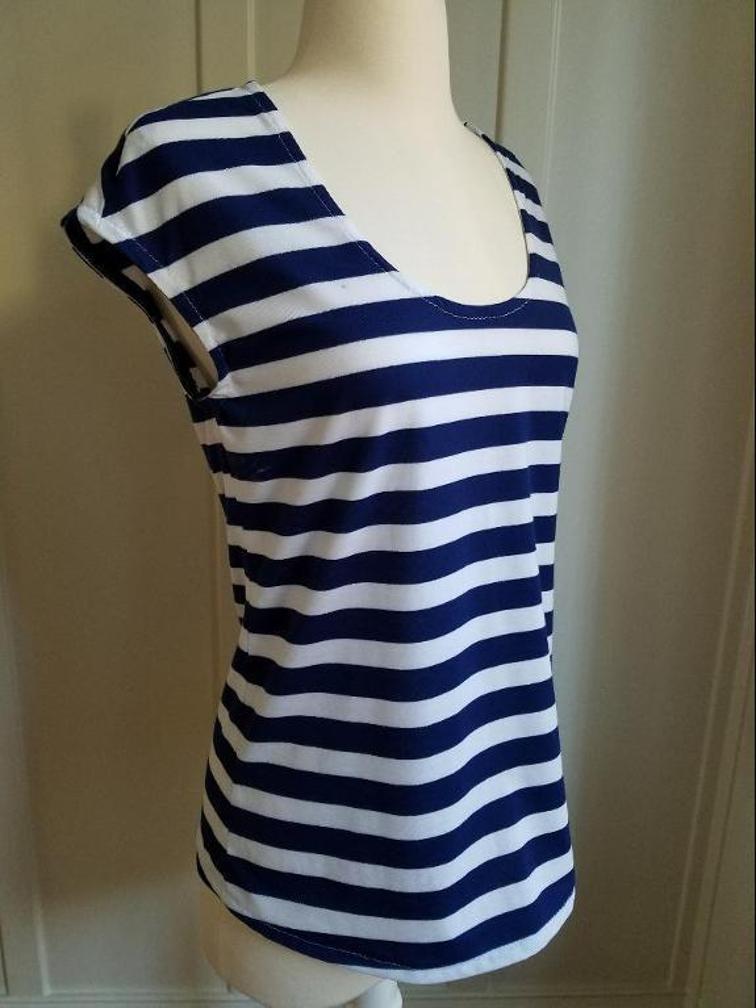 Photo via Craftsy member Atelier Joy
9. Scoopneck T-Shirt
There's a neckline variation for everyone, and this is a easy to sew scoop-neck T-shirt that will be great for a warm summer day. Cut-on sleeves give you some coverage and make it very quick to sew.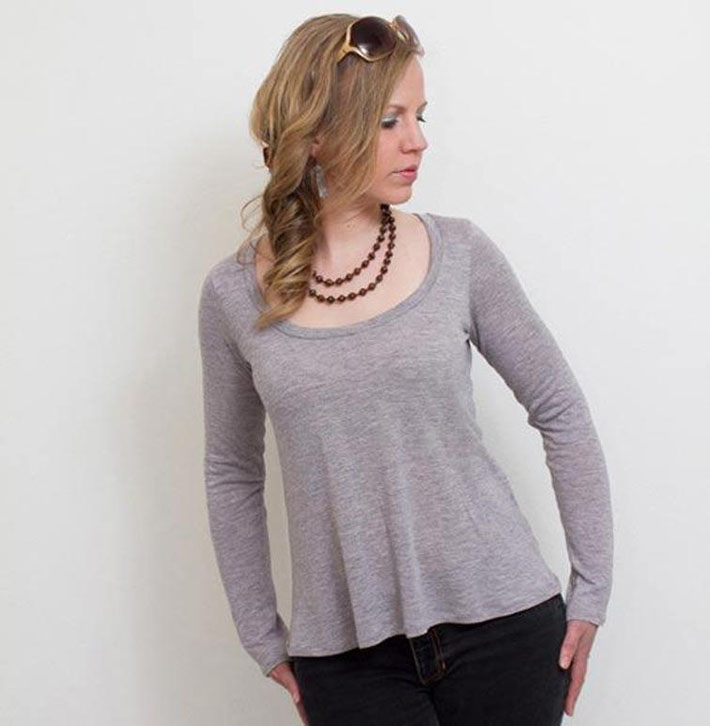 Photo via Craftsy member Gina Renee Designs
10.  Flared Tee
We all know T-shirts are secretly pajamas you can wear in public —and this flared hem tee fits that profile perfectly ! The flared hem hides the tummy area and is on trend. This pattern has options for long and short sleeves, plus complete photo instructions.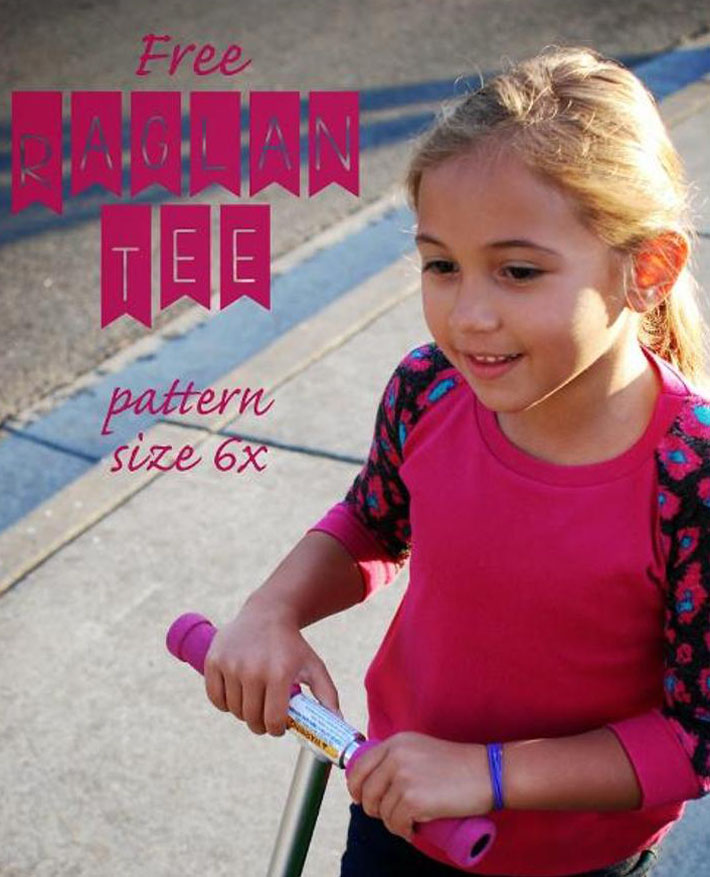 Photo via Craftsy member Designs by Rock the Stitch
11. Free Children's Raglan T-Shirt
A raglan tee is quick to sew and comfy to wear. Try out this free pattern and spice it up with contrasting sleeves and neckline binding.  Available in size 6X,  it works for boys or girls.