What is a common memento that you get from many events? T-shirts! Whether you are at a sporting event, a concert, a play, or on a vacation, chances are you brought home a tee as a souvenir. Now you have drawer full of them, but you can't just throw them away. What should you do with them? Why, cut them up and make a t-shirt quilt, of course!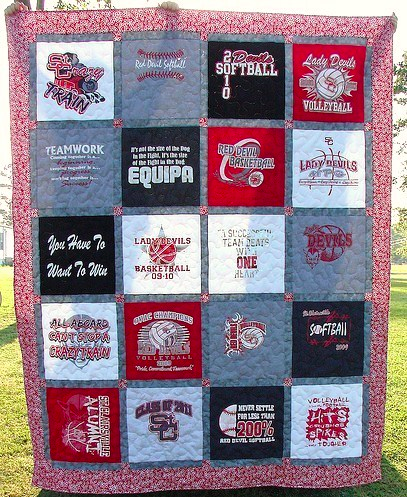 Photo via Nancy
To begin, pull out all of your old t-shirts and do a bit of sorting. Are most of them from a certain type of event or do they vary? Are they all one color, or is there a rainbow of cotton? Decide if your quilt is going to be of a certain theme and color, or if you want a mix of favorites. When sorting, try to be aware of the dimension of the print on the shirt, and choose those that are somewhat similar in size. Once you have your favorites, think about how large your quilt is going to be. If you are making a throw or bed quilt, you are going to need lots of shirts! If a wallhanging t-shirt quilt is your thing, be very selective because you will only need a few.
Once your shirts have been selected, prepare them for cutting by washing them. Use a regular detergent, but no fabric softener, and dry as usual. Now it is time to take apart those shirts! The side seams can be torn open with a seam ripper, or they can be cut carefully with a pair of sharp scissors.
Since t-shirt fabrics are stretchy, they need to be stabilized prior to cutting out the squares. A lightweight, woven fusible interfacing that has little or no stretch will do the trick. The interfacing needs to be applied to the back of all of the t-shirt squares. Be sure to follow the manufacturer's directions, and always test interfacing on a small square of extra t-shirt material before using it on your project material. Once the interfacing is fused to all of the t-shirt backings, decide on the size of your square. You should be able to comfortably cut a 14" – 16" square from each shirt. Be sure to allow a couple inches of blank space around the graphics! Cut squares using a rotary cutter, ruler, and mat.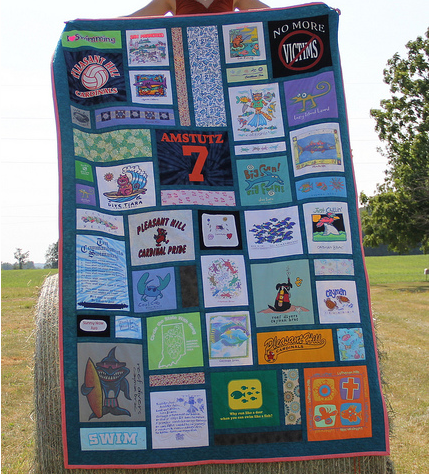 Photo via Molly
Now it is time to sew the quilt top together! The squares can be sewn directly together in a patchwork manner, or they can be sewn together in a grid with sashing in between. After the quilt top is finished, cut the backing fabric to the same size as the top. Layer the quilt sandwich together with right sides facing, with or without batting laying on top. Pin the stack together carefully on all four sides and sew around the quilt, leaving a large opening on one side for turning. Trim excess batting, turn the quilt right side out, then hand sew the seam shut. To finish, quilt using the stitch in the ditch method along the seams or hand tie every few inches.
If you are a more experienced quilter, there are many ways to switch up this kind of quilt! A few options? Play around with the layout by using blocks of different sizes or by adding borders and cornerstones. Baste your quilt top as you normally would and quilt it in a meandering design rather than straight lines. Use your imagination and have fun creating a quilt that is truly full of memories!
Come on back to the Craftsy blog tomorrow to learn about quilting fun with stencils!