I'm so excited to share this sweet potato muffin recipe with you today. They're solely sweetened with maple syrup and are pretty much the perfect winter breakfast muffins. Even better, they're gluten-free and easy to whip up!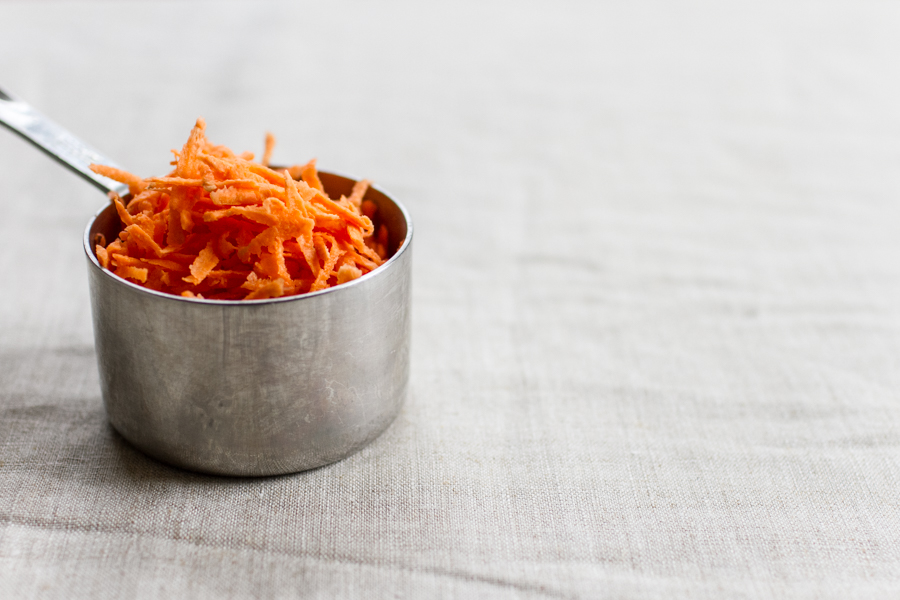 Photos via Edible Perspective
Time to roll up your sleeves and get ready to make these sweet potato breakfast muffins!
Did I mention there's also a ginger-oat crumb topping? I'm currently obsessed with putting ginger in everything. Okay, technically not everything. Ginger definitely doesn't belong in many types of dishes, but I do think it's underutilized in quick breads and muffins. Fresh ginger will add a surprising kick of flavor most wouldn't expect to find in a muffin. I love the warmth it added to this recipe!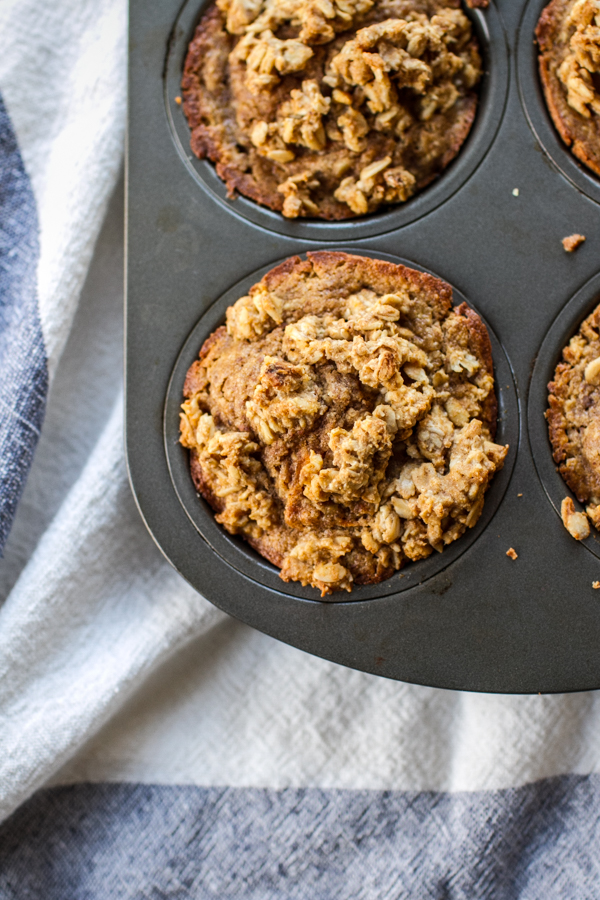 These muffins are a dense, fill-you-up type muffin but still have a good amount of fluff to them. The almond meal and oat flour provide quite a bit of fiber and protein and also a rich, nutty flavor. I love using those two flours in combination with one another in gluten-free baking.
For the sweet potato component, I not only used grated sweet potatoes (think carrot cake muffins!) but also sweet potato puree. Both add to the overall texture giving them a little bite and a lot of chew (but not chewy!).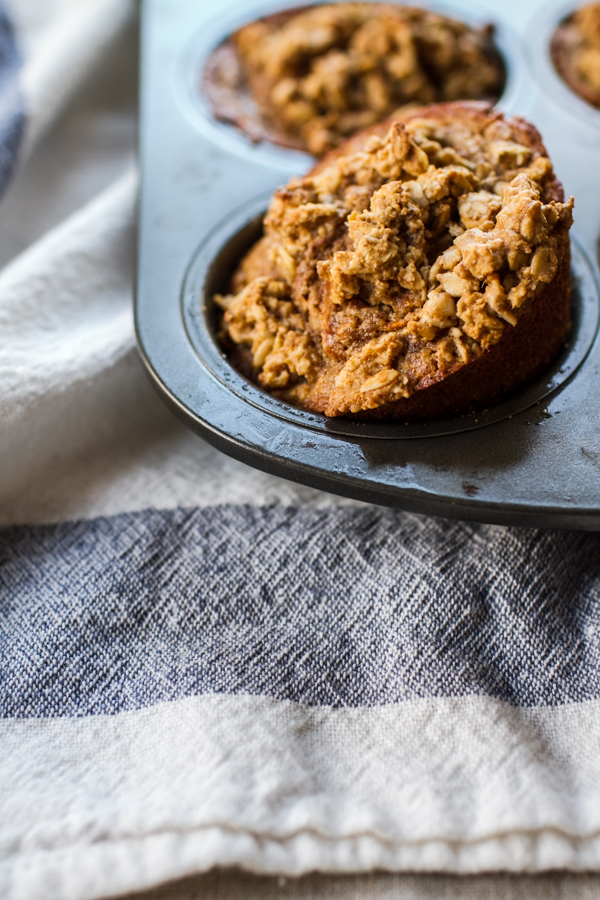 I know some people are extremely specific with nuts or no-nuts in muffins, cookies, breads, etc. I'm typically a no-nut person but there are some exceptions like with these muffins. The walnuts work well without having too much crunch but if you're in the no-nuts-ever camp you can definitely leave them out.
The crumb topping, however, is non-negotiable.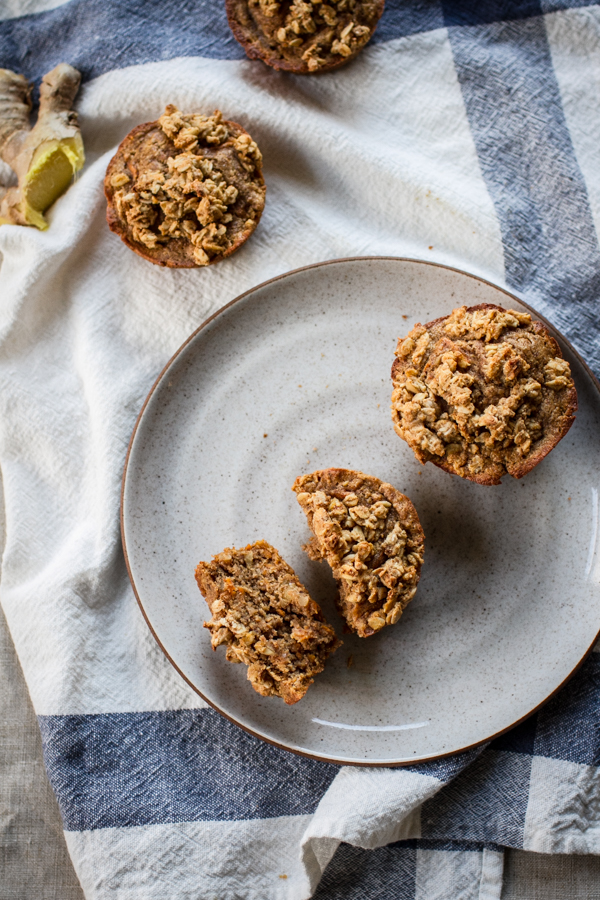 Both the muffins and the topping are sweetened with only maple syrup. They're lightly sweetened making them suitable for breakfast. Because no one needs a 9am sugar crash. Am I right?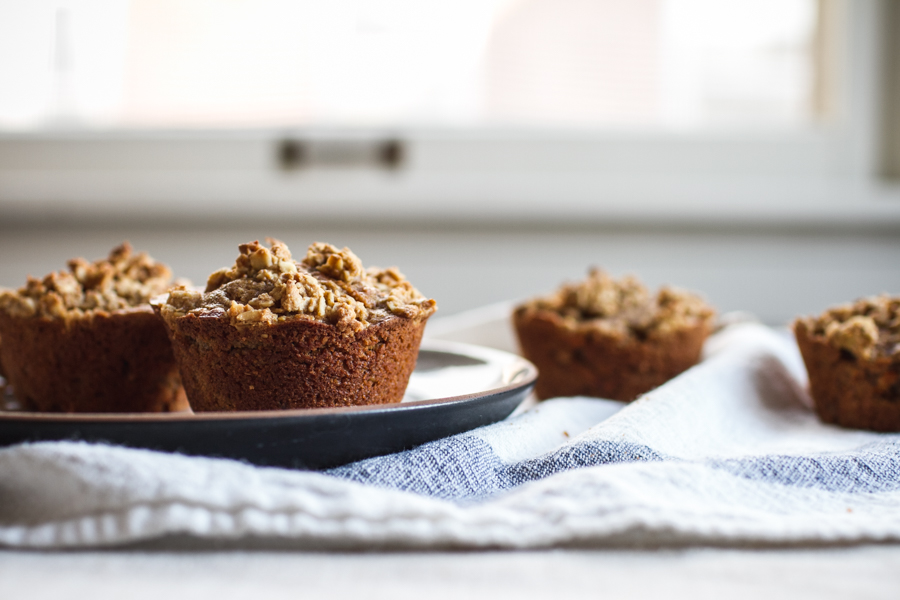 Sweet Potato Ginger Muffins
Yields: 12 standard muffins 
Ingredients:
For the muffins:
1 cup + 2 tablespoons oat flour (gluten-free if needed)
3/4 cup almond meal
2 1/2 tablespoons ground flax meal
1 1/2 teaspoons cinnamon
1 1/2 teaspoons baking powder
1/2 teaspoon salt
2 large eggs
1/2 cup canned sweet potato puree
1/4 cup unsweetened almond milk (or 2%)
1/4 cup + 3 tablespoons pure maple syrup
1/4 cup unrefined coconut oil (melted and cooled)
1 tablespoon pure vanilla extract
1 tablespoon fresh grated ginger (peeled)
1 cup grated sweet potato (peeled)
3/4 cup chopped walnuts
For the crumb topping:
2 1/2 tablespoons pure maple syrup
2 tablespoons unrefined coconut oil (melted)
2 tablespoons canned sweet potato puree
1/2 cup + 2 tablespoons old fashioned rolled oats
1/4 cup oat flour
1/4 teaspoon cinnamon
1/4 teaspoon fresh grated ginger
Step 1:
In a small bowl stir all of the crumb topping ingredients together until fully combined. Set aside.
Step 2:
Grease (with coconut oil) or line a 12-mold muffin pan with muffin liners. Preheat your oven to 350° F.
Step 3:
In a large bowl stir together the oat flour, almond meal, flax, cinnamon, baking powder, and salt.
Step 4:
In a medium bowl whisk the eggs. Then whisk in the almond milk, maple syrup, coconut oil, vanilla, and ginger until fully combined.
Step 5:
Quickly pour the wet into the dry and whisk until you no longer see dry flour.
Step 6:
Fold in the potato and walnuts. Let the batter sit to thicken for 5 minutes.
Step 7:
Spoon the batter into the muffin tin about 3/4 the way up. Crumble the crumb topping (it should feel like a very thick dough) over each muffin.
Step 8:
Place in the center of your oven and bake for 22-28 minutes until a toothpick comes out nearly clean.
Step 9:
Allow muffins to fully cool to firm. Serve.
Recipe notes:
Muffins will crumble a bit if eaten warm out of the oven.
If you can't find sweet potato puree I suggest using 6 1/2 tablespoons pumpkin puree and 1 1/2 tablespoons water in it's place. Sweet potato puree is quite a bit thinner than pumpkin puree.