I was recently at Mary Jo's Cloth Store, one of the largest and most famous fabric stores on the East Coast and had to take a picture of their stripe section. I counted over thirty striped fabrics ranging from thin to thick and every variation in between.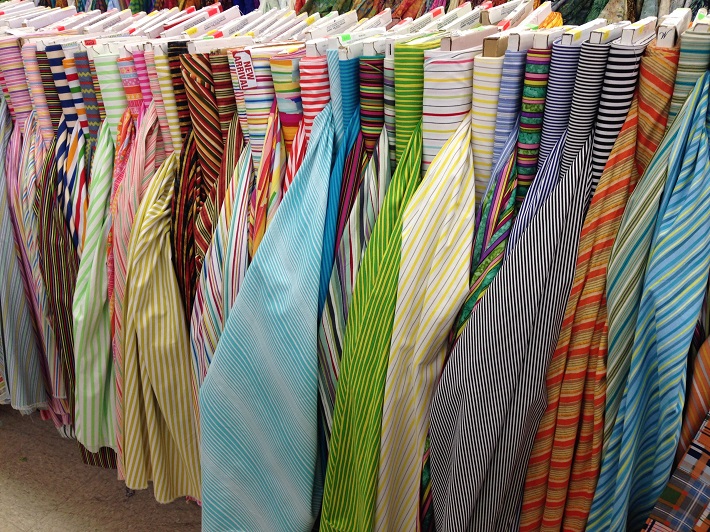 But I had to wonder — what do you do with these fabrics? I've used stripes a bit in borders and sashing, but never pieced blocks with these fabrics.
Piecing with striped fabric
I returned home with a mission — play with stripes! I pulled out a half yard of Kaffe Fasset Narrow Stripe fabric, gave it a quick starch and press, and began to slice and dice squares experiment with different arrangements.
This striped quilting fabric has a very soft hand and might be tricky to cut accurately as it wants to wiggle around and distort. The starch stiffened the surface and makes it much easier to cut accurately and keep the stripes straight at the same time.
I decided to play with a four-patch block and quickly came up with the following arrangements:
Striped fabric four patches
Block 1: Woven Four Patch Block
This was created by cutting a 2 ½ inch strip carefully along a stripe line, then slicing the strip 2 ½ inch squares. Two squares were placed with the stripes running horizontal and two vertical to create the woven effect.
Block 2: Mismatching Stripe Block
This one is a bit weird! I repeated the same steps as above, but this time rotated the squares so they all ran vertical, but intentionally arranged the stripes so they didn't match up perfectly. The effect is neat, but it sort of drives me a bit crazy because I badly want the stripes to line up.
Cutting striped fabric on the bias
Block 3: Striped Diamond Block
What about bias? I set my ruler diagonally across the fabric and lined up the 45-degree line along the edge to cut a bias strip, then sliced this strip into 2 ½ inch squares.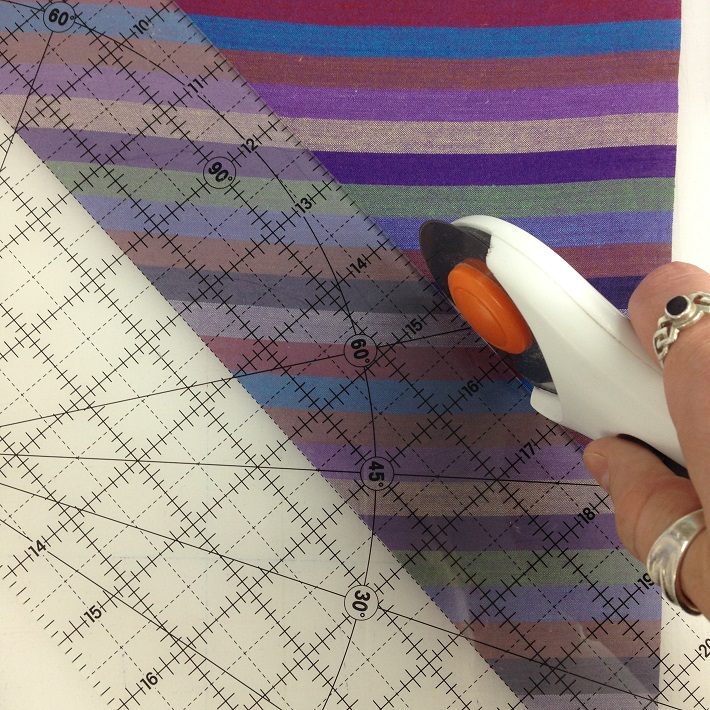 Working with bias can be tricky as there's a lot more stretch in the fabric cut at this angle. So as long as you've stiffened the fabric with starch, this should work fine and still piece together nicely into many cool blocks.
Block 4: X Stripe Block
Block 5: Blended Stripe Block
You can also mix bias-cut squares and straight-grain squares to create more designs.
Striped fabrics make great quilts
But what would these blocks look like in a real quilt? Using EQ7, I was able to create many layouts using four-patch blocks and striped fabrics and found many neat effects:
Woven Stripes Quilt
This arrangement is just block 1 set up with itself, but the stripes create an intense woven effect on the surface. Yes, you could create this effect by strip piecing each square, but working with striped fabric makes this so much easier.
Diamond Stripes Quilt
This quilt combines the Striped Diamond Block and x Stripe Block together in a checkerboard pattern to create a log cabin effect. This quilt looks complicated, but really it's just four-patch blocks pieced with simple striped fabrics!
Now that you can see all the things you can do with striped fabrics, what do you plan to create? Do you use stripes often or is it a fabric you've avoided? Share your striped fabric experience in the comments below!
Let's go quilt,