Are you drowning in scraps? String quilts are a perfect way to use them up. The term "string" refers to long, thin pieces of fabric, and these strings are sewn to a foundation base to create string blocks.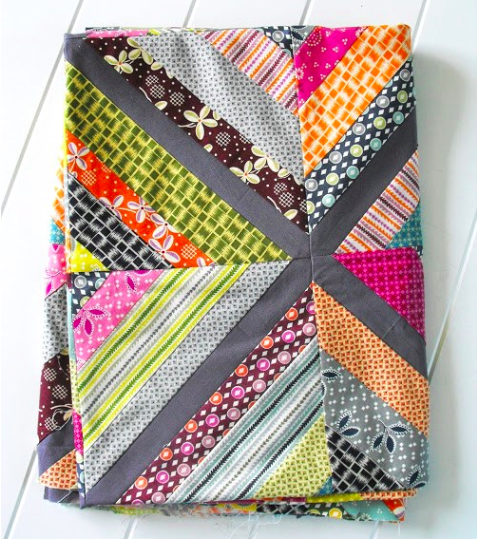 Photo via FussyCut
What does the typical string block look like? In general, it is a square block with a solid colored string running across it diagonally. On each side of that centered string there are at least three or four strings sewn in a row. There are two popular ways to foundation piece these string blocks: with fabric and with paper.
Choosing and cutting fabrics
Before you begin, sort through your scraps and make a couple decisions. Do you want your quilt to be scrappy and a riot of color? Or are most of your scraps a certain color scheme? If you are lacking strings, are you ready to raid your fabric stash in order to cut up some strings? Deciding on a color palette is the first step.
When making string blocks, another big decision is what color your center string will be. This is the consistent color that will carry throughout the entire quilt. If you do not want a consistent string running through your blocks, that is fine too! The blocks will look even scrappier when the center strings are all different.
Now that the fabrics have been chosen, prepare your scraps for sewing by ironing and cutting them to your desired sizes. The center/focal string is always the same width, and in my Hope Valley quilt pictured, I cut my gray strips 1" wide. As for the outer strings, cut the fabric strips 1" to 2.5" wide if you prefer a varied look. If you want uniform blocks, cut the outer strips the same width!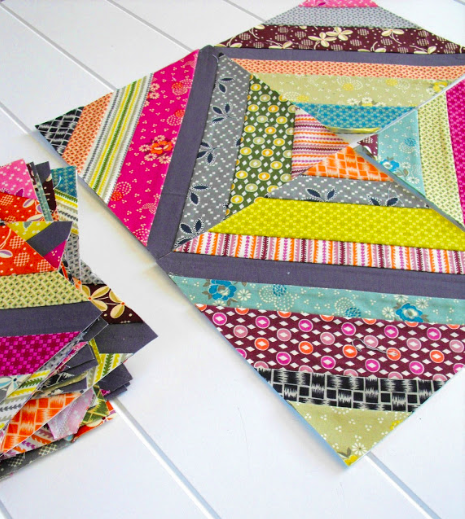 Photo via FussyCut
Foundation piecing with fabric
One way to piece string blocks is with a foundation fabric. Many quilters like to use a muslin for this, though any fabric can be used for this as long as it cannot be seen through the quilt top fabrics. The foundation fabric can also be the fabric that you chose to use for your center string. There are many advantages to using fabric for foundation piecing string blocks. This stabilizes the strings and keeps them nice and straight with no warping. This makes it easy to sew with all kinds of scraps, even those that are not cut along the grain. Once all of the strips have been sewn onto the foundation fabric, the excess fabric is easily cut off by flipping over the block and cutting along the foundation square using a ruler, rotary cutter, and mat. If you want to make your string blocks by fabric foundation piecing, head over to Quiltville for an excellent tutorial.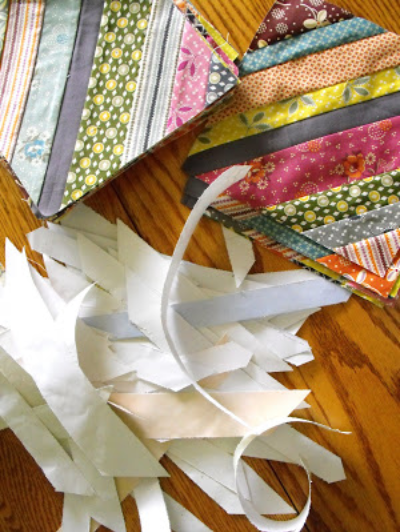 Photo via FussyCut
Foundation piecing with paper
Another popular way to piece string blocks is with a paper foundation. This method is very similar to the previous one, but rather than using a fabric square as the foundation, you use paper! Begin by cutting paper into your desired size square. Using a short stitch length, sew the strings onto the paper starting with the center string, and continue adding strings until the entire paper is full. Once the excess fabric is cut off, the paper backing is carefully removed until all of it is gone. This method is nice because you do not have to sew through bulky foundation fabric when piecing the quilt top together, but it is a lot trickier! When the foundation is gone the fabrics distort easily, so use care when sewing them together. Ashely of Film in the Fridge has a great tutorial for this technique or check out the online Craftsy class Mastering Foundation Paper Piecing with Carol Doak.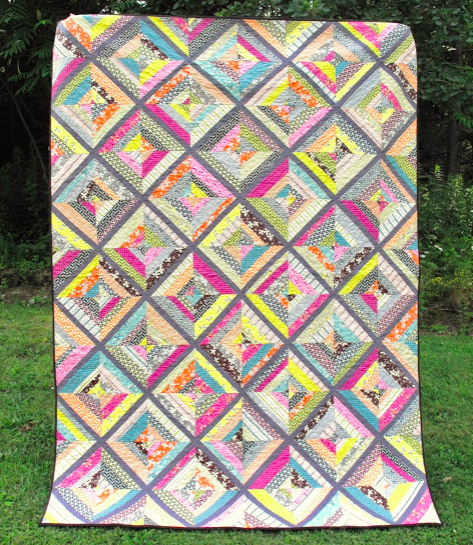 Photo via FussyCut
String quilts are so much fun to make! Once the blocks are finished, they can be sewn together in many layouts: traditional squares, zig zags, or with sashing and cornerstones are just a few! Have you been saving your selvages? Use them as strings to make a unique quilt.
Craftsy has some great patterns for string quilts! Visit the quilt pattern section to see beautiful quilts like Windmill Strings, Twinkle Twinkle, and this free heart string block!