A pitcher of strawberry sangria is the perfect accompaniment to any summer party. Sangria is a refreshing combination of wine and fruit juices, with just the right amount of sweetness to make sure that those fruit flavors stand out in every sip. I always try to incorporate seasonal fruits into my sangria, which is exactly how I came up with this strawberry sangria recipe.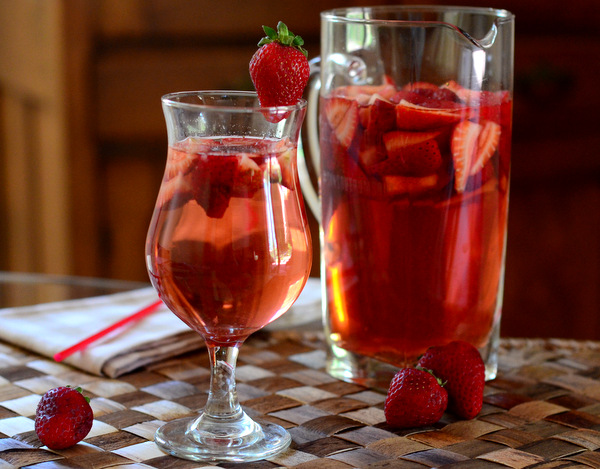 It doesn't get much more seasonal than this strawberry sangria recipe, which is bursting with sweet flavor!
Some sangrias take a "kitchen sink" approach and use a wide variety of fruits. These types of sangria can be delicious — and useful for cleaning out the fruit basket! — but this particular recipe is designed to highlight summer strawberries.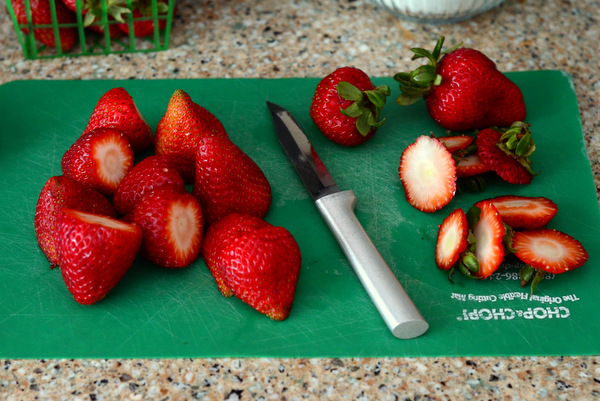 The sangria starts with a strawberry syrup, made with fresh strawberries, sugar and water. The strawberries are cooked in the syrup until they become tender and release their natural flavors. The resulting syrup is bight pink and has an intense strawberry flavor.
This syrup sweetens and flavors the strawberry sangria. Not only does the syrup ensure that you are going to taste strawberries in every sip, but it keeps the punch crystal-clear, which wouldn't happen if you used strawberry juice or strawberry puree.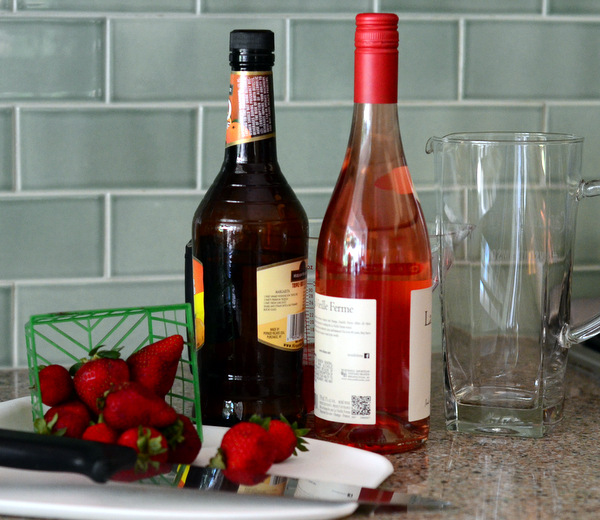 You can use any white wine, such as Sauvignon Blanc, for this strawberry sangria recipe, but I highly recommend using a rosé.
Rosé wines get their color by exposing the grape juice to grape skin for a few days after the fruit is crushed. That brief skin contact adds extra layers of flavor and color. It's common to find notes of strawberry in rosé wines — even in very dry wines — and that's what makes them the perfect base for this particular sangria.
Strawberry syrup recipe
Makes approx 1¾ cup
Ingredients:
8 ounces fresh strawberries, hulled
1½ cups sugar
1 cup water
Step 1:
Combine all ingredients in a medium saucepan. Bring to a boil and cook for 2-3 minutes, until berries are tender. Remove pan from heat and allow mixture to steep for 10 minutes.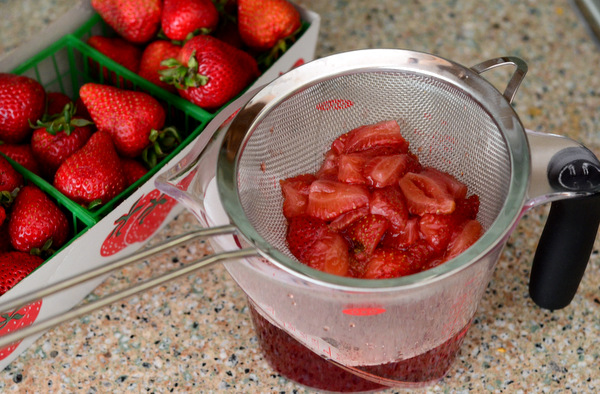 Step 2:
Pour syrup through a mesh strainer to remove the cooked strawberries. Use syrup right away, or store in an airtight container in the refrigerator until ready to use.
Strawberry sangria recipe
Serves 6-8
Ingredients:
1 750 mL bottle rosé wine
1½ cups Strawberry Syrup (recipe above)
¼ cup Triple Sec
2 cups diced, fresh strawberries
Step 1:
Combine all ingredients in a large pitcher and stir to combine. Chill for at least one hour, or until ready to serve. Add ice when serving, if desired.