These simple storage solutions (which you probably already have at home) just might change the way you look at your creative space. Organizing your sewing supplies in a beautiful way will help you tame the madness and create an inviting, inspiring atmosphere.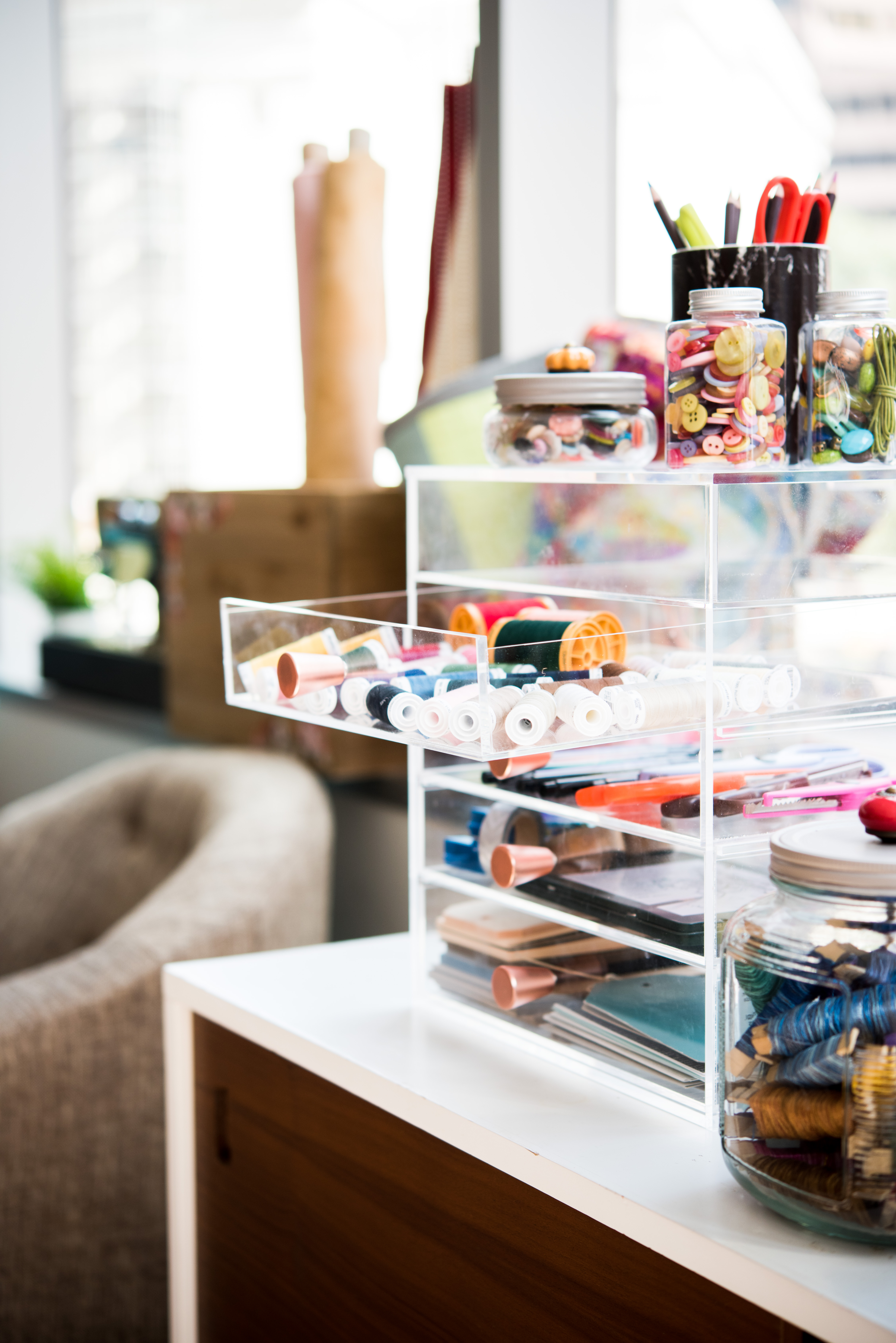 Check out these pretty ways to store thread, bias tape, scissors, clips and more!
From spice jars and wall-mounted storage solutions to clear shelving and the perfect caddy for the job, these organizers will help you clean up your sewing space for the long haul.
Cookie jars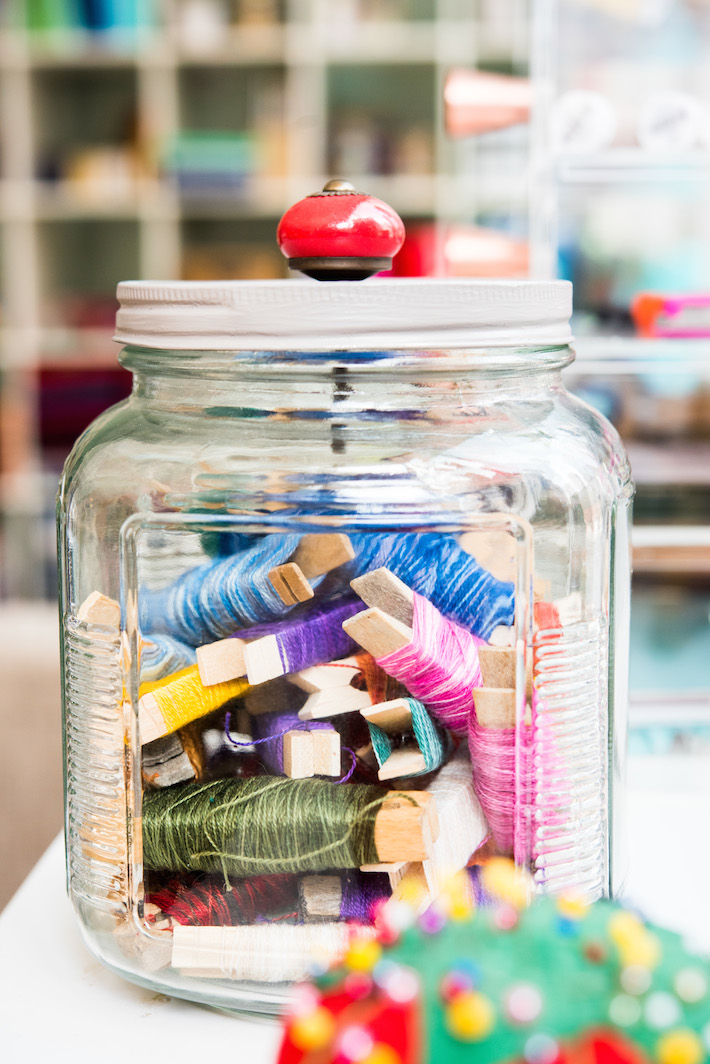 Wrap your embroidery floss around wooden clothespins, then toss the pins into a large glass jar or a cookie jar, so the colors shine through! Keep the filled jar on your cutting table for easy access, or store it on an out-of-the-way shelf. Just avoid keeping glass jars where they might drop and break (like a sewing table with a shaky machine).
2. Lucite shelving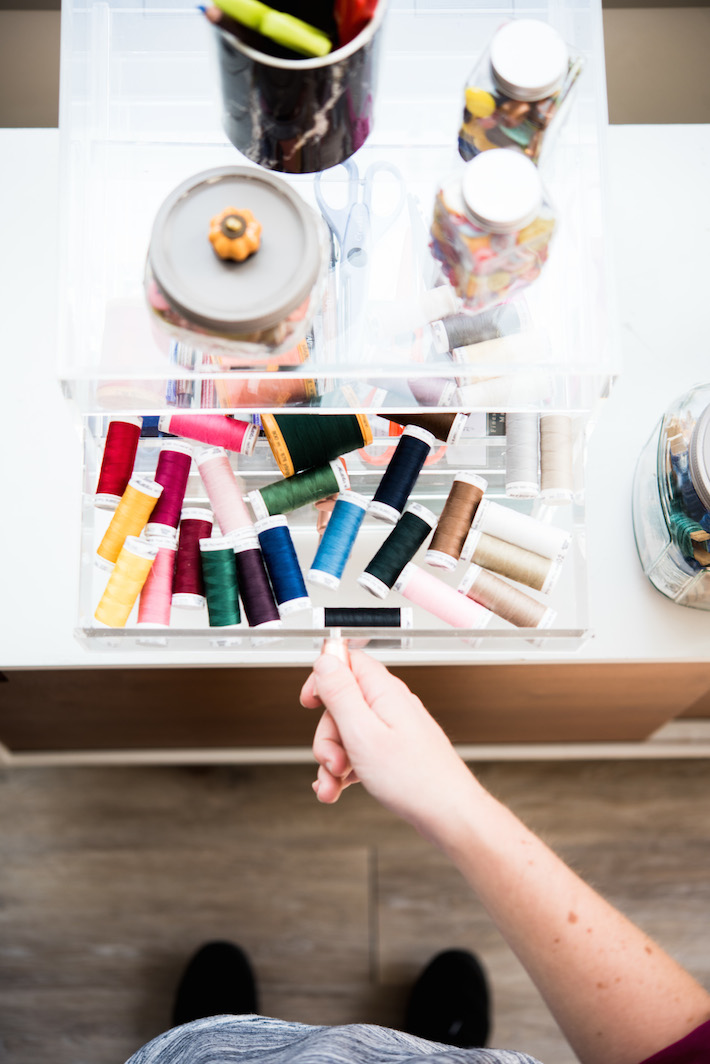 We have a major design crush on clear shelving units for storing thread and other sewing notions. This lucite drawer unit keeps your thread at an arm's reach, but not so far away that you can't enjoy the pretty colors peeking through! Keep your favorite pair of scissors nearby on an open shelf, though, so you don't have to go digging for them.
3. Cutting table caddy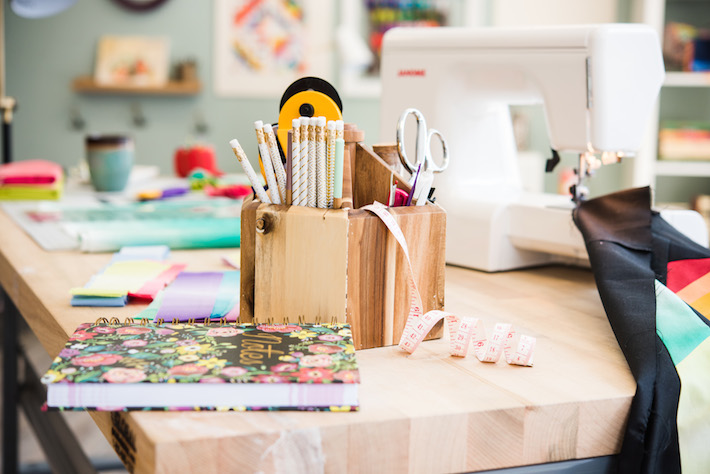 No matter what size or shape you choose, a cutting table caddy is a handy tool to store your scissors, rotary cutters, marking tools and tape measure. This wooden desktop organizer has multiple compartments so you can easily sort your supplies. If you like to sew on the go, choose a fabric sewing caddy with a handle.
4. Mini test tubes and wooden spools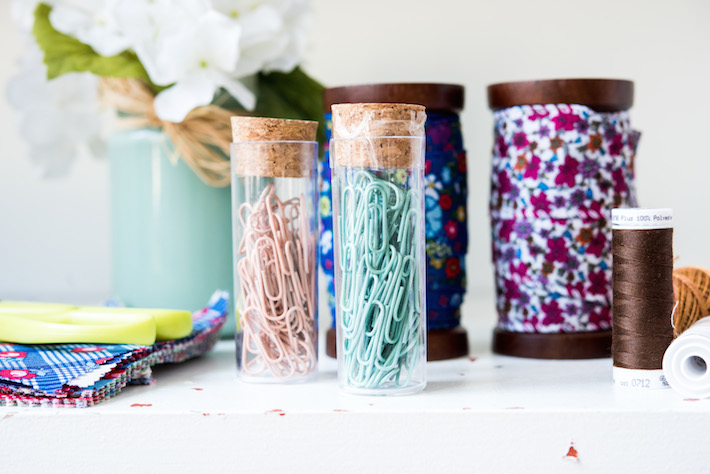 These plastic tubes with cork stoppers look just like test tubes, making us rethink they way we store paper clips — and other small notions like pins. Look around your home for small storage containers (pill bottles, mint tins, glass baby food jars, etc.), and save them.
Also, don't throw away those vintage wooden spools. They are the perfect place to store homemade bias tape.
5. Wall-mounted thread storage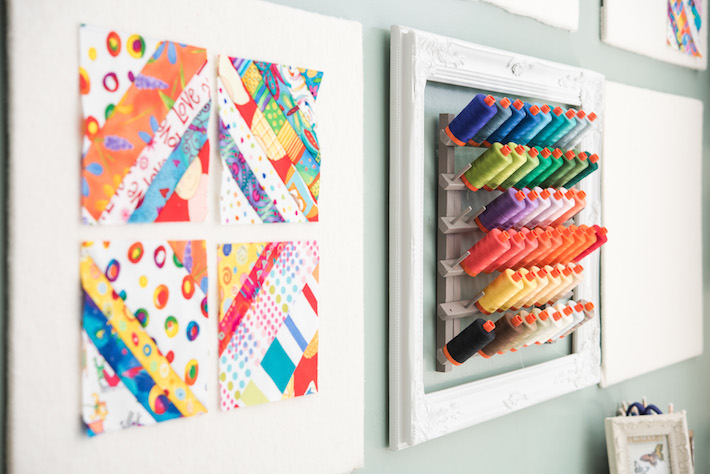 One way to draw attention to your thread rack is to frame it and treat it like a piece of art. Don't have a wall-mounted thread rack? Swap out a tabletop spice rack — maybe even a spinning one.
When it comes to wall space, don't limit yourself to storage. Mini batting-wrapped foam boards mounted on the wall can serve as much-needed inspiration for quilters auditioning blocks.
6. Spice jars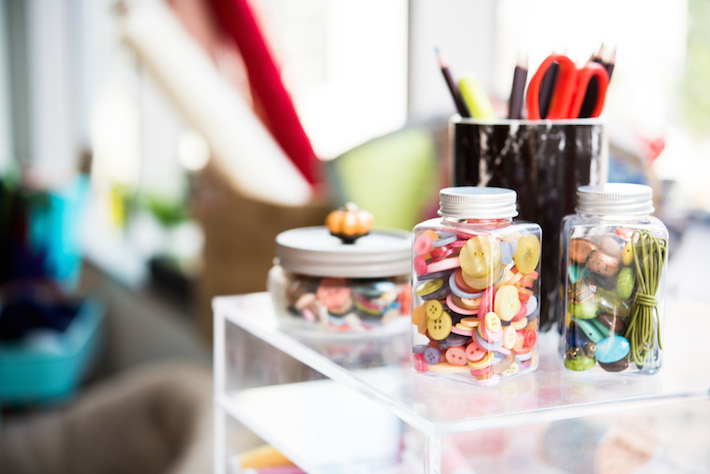 Buttons and beads are too pretty to be hidden away. Find some smaller, clear jars (empty spice containers work great!), and fill them up with sewing notions by color or size. You'll be surprised how much more you'll want to sew buttons onto your projects.