I'm back with another fun post on how to use stencils for your card making! This time, I'll show you how to make stamped cards by using your clear stamps to stamp OVER the stencil openings to create unique, one-of-a-kind patterns. It's one of my favorite card stamping techniques and gives a whole new use for your stencils!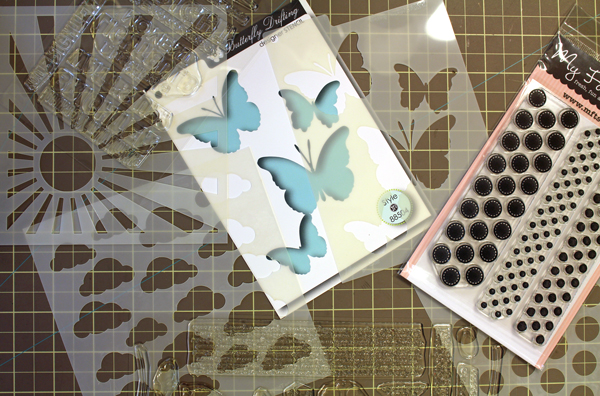 Free Online Paper Crafts Class
How to make stamped cards with stencils
The first thing to do is find stencils with openings large enough to stamp within, and to find clear stamps with images or words that will fit within the stencil openings.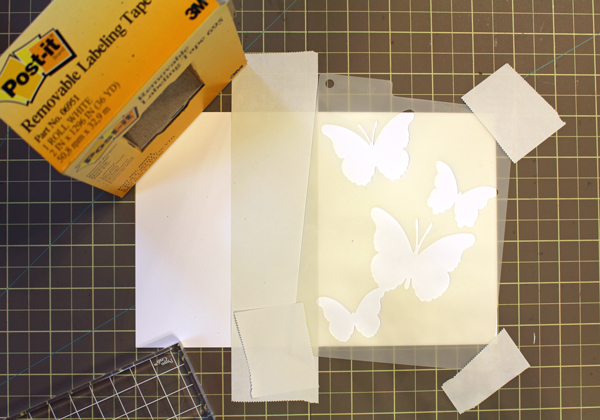 For my first card I've chosen a butterfly stencil (Memory Box Butterfly Drifting Stencil) that has several large openings to stamp over. I've placed it over my card base and secured it with some Post-it masking tape to keep it from shifting.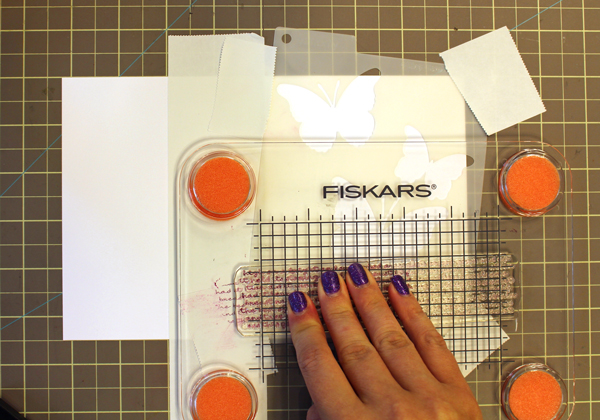 One thing I discovered to make this technique work, and which I highly highly recommend, is my Fiskars Easy Stamp Press. It makes a HUGE difference when stamping over a stencil. Since the stencil creates a raised surface you need to be able to press the stamp into the opening, and the stamp press has some "give" to it, enabling you to press a little harder on the stamp so that it can ink up the card stock.
Clear stamps also work better for this technique (versus rubber stamps) for the same reason: they are a bit "softer" and have a bit more "give" to them as well. It's all about experimenting to see what works!
For this stamped card I'm using the MFT's Pretty Poppies stamp set, specifically the large text stamp from the set. I find an image like this is pretty forgiving with the small text — you don't need to stamp it perfectly every time.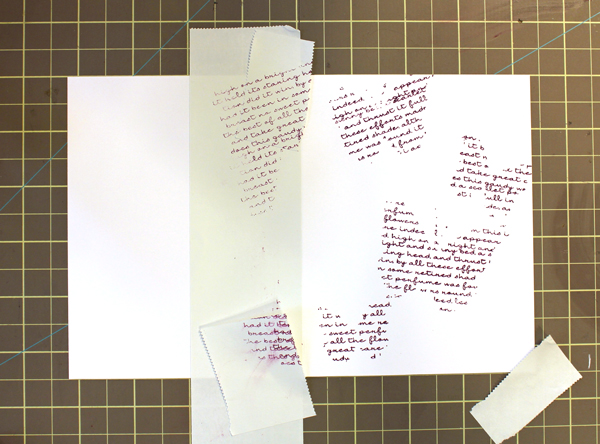 Now if you were to leave the stamped-over butterflies like this, it would look totally unfinished! Keep reading to see how I take it from these random butterfly-looking shapes to a finished card.
I simply put the stencil back into place. (Normally you wouldn't move it at all, but I wanted to show you how it would look if just left with the stamping.) Then, without adding any ink, I took my mini ink blending tool and picked up all the ink left on the stencil from stamping and sponged it onto the stencil openings.
If needed I could pick up more ink onto the sponge from the ink pad, but there was plenty of ink left on the stencil so more wasn't needed.
Here's the finished card. I added a stamped sentiment from the same set with black ink and that was it!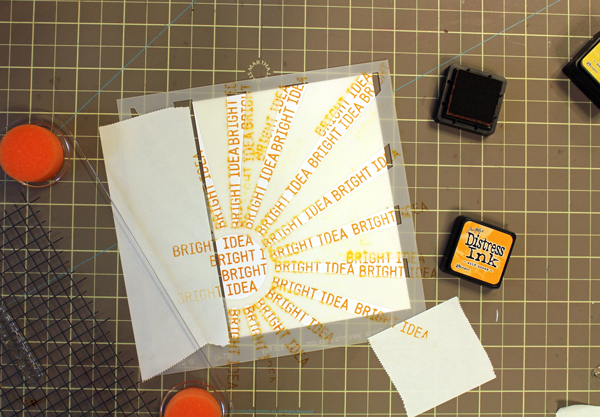 I did this same technique with a different stencil (MFT Sun Ray Stencil) and sentiment from the MFT Watt's Up? stamp set. I made sure the stamp fit (mostly) within the stencil openings, as you don't want to have just a part of a sentiment like this show up and it make no sense!
After stamping over the stencil I did the same as the first card and sponged the ink over to better define the sun rays.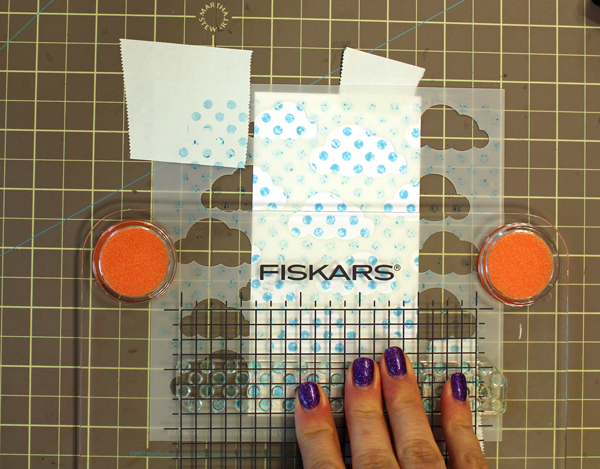 An easy was to incorporate stamping over stencils is to use any sort of geometric shape of stamp — dots are especially easy to use and depending on the size of the dots, can work with almost any stencil opening.
Here, I'm stamping a small dot stamp (MFT Darling Dots stamp set) over a cloud stencil (MFT Cloudy Day Stencil) with blue ink. It's quick and easy to do and there's no worry about lining up words or text within the stencil openings.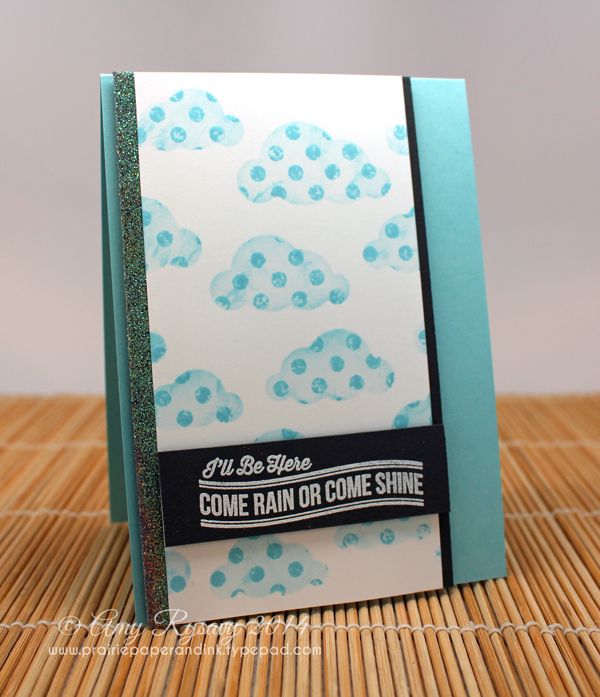 Last but not least is a way you can incorporate stamping and stencils is by using a stencil as more of a guide to line up your stamp.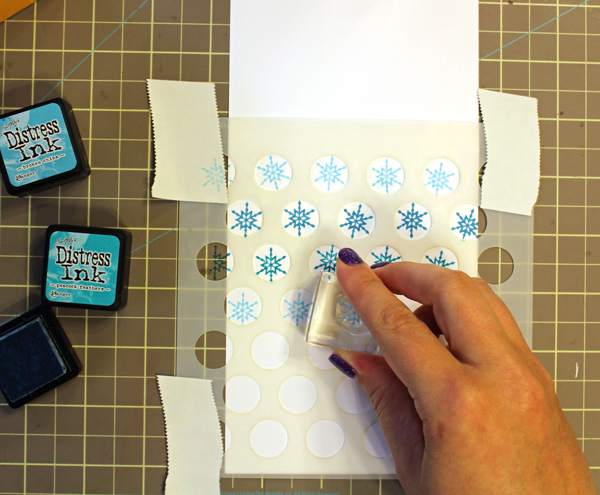 Here I've taped down MFT's Jumbo Polka Dot stencil over my card base, and using it as a guide to stamp evenly spaced snowflakes. The stencil keeps the snowflakes in line, making this stamped card quick and easy to create!
Free Online Paper Crafts Class