If you've had some time to study grid quilting (making different designs in the predetermined spaces of your quilt), you know that a grid can help you design a beautiful quilt. Whether the grid is designed with your piecing or with your own straight-line quilting, you have endless quilting options with a grid in place.
If you're ready to have fun with grid quilting, we've rounded up 13 ways to fill a square with quilting!
Keep in mind that sometimes your square will be straight and sometimes it will be on point, but it's easy to adapt many freestyle quilting designs to the specific shape on your quilt.
1. Echoed flower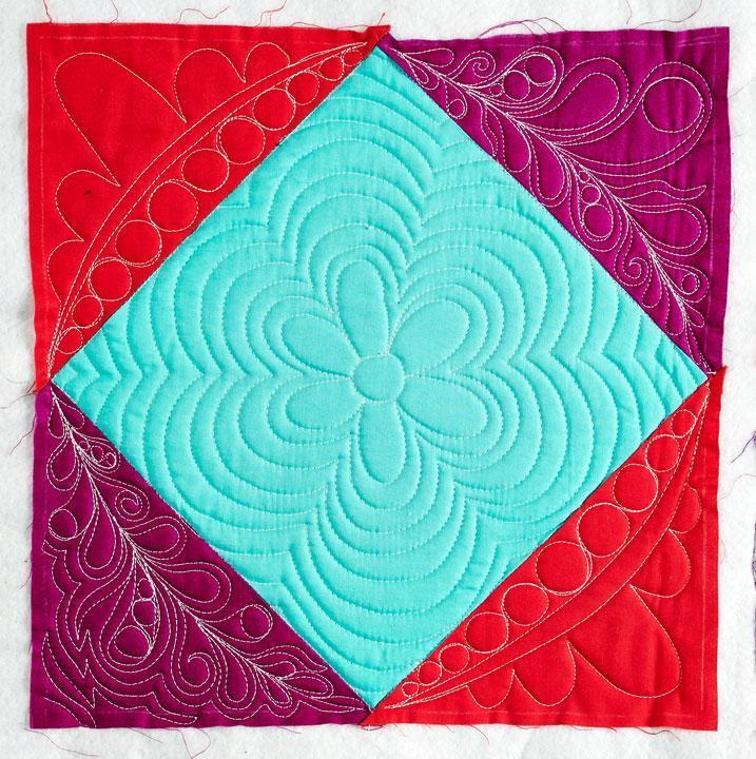 Radiant & Echoing Designs via Craftsy instructor Christina Cameli
Start with a circle, and quilt six petals around the flower center. Echo this design to fill out the square, as Christina Cameli did in the blue square above.
2. Pebbles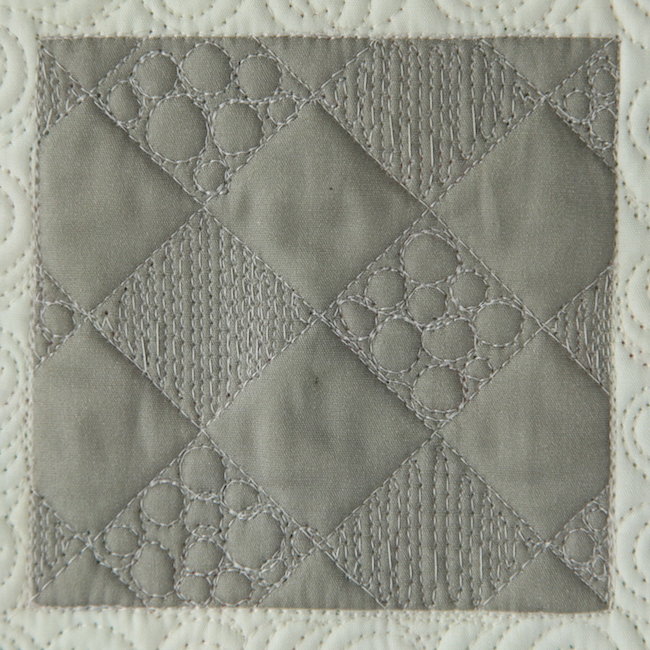 Quilt side-by-side circles that are large, medium and small, filling up the square as you go.
3. Row of beads
Make circles of the same size size by side. Continue making rows of beads until the box or border is filled.
4. Stipple quilting
Quilt a stipple, or a basic meandering stitch that doesn't touch previously stitched lines throughout the square.
5. Swirls
Start with a basic swirl, then back up and branch off with another swirl until you fill up the space. This can fill a square or a border (rectangle grid).
6. Simple feathers
Feathers, Pebbles & Spirals via Craftsy instructor Christina Camelia
Draw a curved stem and branch off one side making simple feathers, continuing down the second side. Make the center feathers the largest to fill in the corners of the square grid.
7. Fancy feathers
Start with a straight line and quilt long feathers off of the stem, filling the feathers with beads, swirls, echoes and leaves. This can be quilting in a triangle grid (or half-square), too.
8. Branching leaves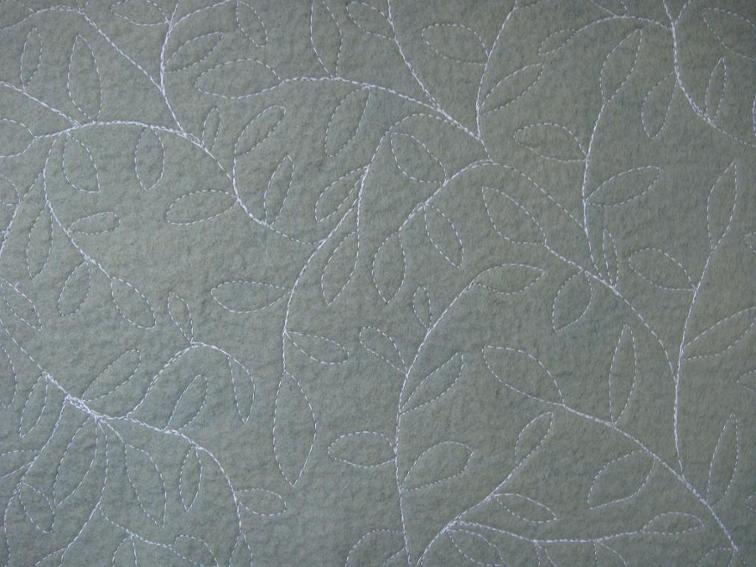 Branching Designs via Craftsy member Christine B.
Draw a curved stem shape, and alternate with tear-shaped leaves branching off of each side. When finished with one branch, travel down the stem and create another branch off to the side, repeating the leaves design.
9. Wishbone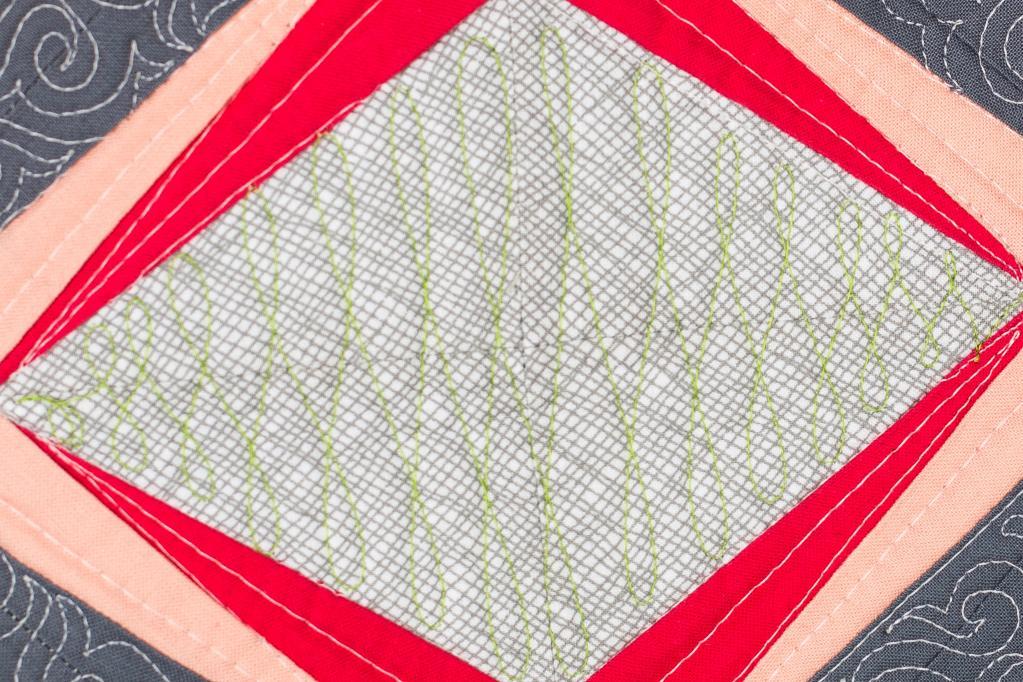 Wishbone filler via Craftsy instructor Angela Walters
Fill a square or diamond grid with a beautiful back-and-forth looping design called the wishbone. Starting in one corner, travel top to bottom, making sure your loops are relatively the same width but that they extend in length as you travel along.
10. Concentric squares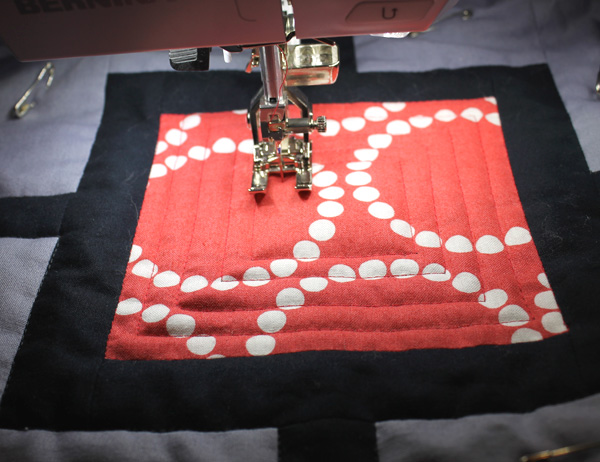 Photo via ChristaQuilts
Starting at the outside of the square grid, quilt a ¼" away from the border, continuing toward the center in a concentric pattern. You can also try a more freestyle concentric circle design.
11. Waves
Shown in the eggplant colored square, this waves block is a simple way to fill in a grid with quilting. Draw a wavy line, and simply echo it on the next line down.
12. Stars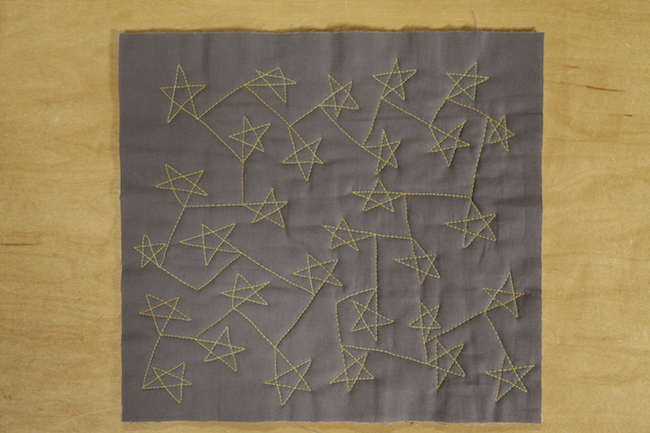 Draw freestyle stars, just as you did when you were a kid. This fun free-motion pattern can be interspersed with loops.
13. Clamshells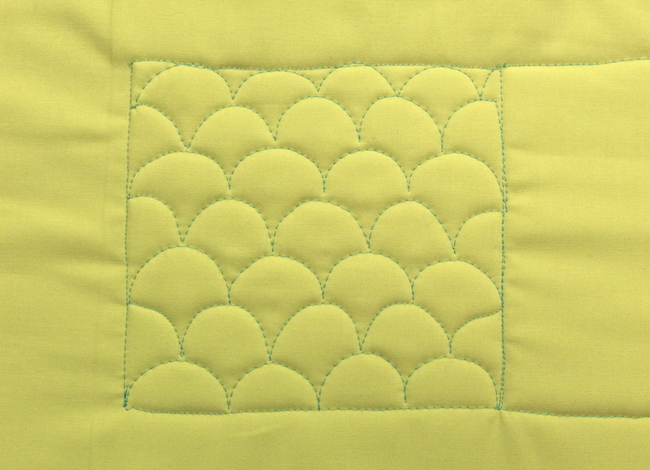 Traveling left to right, make little hills. In the row below, make little hills that are shifted to the left.
Learn more about ways to fill a grid with quilting in Christina Cameli's new class, Quilting the Grid: Structured Free Motion.