Put aside those root vegetables and make make way for asparagus, peas, zucchini, strawberries and tender greens — it's SPRING! This is the season for flavorful and fragrant salads. Where fresh herbs mingle with sweet butter lettuce and roasted asparagus makes up the bulk of the meal.
Where joy is found in the peeling back of chartreuse pea pods and radishes bring a zippy heat. It's a season of lighter flavors that mirror the lighter days. And after a long, gray winter I couldn't be happier to welcome in the light.
With the months of heavy braises behind us I am thrilled to herald in spring with salad. Yes, salad. Not always known to be inspiring and crave-worthy salads have come a long way from ranch drenched iceberg leaves (although, I love that too).
These salads are sure to inspire you to pluck the best of spring and to lighten things up in the kitchen.
1. Thai Roasted Sweet Potato Wraps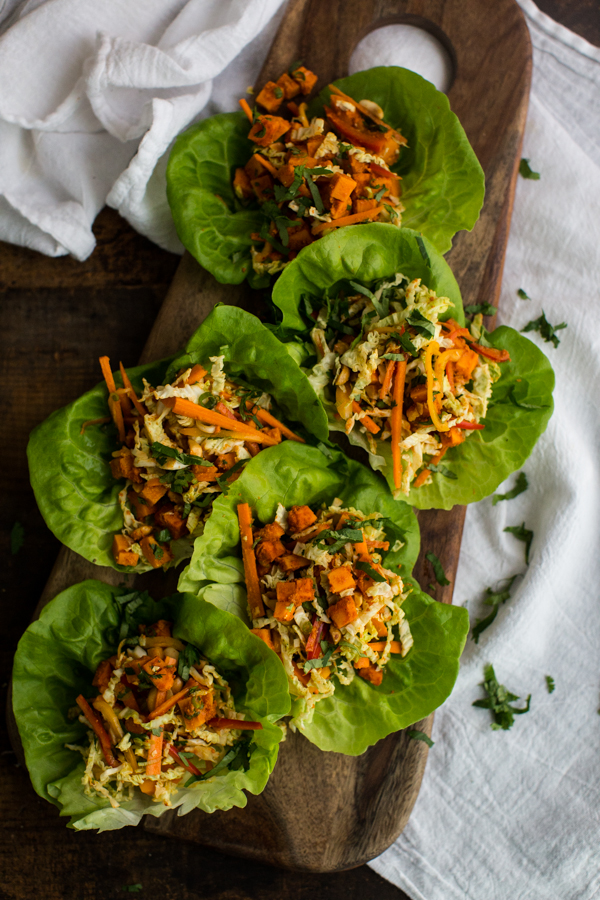 This recipe is the perfect solution to those days when winter and spring mingle. Where you crave light, fresh flavors but still need a bit of comfort in there too.
Here we have a frilly leaves of cabbage and butter leaf lettuce taking their place in the spotlight and sweet potatoes there to add a bit of heft and bulk to the wraps. To add even more spring flavors to this dish throw in some fresh herbs such as basil, mint and chives.
2. Spring Panzanella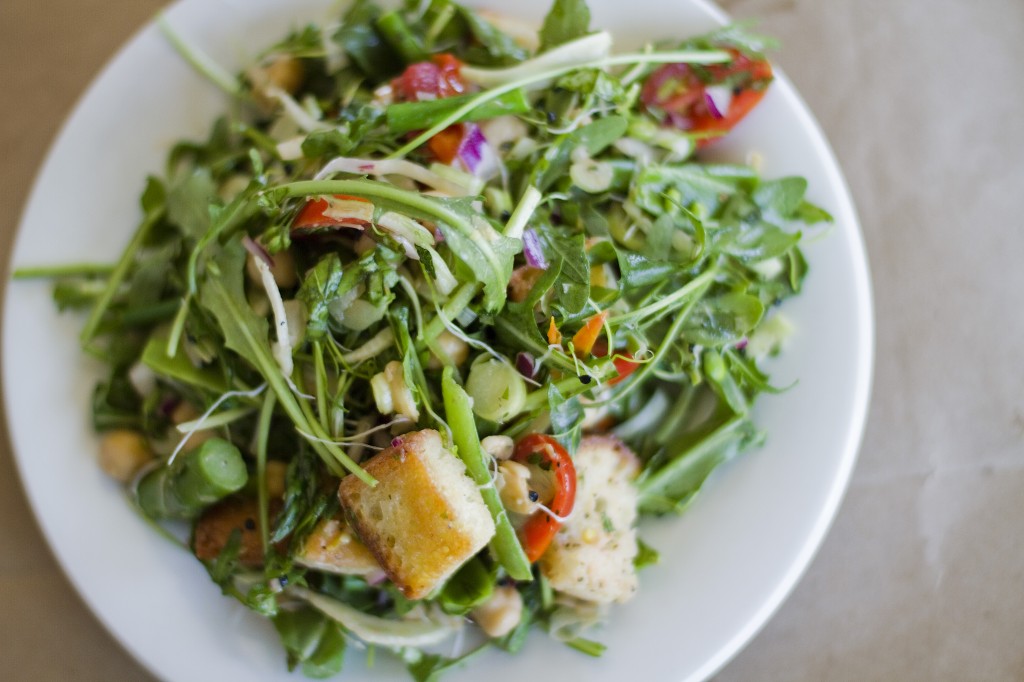 Photo via Happy Yolks
Peas, asparagus, mint, basil, onion sprouts!! This salad is an ode to spring. It's like taking a bite out of the garden, minus the dirt. Fresh, flavorful and crisp croutons to soak up the simple dressing of olive oil and lemon juice. This is what I want to eat every day until summer arrives.
3. Spring Chopped Salad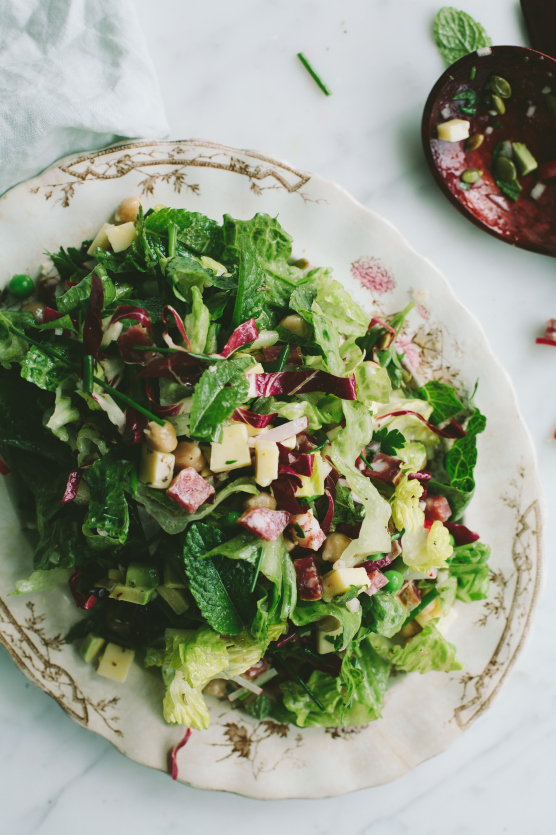 This is my dinner solution when there's little in the fridge and yet I want something healthy. This salad is why I pack my garden with so many herbs. Use this recipe as a guide but just be sure to use plenty of fresh herbs, they are the real hero here. Well, the salami and sharp cheddar help too.
4. Spring Strawberry Salad with Lemon Roasted Chickpeas
A good salad is all about balance; sweet, sour, salty, bright. And a balance of textures; there always has to be some sort of crunch, whether that's in the form of seeds, nuts or in this case, roasted chickpeas. I also happen to like a good bit of cheese in my salad too. This salad is all of that. Strawberries for sweetness, a hefty crunch, creamy goat cheese, and a bright vinaigrette. All of my favorite salad things.
5. Spring Rolls
While technically not a salad spring rolls are the perfect way to show off spring. It is basically a salad you get to eat with your hands.
Ginger and Sesame Spring Rolls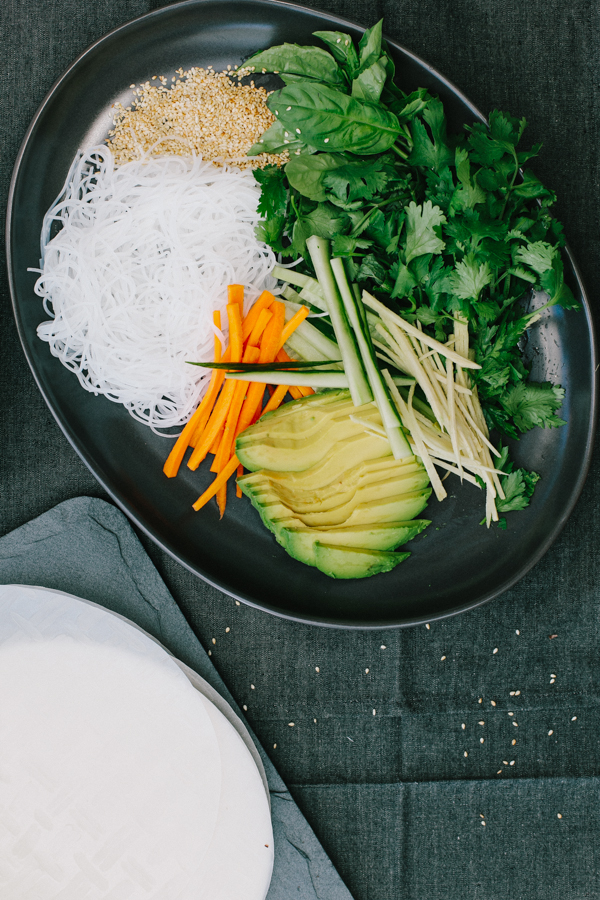 This first version uses loads of herbs, carrots, avocado and fresh ginger. Add a bit of bulk with rice noodles and dip into a flavorful sauce loaded with more ginger and toasted sesame.
Vietnamese Spring Rolls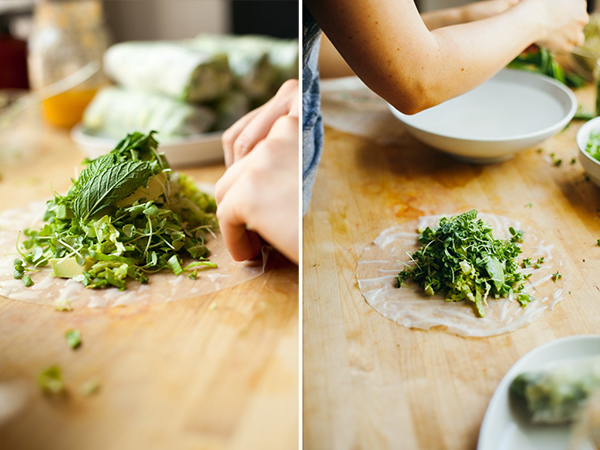 Here mango adds sweetness to a classic Vietnamese spring roll. I love the idea of having a dinner party around the delicious spring roll. As the host you prepare all the vegetables, herbs and other mix-ins then let your guests have fun with the rolling. They get to create their own combinations and get involved in the cooking and eating.
I hope these salads get you as inspired as I am to cook this season.
What are some of your favorite recipes to cook in the spring?
Free Online Cooking Class