Many quilt patterns call for one or more solid fabrics. They can be used for many different parts of the quilt. The background, sashing, cornerstones and bindings are just a few places that a solid fabric can be used. Some quilts are made entirely of solids! They are a versatile staple and a necessity for any quilter's fabric stash.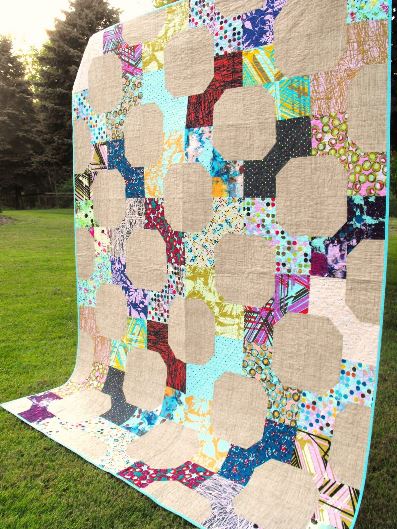 Photo via Fussy Cut
While solid colored fabrics work wonderfully in quilts, there are many alternatives that can be used in their place. These fabrics add depth, dimension and visual interest to your quilt tops, along with a pop of color. They can also bring an unexpected surprise to your project, and also a bit of fun.
Let's take a look at several different fabrics that can be substituted for a solid.
Textured fabrics play well as solids. Here are a few fabrics that you can use in their place:
1. Shot cottons
This a woven fabric using two different colors. The finished product is a rich fabric with an iridescent sheen or shimmering finish that appears to change color. For high quality shot cottons, check out those by Oakshott and Kaffe Fassett.
2. Chambray
Many quilters enjoy the look of denim but want a lighter weight fabric that is more suitable for quilts. Chambray is perfect for this! It's a woven fabric commonly made from cotton. It's woven out of white and a solid color, usually blue. This mix creates a beautiful fabric that mimics the look of denim. Designs like dots, stripes and checkers can be woven into the fabric.
3. Linen
Fibers from flax plants are used to create a thread, and those are woven together to form fabric. It is a very durable fabric that can be used for all types of sewn objects, including quilts and garments. In natural form, the color of linen is very neutral: tan, ivory, gray, etc. It's easily purchased pre-dyed in a variety of colors or bleached white. The Bluprint workshop Quilting with Linen will help you learn the basics of working with linen to create a beautiful quilt.
4. Linen blends
While many quilters love the look of linen, they don't enjoy sewing with it. It is shifty and wrinkly, making it hard to cut and sew accurately. To achieve the same look, try a linen blend. Essex Yarn Dyed Linen and Essex Linen by Robert Kaufman look and feel like linen, but the cotton makes it more stable and has less fraying. This is a 45% cotton / 55% linen blend. Both types come in a variety of colors.
5. Linen lookalikes
Quilter's Linen by Robert Kaufman is printed to look like linen, but is actually 100% cotton. It also comes in a bunch of different colors and sews up just like your regular quilting cottons.
Fabrics with specific types of print can also work wonderfully in the place of a solid.
Polka dots, crosshatch, texts and many low volume prints are perfect examples of this. The fabric designs are subtle enough that they can easily play the role of a solid without stealing too much attention. Choose carefully, and these types of prints can add some fun to your project.
[box type="shadow"]To explore quilting with textured fabrics even further, take a look at the inspired course Stitch and Stash: Textile Surface Design, taught by quilter Carol Ann Waugh. Carol takes a "no rules, no mistakes" approach to creating vibrant quilts infused with beautiful surface design, and walks every student through an exploration in adding textured textiles to your work.[/box]
What is your favorite solid fabric alternative to sew with?