As any quilter knows, quilting big projects means that you likely end up with a lot of scraps at the end of the year. What better way to use them all up then to make gifts for friends and family? Quilts are a lot of work, but there are tons of other small quilted gifts to make that will save you time and money on fabric and holiday shopping.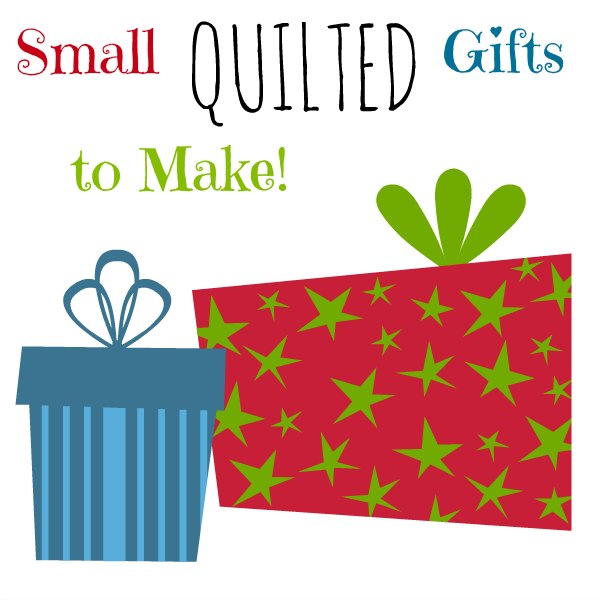 Need some gift-giving inspiration for your holiday sewing? Check out the lovely Bluprint projects below!
Gifts for the food lover
Know anyone who likes to cook (or for that matter, who likes to eat)? Sure, you do. There are all sorts of small quilted gifts that are perfect for the kitchen or coffee table. Why spend money on quilted objects like oven mitts or pot holders when you can make your own out of fabric scraps?
I particularly liked Bluprint member Kaye Prince's pieced coasters (pictured above). They're made out of string blocks, which are an easy project perfect for beginning quilters, and they also make a great scrap-busting project. 
Looking for a more advanced technique? Check out Bluprint member Double Nickel Quilts's Hexie Pot Holders. This paper-piecing pattern can be arranged in several different ways to complete complementary pot holders in the same collection — perfect for a gift set. Similar ideas might be simple cloth napkins or placemats (just put right sides together and stitch!).
Gifts for the techie
These days, it's hard to find someone who doesn't carry around a cell phone, e-reader or laptop (or, if they're like me, all three at the same time!). What about making a protective case or sleeve for your loved one's beloved gadget? Bluprint member Marie Withrow quilted up a sweet little cell phone case. I love that it can be used for any type of phone — smart or "old school." Help protect the screen from scratches or the phone from breaking. 
I also recommend this tablet tote from Tulip Square. It's an ingenious way to store an e-reader or small 7″ tablet. It's got extra pockets on either side of the main pocket, for business cards or a small notebook, and then the whole thing folds up and can be hung by a shoulder strap. Such a great idea, and a fantastic use of larger scraps.
Stuffing: It's not Just for turkey!
Finally, I think that throw pillows make great gifts if you have a good sense of your recipient's design aesthetic and/or color scheme. Bluprint members do have some excellent pillow patterns as well. Check out Small Town Threads' Modern Tribal Pillow Pattern for a fabulous gift for a teenager or recipient with more modern tastes. The Coming Up Roses pillow by Art of Being Me looks much harder than it actually is, and would be cherished by any woman in your life. Looking for something different? Any 14″ to 16″ quilt block makes a great pillow, and you can choose a design that's as simple or intricate as you prefer. 
You might also enjoy our FREE PDF guide Sewing Stylish Pillows — Simplified!
Do you love giving handmade gifts?
Join the online class Quilt Quilted Gifts today to learn to swiftly sew stylish infinity scarves, eye-catching table runners, lovely lap quilts and wall-hangings you can customize for any occasion! Enroll Now »