This chicken could be your dinner, and it won't require slaving in the kitchen all day.
Promise.
Photos via CakeSpy
All you need is about ten minutes to prep, and then you can let your slow cooker do the rest of the cooking for you. This is the art of cooking a whole chicken in a slow cooker.
This recipe allows the meat of a whole chicken to cook slowly in a mixture of vegetables and spices. The result? A chicken fully infused with flavor, with a fall-off-the bone tender texture.
Recipe notes
Liquid not required
Your eyes do not deceive you: there is no liquid called for in this recipe. The chicken will actually create liquid as it cooks, which will help give it even more flavor. Once you're finished cooking, you can use this broth for other culinary adventures.
Spice is nice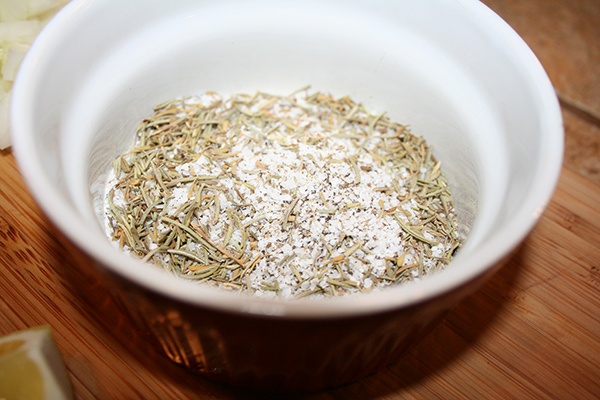 Be sure to rub your bird all over with a spice mix before cooking. The slow cooking process will allow the flavors to really infuse the bird. This recipe uses a simple rosemary, thyme, salt and pepper mixture, but please, don't be held back by that suggestion, especially if you don't care for rosemary, as it does impart a distinct flavor. If you want to try a pre-mixed meat rub or a spice mixture of your liking, go for it.
How big a bird?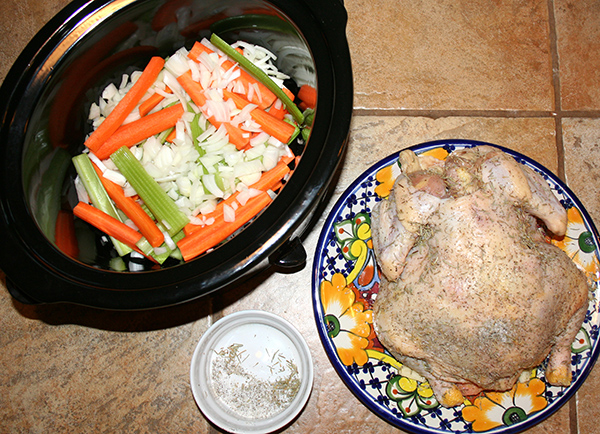 You want to choose a small chicken that will fit in your slow cooker with clearance on all sides and the top. You'll want room for all the veggies, and for easy removal when the chicken is done. I actually took the bowl from my cooker to the supermarket to make sure that the bird fit, and ended up choosing an approximately five pound "fryer" chicken.
It is fine to choose a smaller chicken, too, if you just don't want too many leftovers or don't think you'll go through the chicken fast enough.
Keep the chicken in the refrigerator until you're ready to cook. If you have a frozen chicken, let it thaw in the refrigerator before making this recipe for best results.
Whole Chicken in a Slow Cooker
Adapted from The Little Kitchen
Ingredients
1 small roasting or "fryer" chicken, (see note on size, above)
4 large carrots, scrubbed and cut into strips or coins
4 celery stalks, ends removed, cut into strips or coins
2 garlic cloves, peeled and smashed
1 whole lemon, quartered
To season the chicken
4 teaspoons coarse sea salt
1 teaspoon thyme (leaf type rather than ground)
3 teaspoons rosemary
1 teaspoon black pepper
Note: International readers may enjoy our handy metric conversion guide.
Step 1:
Get yourself set up for success. In a small bowl, combine the seasoning ingredients, and mix together briefly to combine. Prep your veggies. Have the slow cooker nearby.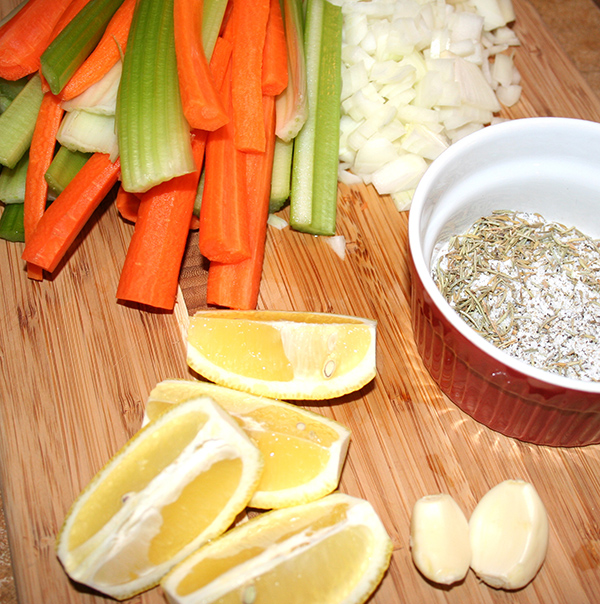 Step 2:
Remove the chicken from its packaging. If applicable, remove the neck. Remove the pouch with the organs. Reserve for later use in other cooking projects. Rinse the chicken, and pat it dry with paper towels.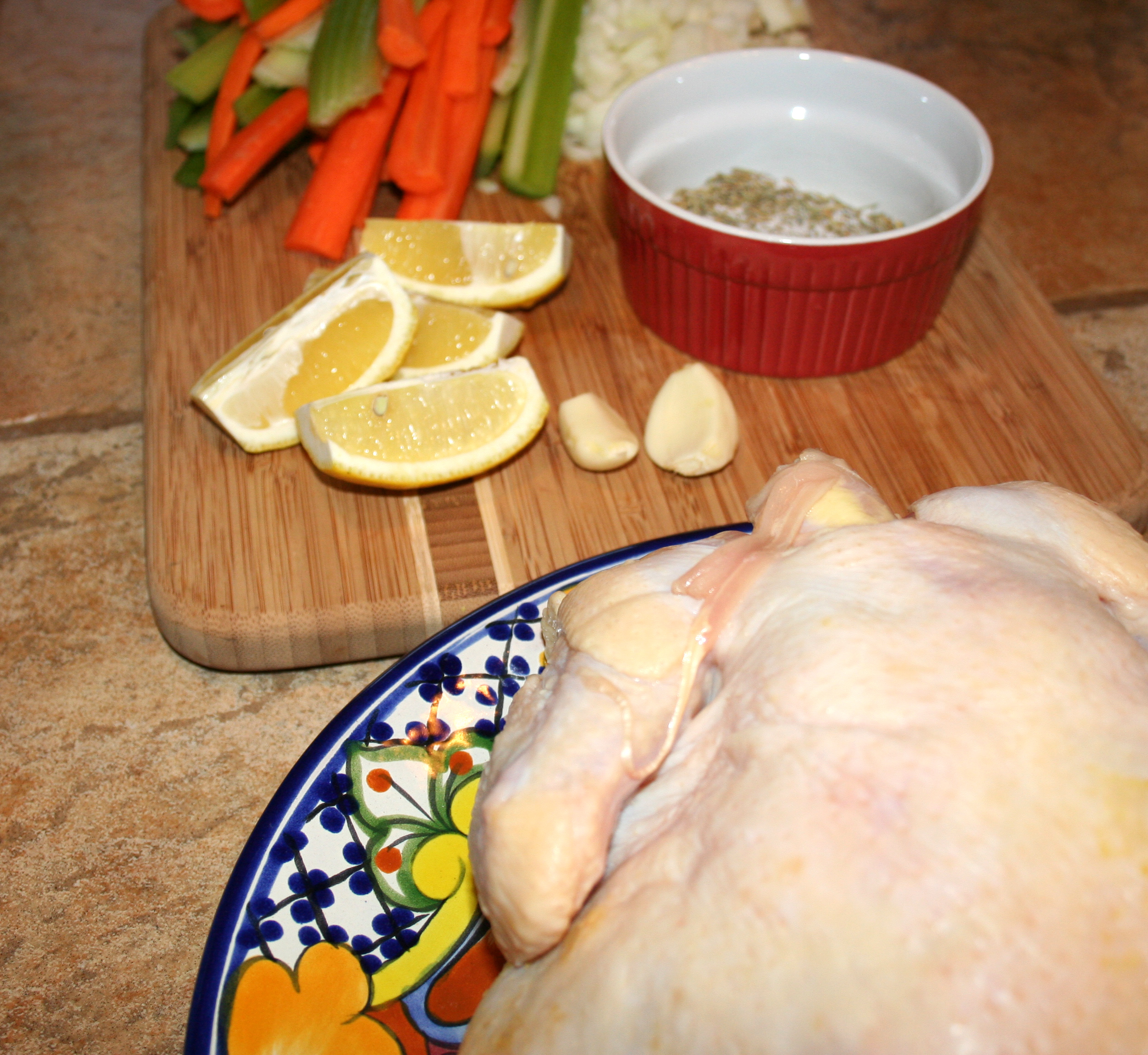 Step 3:
Time to get to business. First, rub the mashed garlic all over the skin of the chicken. Put the remaining garlic inside of the chicken. Gently pat the seasoning mix all over the outside and inside of the chicken. Finally, place the lemon pieces inside of the chicken.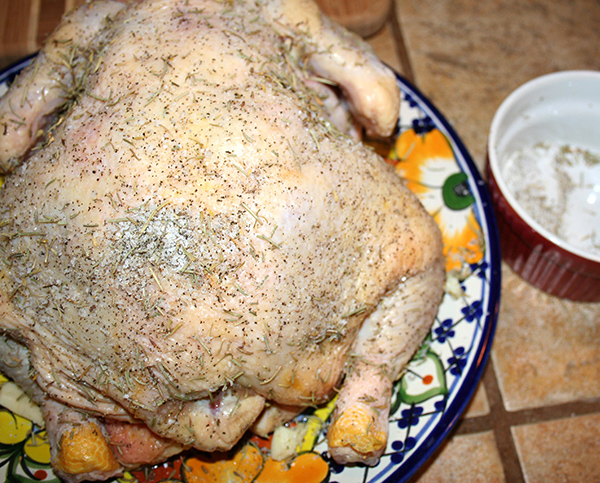 Step 4:
Lay your veggies in an even layer in the bottom of the slow cooker. Place your prepped chicken on top of the vegetables. Close the lid, and set the cooker to the low setting. Let it cook for 4 to 8 hours (this large range accounts for the range of chicken sizes that might be used for this recipe). My chicken, which was about 5 pounds, took about 5 hours, but this could depend on your slow cooker, too.
Personally, I suggest checking the internal temperature with a meat thermometer at 4 hours. Ultimately, you want the chicken to be 160 degrees F inside, but I find that if you remove it when it is at 155 degrees F or higher, it will continue to slightly rise in heat for a few moments afterward.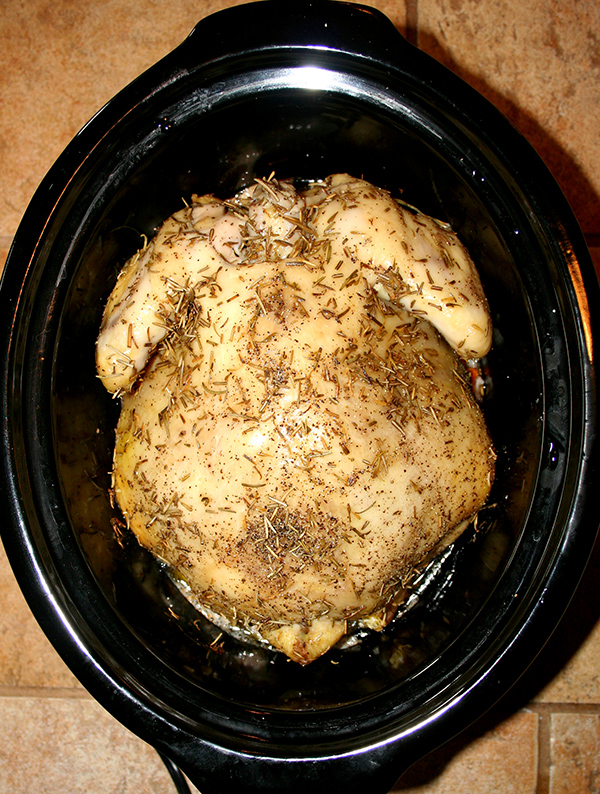 Step 5:
Once the chicken has cooked completely, it's time to ensure that the skin is crispy for serving. Remove the chicken from the slow cooker. Set your oven to "broil". Place the chicken in a 9×13-inch, or appropriately sized baking dish.  Let the chicken broil for 4 or 5 minutes, or until nice and crispy on top. Remove from the oven, and let it sit for 5 to 10 minutes before serving.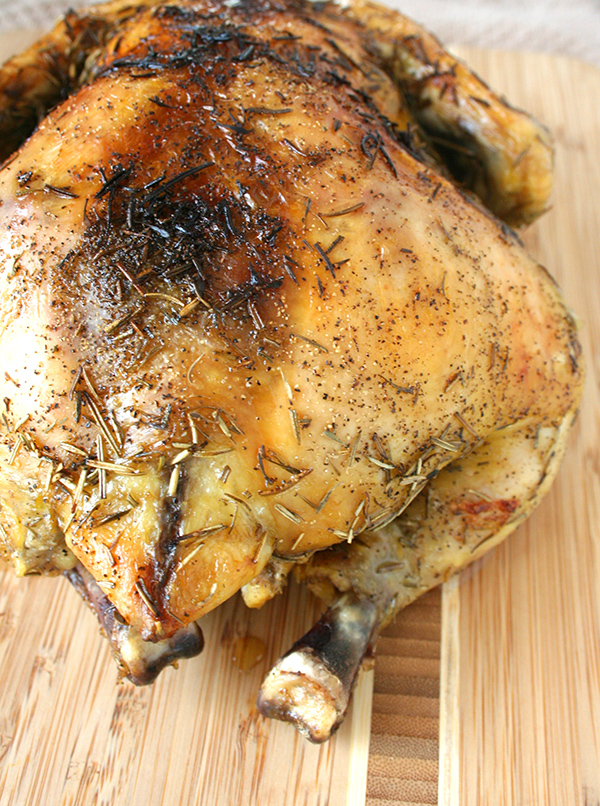 Note: The vegetables can be eaten or discarded. Reserve the drippings, because you've got yourself a beautiful chicken broth to work with on future recipes.
Have you ever made a whole chicken in a slow cooker?