This Skillet Corn Bread Pudding can be a cozy breakfast, a tasty side dish or a delicious dessert. But really, it doesn't matter when you choose to eat it as long as it gets eaten. This is one skillet pudding recipe you can't miss!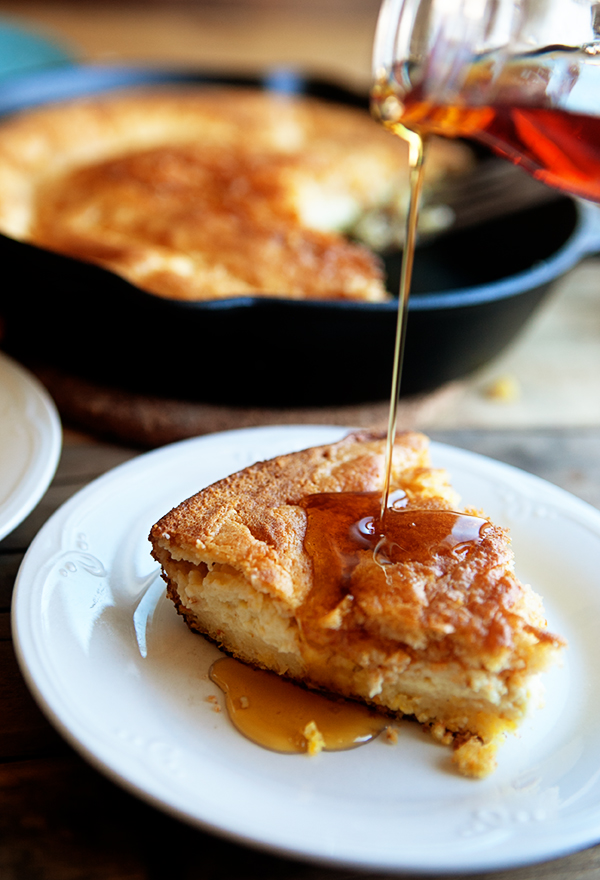 Photos via Some the Wiser
There is something about cast iron skillets and corn meal that always takes me back to Little House on the Prairie. My ordinary house in the suburbs is a far cry from the prairies of Kansas…and yet, when I pull a hot cast iron skillet out of the oven and see that perfectly golden corn meal crust, it feels like I've channeled my inner Laura Ingalls Wilder.
And this Corn Bread Pudding is a beauty. It's got all the things you love about corn bread — the crisp, crunchy crust and the soft buttery bread — but with the addition of a custard cream layer that is good in ways I can't even properly describe. Top it with a spoonful of real maple syrup, and you've got yourself a dessert that would make those Ingalls women proud.
The nice thing about a simple, rustic dish like this one is that while you can tie your apron strings with satisfaction and pull out your prairie-esque cast iron pans, you only have to channel your inner homesteader for about 15 minutes to get this pretty pudding in the oven. It's easy, with only a few simple ingredients, but impressive on the table all the same.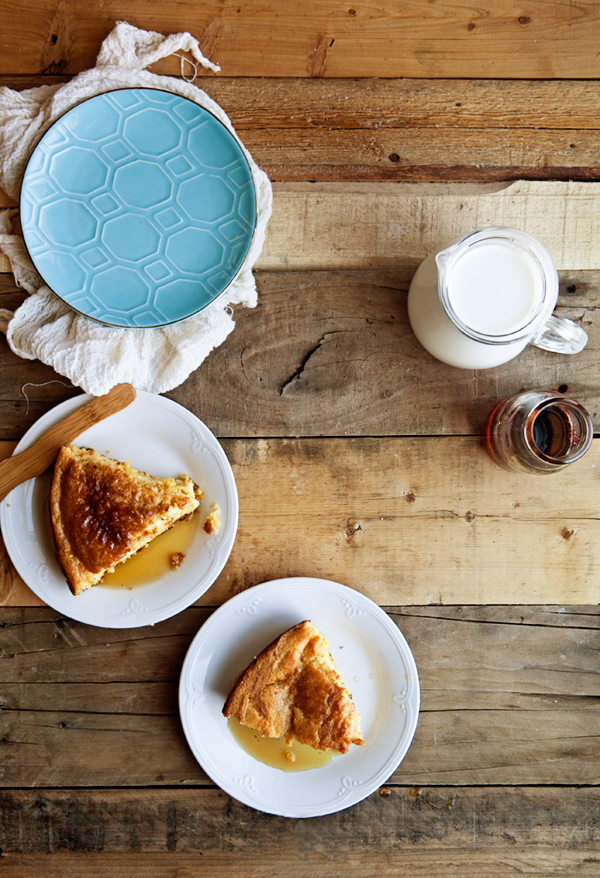 This Skillet Corn Bread isn't overly sweet and I have added some whole grains, in addition to the corn meal, just because it seemed like something Ma Ingalls would do. I tell you this so that if you can't resist eating it for breakfast, these small healthy details might be of some consolation to you. At our house, this pudding is eaten any time of day and we enjoy every single creamy bite.
Skillet Corn Bread Pudding
Ingredients
3/4 cup medium ground yellow cornmeal
1/3 cup ground amaranth
2/3 cup spelt flour (or all purpose flour)
1 teaspoon baking powder
1/2 teaspoon baking soda
3 tablespoons sugar
1/2 teaspoon salt
2 large eggs
3 tablespoons melted butter (unsalted)
2 cups whole milk
1 1/2 tablespoons distilled vinegar
1 tablespoon clarified butter
1 cup heavy cream
pure maple syrup for serving
Directions
Preheat oven to 350 F. Place a 9 or 10-inch cast iron skillet in the oven while oven is heating.
In a large bowl, combine all of the dry ingredients. In a small bowl, whisk together the eggs, milk, vinegar and melted butter. Make a well in the center of the dry ingredients and pour in the milk mixture. Stir until the batter is smooth. The batter will seem runny, but all is well.
Add the tablespoon of clarified butter to the skillet in the oven. When it has melted, carefully pour in the batter. Then pour the cup of heavy cream directly into the middle of the batter in the skillet. Do not stir and be careful not to shake or knock the skillet. Bake for approximately 50 minutes, or until bread is golden brown. Serve warm with maple syrup.