Ever had the feeling that your quick sketches are overworked? Or feel too flat and "cartoon-y"? That seems to be a common question from students in both my classes, Travel Sketching in Mixed Media and Sketching People in Motion.
Here are three common reasons behind that feeling, and some simple sketching tips you can use to improve your own sketches.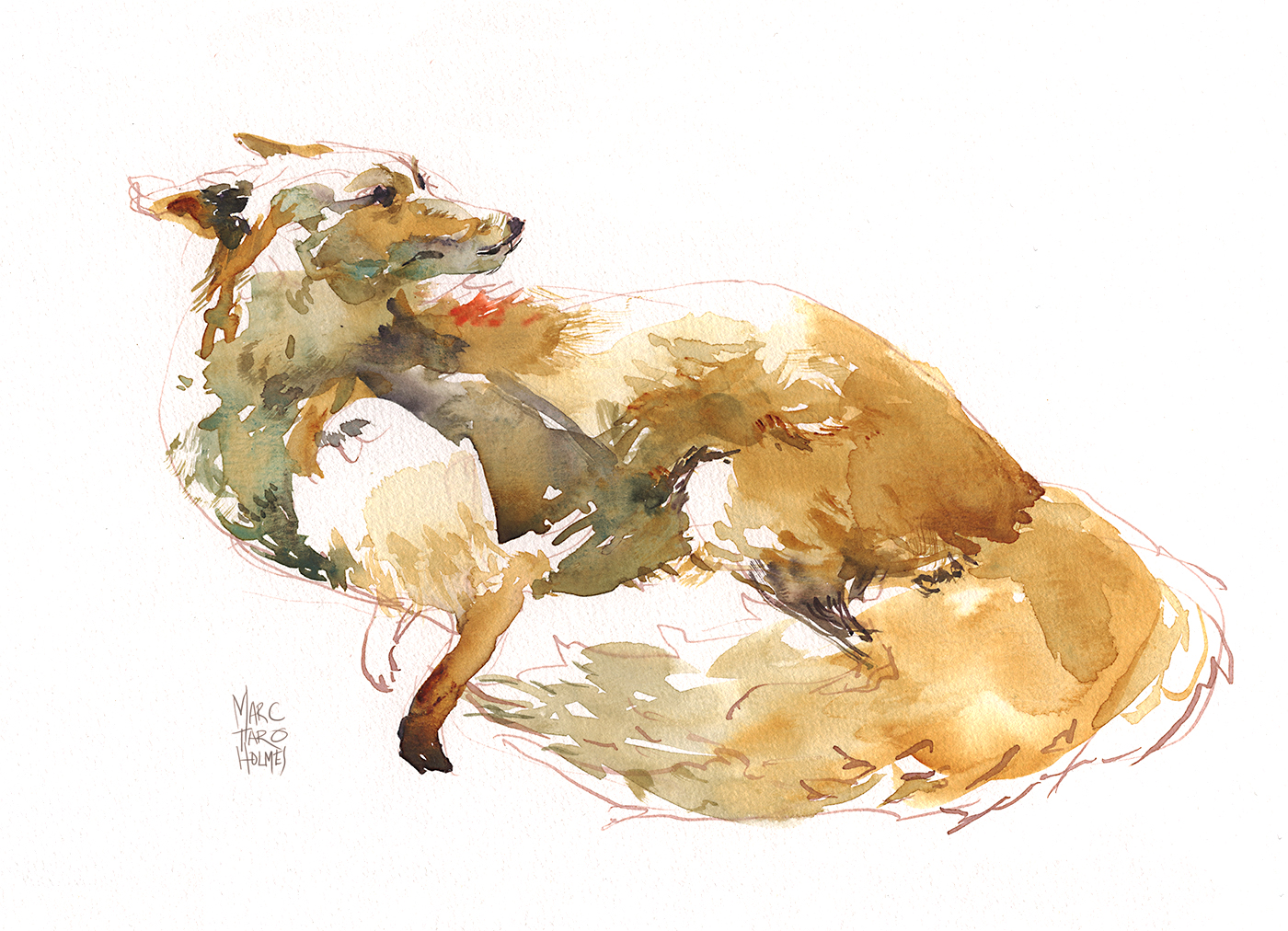 All images via Marc Taro Holmes
What makes a sketch look cartoon-y?
There are three main things that make a drawing feel more like a cartoon than a sketch. They are:
1. Rigidity and simplification
2. Mono-weight and closed lines
3. Flat color and lack of depth
Let's dive right into eliminating these problems in your sketches.
1. Rigidity and simplification
Cartoons tend to simplify complex shapes into something more geometric.
If you are not sensitive to tapering perspective, a slight slope of the earth, the lean of an old structure or the divot of a broken brick, you might end up putting inflexible straight lines where a more organic shape might bring life.
But how can you be open to capturing all these things in a quick drawing?
I find the answer is working as quickly as possible and remaining relaxed. Allow yourself to tap into an unconscious kind of looking-and recording. I get into this zone in two ways: I tell myself "This is just a test. Not a real drawing — just an experiment to see what happens."
At the same time, I don't give myself too much time to work. I commit only 10 or 15 minutes. If I sit down for longer, I start to seize up while trying to do good job of it. The key is taking away performance anxiety and any feeling of needing a winner.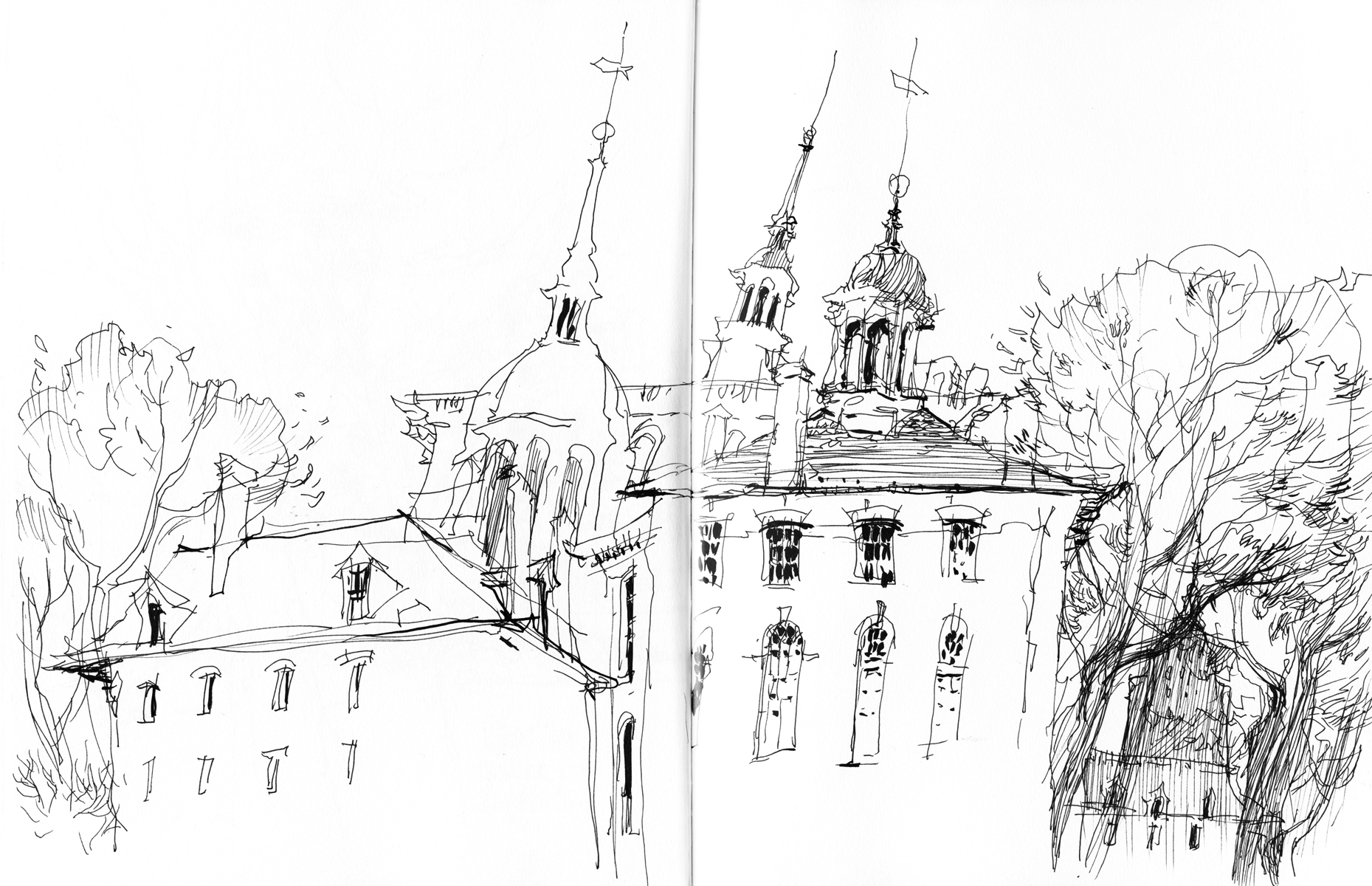 I think you'll agree the above drawings are the opposite of rigid. These were accomplished by drawing while having a lively conversation with a friend at the same time. Also by being very cold, working standing up and wanting to get moving soon!
2. Mono-weight and closed lines
There is nothing more flattening than a graphic outline; a solid closed line that goes all the way around a form. This is a classic cartoon effect, meant to make a shape visually separate from a background.
In sketching, unlike painting, we have less natural opportunity for lost edges (places where object and ground can blend together).
What we have to do is force lost edges to happen by breaking lines.
Let them taper off into open shapes. Vanish into the highlights. This looks to the eye like a painter's lost edge. Just look at the faces in this life drawing: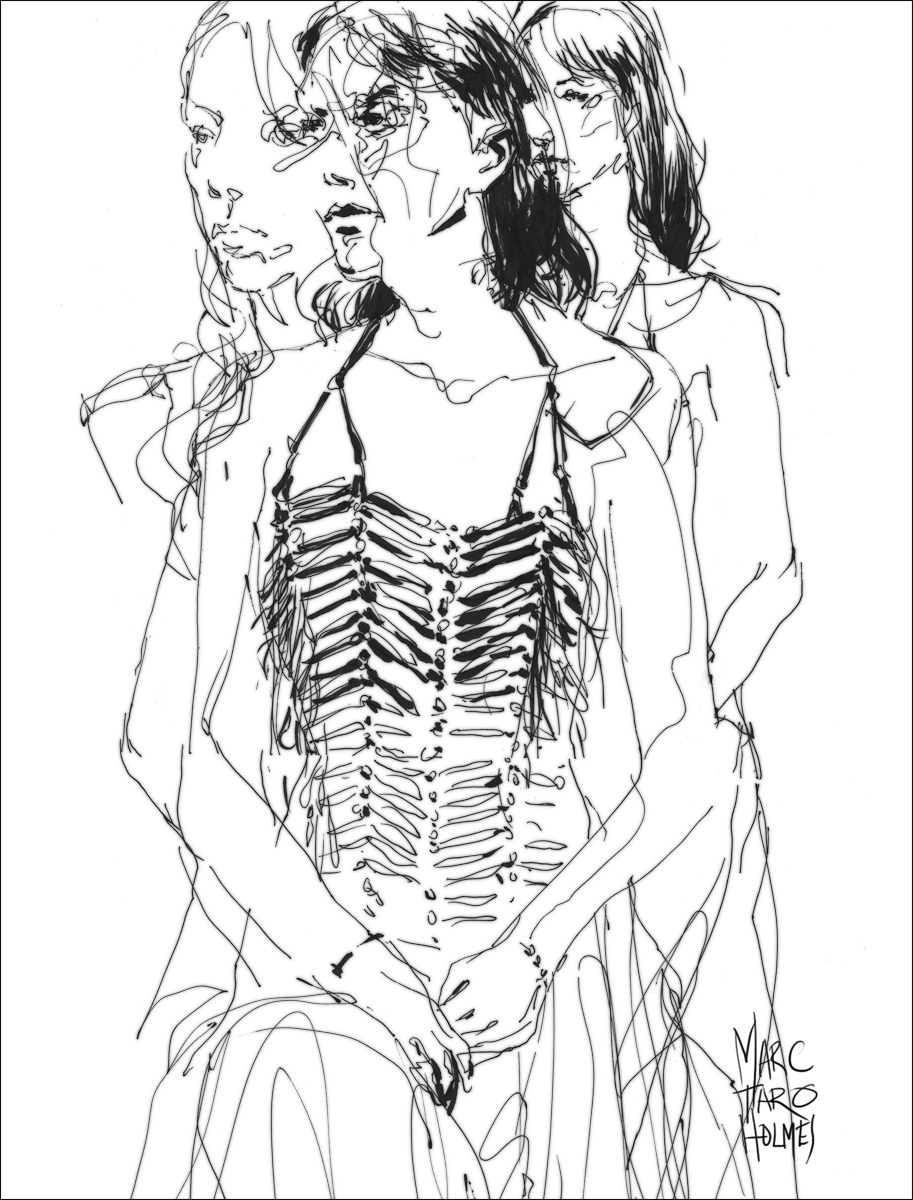 And here's a sketchbook example of breaking line (and tone) to let in light:
3. Flat color and lack of depth or texture
Cartoons and comics are most closely associated with flat color. It's practically the definition of cartoony.
You can still use color in your sketching without creating a cartoon-like look.
The first part of the answer is texture. With watercolor, we push back against any monotonously smooth passages with a combination of paper texture and brushwork.
You can use broken brushwork, as demonstrated by the impressionists. Also consider charging in color to wet-in-wet mixes. A slanted board will encourage backwash/blooms and drips. These are all ways of getting natural texture, instead of clinical perfection.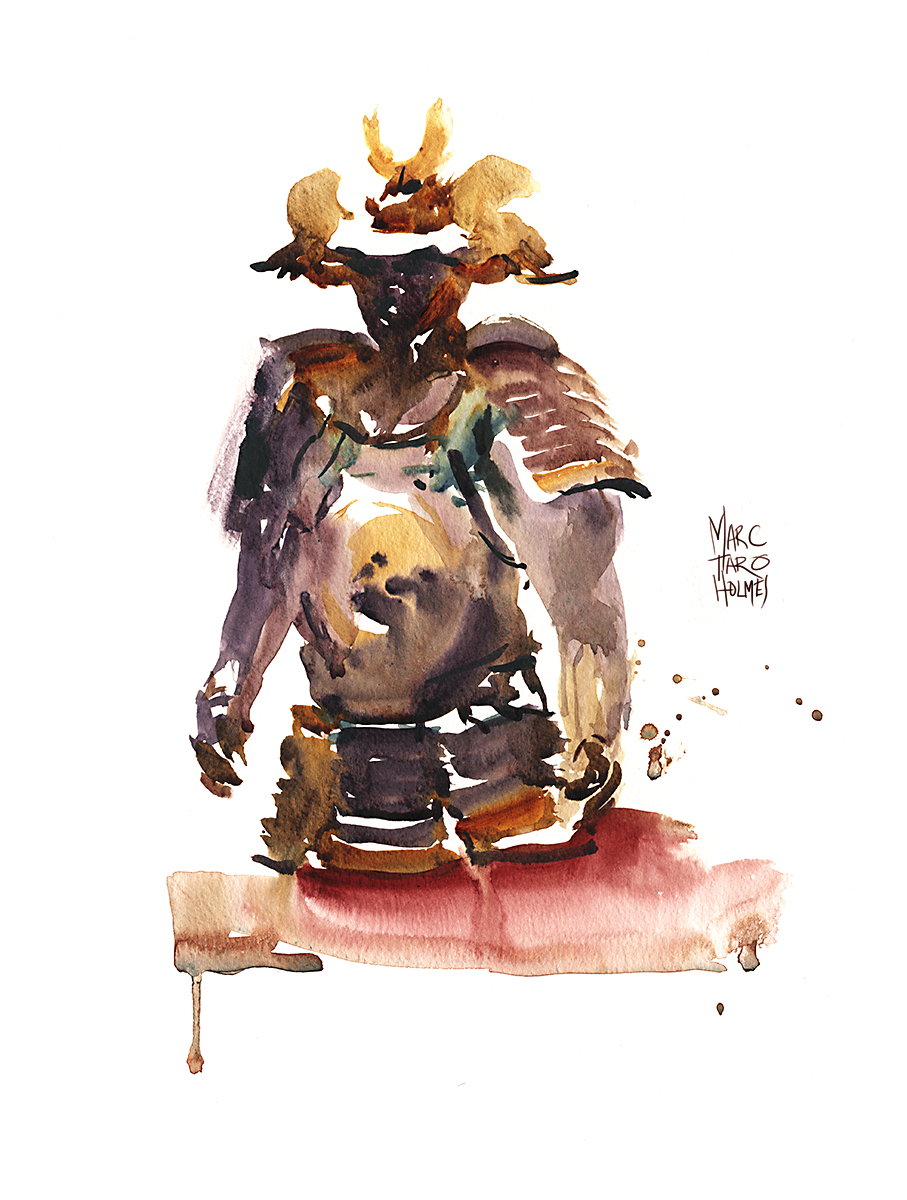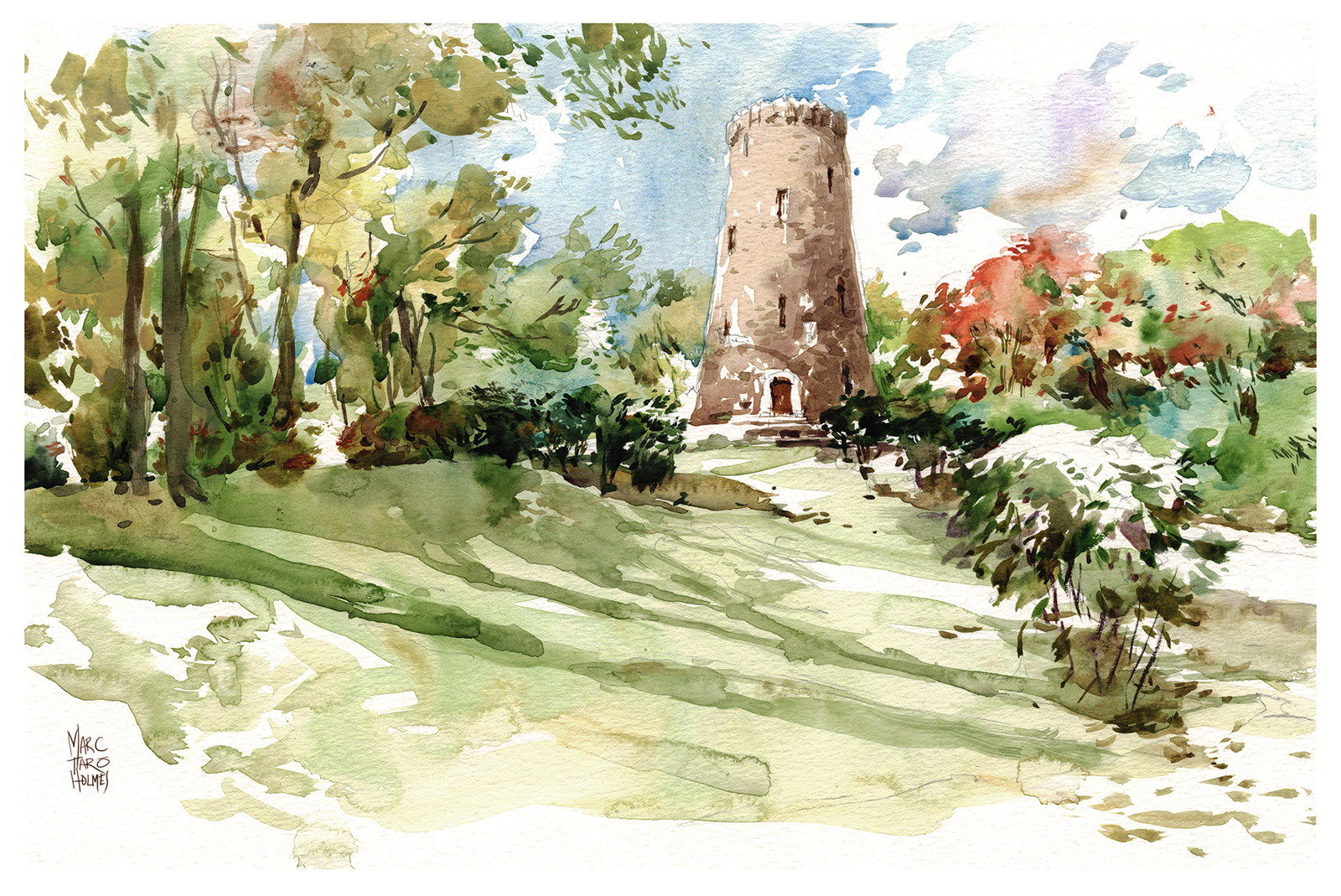 The second part of this is depth. I should say "dimensionality," because by this I mean observing shadow shapes.
We're not talking about depth as in distance toward the horizon (that's atmospheric perspective). What I mean is being conscious of "self-shadowing:" when objects cast shadows on themselves.
Marking what is light and what is the shadow side is the fastest way to teach the eye that a thing is three dimensional. That's why so many of my sketches are just white paper with only color in the shadow shapes.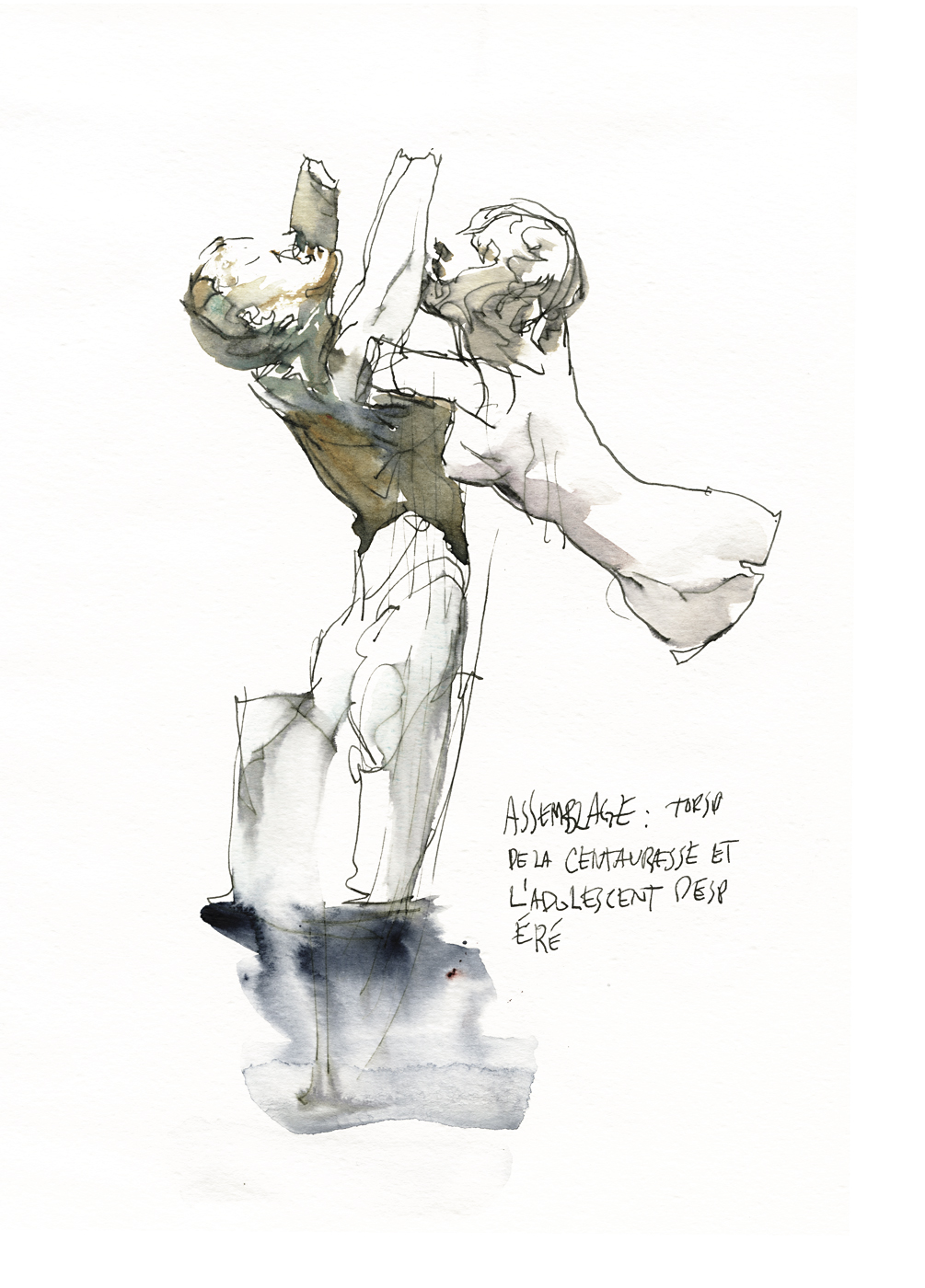 And of course, you can do this in the drawing —even without any color or brush pen blacks. See below how the shadows are in the drawing, even before the color?
All this combined is what makes a sketch painterly and not cartoony at all.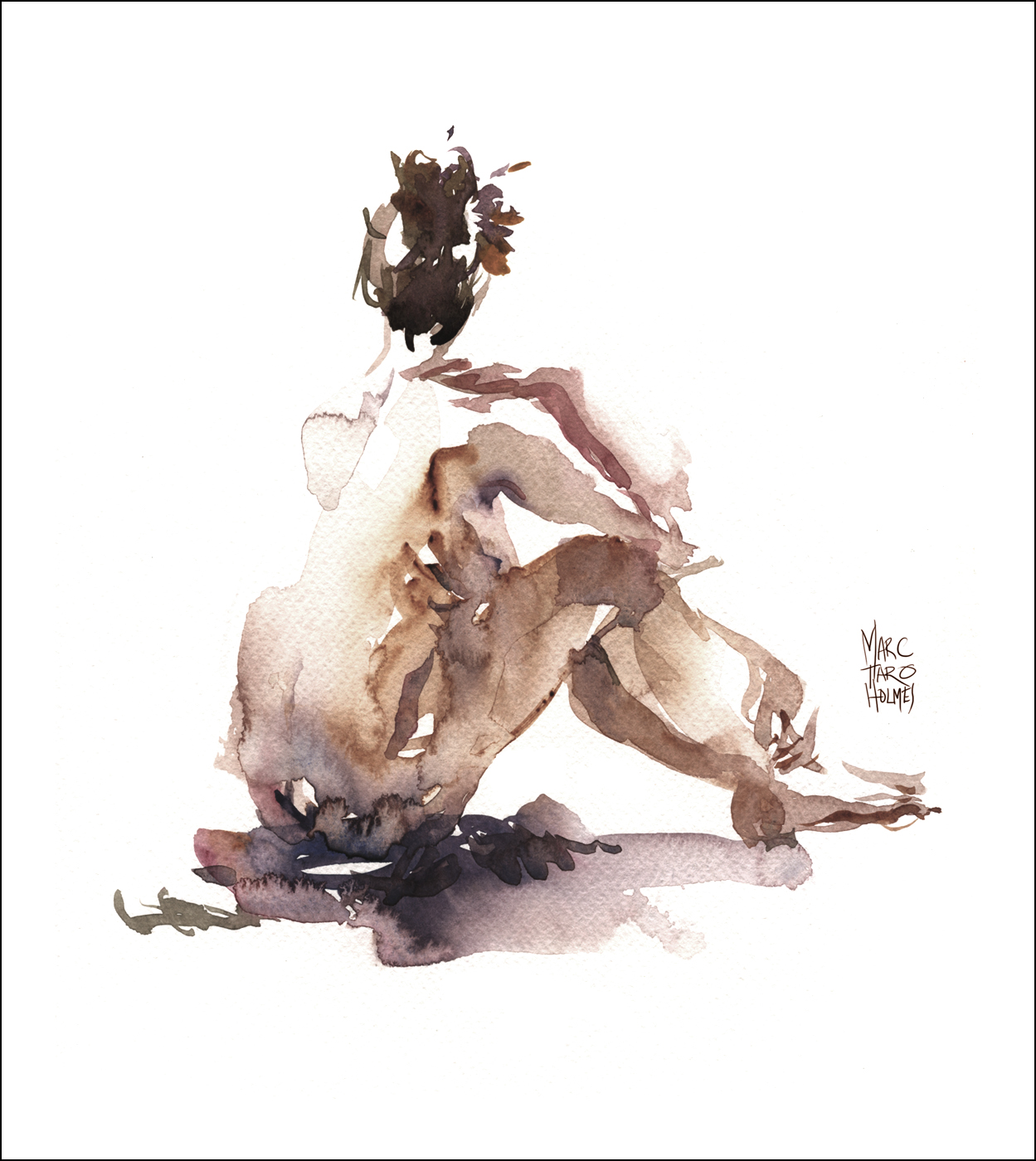 About the author
Marc Taro Holmes is a sketchbook artist and plein-air painter who works in ink, watercolor and oils. Since 2009, he's been a correspondent for the international website of reportage artists, urbansketchers.org. He's the author of The Urban Sketcher: Techniques for Seeing and Drawing on Location, published by North Light Books. Marc also enjoyed a 15-year career as an art director and concept artist in the video game industry, working for studios such as Microsoft, Electronic Arts and Disney. Marc also offers a continually growing resource of free art tips, sketching demos, and adventures in travel sketching at his website, Citizen Sketcher.