This week, we sat down with Vanessa Wilson, instructor of the our online class Sew Little: Nursery Design!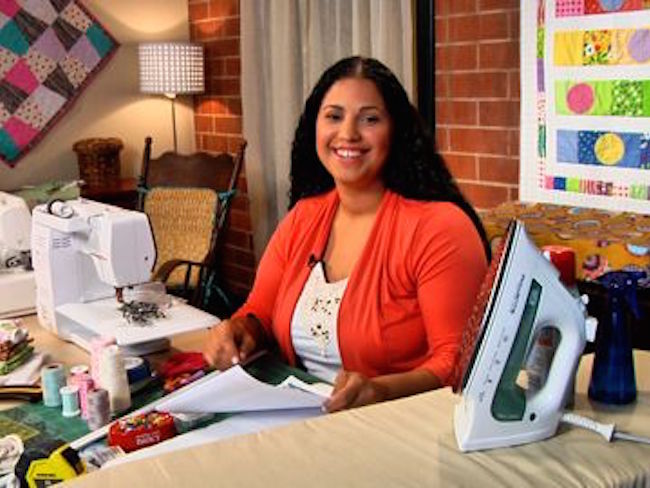 In this chat learn all about Vanessa's must-have sewing item, the animals that keep her company at home, and her first sewing project (which was mistaken for a designer piece!).
What was your first sewing project?
My first sewing project was a purse I made from a pair of designer jeans that no longer fit me. I figured I would turn them into a functional accessory if I couldn't wear them… because they were pricey! I cut them up and sewed a bag with a fraying strap and embellished it with beads and patches. It was perfect because it was original and functional!  I used the back pockets to store my cell phone, keys, etc without having to dig around inside the purse.  I was a babysitter at the time and the lady who I babysat for asked me if it was a Juicy Couture purse one day! Talk about a compliment!
What are your three desert island sewing supplies?
Assuming I'd have all the other essentials like food, water and shelter.  The three sewing supplies I couldn't be without are a treadle sewing machine, a boombox (I can't sew without my music!), and my fabric scraps!
What item has been in your stash the longest?
It would have to be the first thread spools my mom brought over with the 1966 Singer sewing machine she taught me to sew on — all of which she bought at a yard sale for $10.  I keep trying to tell her I can't sew with old thread that is going to fall apart.  She insists there is nothing wrong with the thread even though I when I unravel it its a totally different color further inside the spool than on the outside. Hmmmm.
Cat person, dog person, or do pets just interfere with your sewing time?
I'm more like a farm animal person. We have dogs, rabbits, chickens, and a pig on our little farm. They would interfere with my sewing time if I had to look after them but that's what I have kids and a husband for.  I send them off to feed and care for the animals while I sneak away to my studio!
What was your biggest sewing disaster?
Ha! Don't make me relive it! When I first learned how to sew I became obsessed with Project Runway and decided to try my hand at just draping some jersey knit on my mannequin to make myself some crazy skirt I designed as I went along.  I must have really thought the creative juices were flowing because I started cutting strips into the waistband and overlapping others, sewing them down and after about three times of that I went to "try it on" and just about fell to the floor laughing.  The only thing funnier than that was watching my husband pull it out of the clean laundry to put it away and after turning it around five times he still couldn't figure out what it was!
In 10 words or less, what inspires you?
Problems needing functional and inexpensive solutions.