The term couture sewing strikes fear into the heart of some sewists, but it really shouldn't. Couture, according to expert Susan Khalje, is much more an attitude or approach to sewing than a specific technique. Sewists who are considered couturiers definitely have some serious sewing chops, but I believe that any motivated sewist is capable of learning fine couture sewing techniques. Study, practice, and go!
Essential couture sewing techniques
This list is by no means exhaustive, but many fine seamstresses might agree that to be considered a couture seamstress you would have mastered everything on this list, and then some!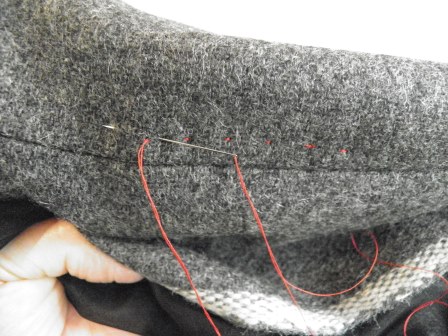 Hand back stitch used as topstitching, worked from right to left
1. Hand stitches
Where to start? Basting underlining, thread tracing stitching lines, hand-picking zippers, overcasting seam allowances, cross-stitching hems — all of these are done by hand in the world of couture. Stitching by hand rather than by machine gives you a much finer degree of control over the fabric, and to my mind, is relaxing and enjoyable. If you want more information on different types of hand stitches and the appropriate applications, see our post "Couture Hand Sewing: Stitches to Try."

Right side and wrong side view of French seam
2. French seams
Perfect for straight seams on a skirt, dress or pants, the French seam encloses the raw edges of fabric, leaving a beautiful finished look to the inside of your garment. It is perfect for lightweight fabrics, and is definitely much easier to sew than you might think. To learn all the tips and tricks for this technique, see our tutorial on how to sew a French seam.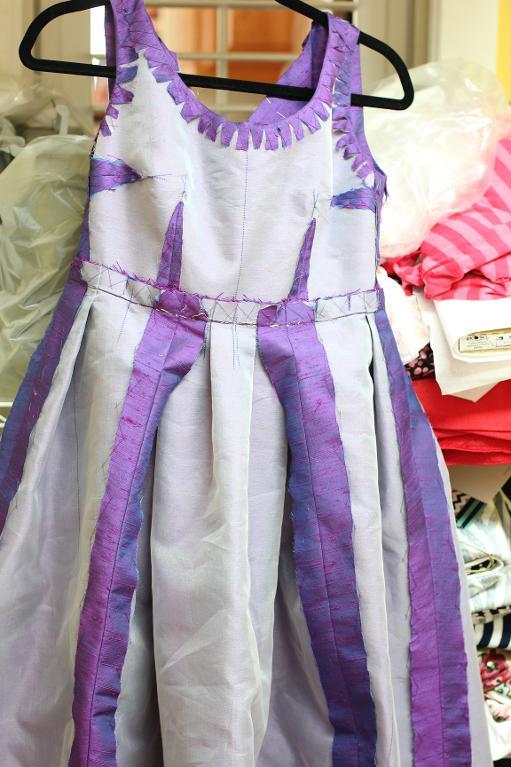 Purple silk dupioni dress underlined with silk organza by Bluprint member Uaviles
3. Underlining
Great looking garments are constructed from the inside out, and start with a great foundation. Underlining, often but not exclusively with silk organza, helps reduce wrinkles on the final garment, provides a layer to catch overcasting or hem stitches, and can help provide body and structure to soft fabrics. Learn how to expertly sew underlinings as well as interfacing and facings in the Bluprint class Underneath It All with Linda Lee.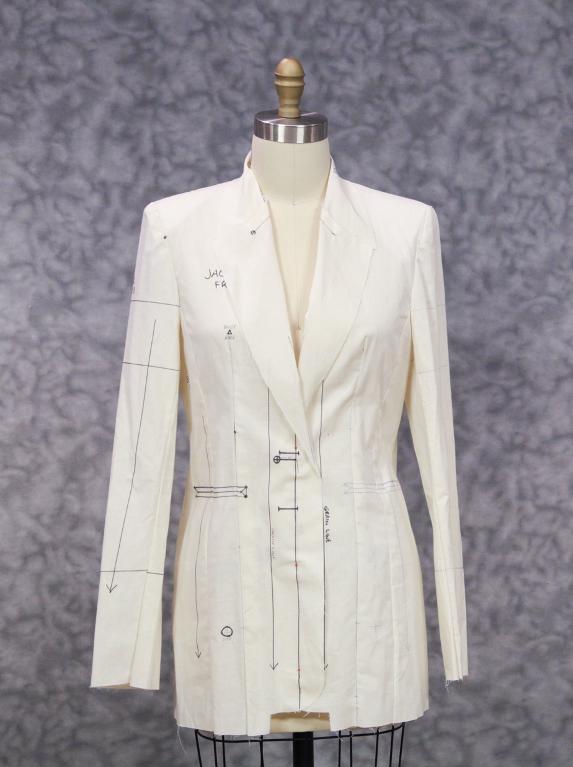 Bluprint instructor Pam W. Howard's jacket muslin with placement markings
4. Making a muslin
A test garment, or muslin, allows you to resolve all fitting issues in inexpensive fabric before cutting into your final fashion fabric. Cut out the main body sections of the garment, eliminating all facings, and allow 1–inch seam allowances instead of the standard 5/8 inch. Baste the garment together, try on, and adjust to suit your personal fit preferences. Although it can seem like a waste of time, it is essential for tuning the fit as well as testing out the design lines of a pattern. For help with fitting issues, sign up for Lynda Maynard's Bluprint class, Sew the Perfect Fit.

Bluprint member Laree66's hand-picked and beaded zipper dresses up this beautiful blue formal.
5. Hand-picked zipper
I first learned this technique from my mom. She stitched the zipper by machine to the skirt or pant seam allowances only, and then finished the overlap on the right side with hand stitches. Susan Khalje completely installs the zipper by hand, using the backstitch for strength. I think this technique is a perfect example of a case where hand-stitching produces a smooth zipper installation on the first try; something that does not always happen when putting in a zipper by machine. Susan demonstrates this technique step-by-step in her class, The Couture Dress.

Bluprint member sweetcharity's Oliver & S Badminton Skort features a sweet scalloped hem
6. Faced hem
If you have ever made a skirt with a shaped or curved edge, you know that creating a lovely hem on this style of garment can be a challenge. Instead of turning up a hem edge, next time try cutting a facing the exact shape of the bottom edge. Using the pattern pieces for the skirt, trace off a facing pattern about 4 inches above the lower edge of the skirt. Stitch the facing pieces together, and then stitch the lower edge of the facing to the lower edge of the skirt. Understitch, turn, and press the facing to the inside of your skirt. Since the facing is the exact shape as the skirt, it will fit exactly inside.
What are your favorite couture sewing techniques?