Today's embroidery enthusiasts have so many options when it comes to machine embroidery! In years past, only commercial embroiderers had multi-needle machines, but that is no longer the case in our technologically advanced industry. Lets take a look at the single needle embroidery machines. If you are reading this article, chances are you own this type of machine.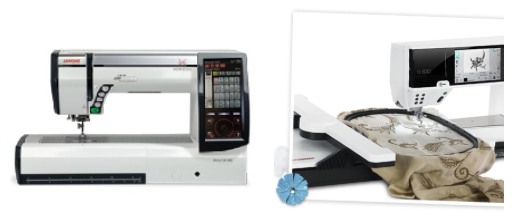 Photos via Janome and Bernina
Download this post for later!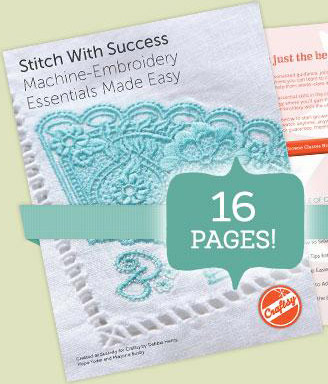 Want to save this handy guide to different types of embroidery machines? Click here to download the PDF version, PLUS enjoy bonus tips for choosing the right thread for your machine absolutely FREE!Download Now »
Single head, single needle machine
Characteristics
This type of machine looks like a traditional sewing machine with a flat bed bottom including a removable embroidery unit. Smart, user-friendly machines can be used for general sewing, creating decorative and utility stitches, or they can produce computerized machine embroidery.
There is only one head which is comprised of the needle, bobbin, thread and other metal parts. When a single needle machine is embroidering, the needle stays stationary and the embroidery arm moves according to the digitized design.
A single needle embroidery machine has only one point of hoop attachment and often has smaller hoop capabilities than a multi needle or multi head machine. Most common hoop sizes are 4" x 4", 5" x 7", 6" x 10" and 8" x 12" with embroidery speeds of 300 -1000 stitches per minute.
Pros
Most are fairly easy to use for the computer savvy enthusiast. Notice I said computer, because it is extremely helpful to have an embroidery software program to customize, arrange and merge designs.
This type of machine is very widely available for purchase in local sewing machine stores.
Cons
This type of machine is not efficient when embroidering several of the same samples. What I mean by this is, lets say you decided to start embroidering for money, to help support your family's income. Time is money, so sitting by your machine to change threads at each color stop is necessary, however, it is a time waster.
Another limitation is hooping ready made garments, accessories or bags. It is very difficult to embroider on a pocket of a ready made tote bag. Due to hoop limitations and the flat bed on the machine, you would most likely have to remove the pocket from the tote, embroider it, and then reattach it. I know, you are thinking ugh! It would probably be easier just to make the tote from scratch than to rip off a pocket and try to reattach (this is one of the main reasons I purchased my first multi-needle machine).
Single head, multi-needle machine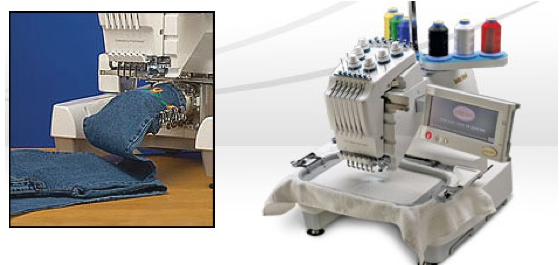 Characteristics
Going from a single-needle to a multi-needle machine raises the bar for embroidery for hobbyists, crafters and home-based entrepreneurs. This home embroidery machine is the logical next step for anyone who loves to embroider and wants to have more fun, along with more embroidering capabilities.
This type of machine usually has 4 -10 needles. Each needle can hold its own thread color giving you four to ten color choices during embroidery without having to stop and change the thread colors as on a single-needle machine. Lets say you are embroidering a "plop and drop" (meaning no appliqué, trimming or special techniques involved) that has 12 color stops but it only has 10 different colors of threads used in the design (this means two of the colors are used two different times in the color sequence.) If you owned a 10 needle machine you could select your needle thread colors, hoop your fabric, push start and the machine will finish the embroidery without you having to change to a different thread color.
A multi-needle embroidery machine has two points of hoop attachment and often has larger hoop capabilities than a single-needle machine. Most common hoop sizes are 4" x 4", 5" x 7", 6" x 10", 8" x 12", 8" x 14" and 14" x 14" with embroidery speeds of 400 -1000 stitches per minute.
Pros
These machines finish most multicolor designs faster, easier, and with greater precision than most single-needle machines.
Embroider free-arm! With the purchase of additional hooping systems, you can embroider in a pocket of a man's shirt, back jean pocket, up the leg of a pair of jeans or up a sleeve, without having to rip off the pocket or ripping up the seam of a pair of jeans. This is one of my favorite features of owning a multi-needle machine. With the optional cap frame, you can easily embroider on the front and back of your favorite baseball cap.
Cons
These are more expensive, but worth every penny. It is necessary to program color stops into the embroidery sequence so the machine will stop if you need to trim fabric when appliquéing (it's easy; you just click a button).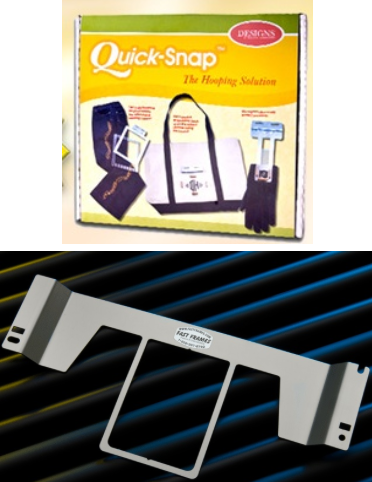 Photos via DZGNS and FastFrames
Are you wondering which type of machine I own? Like you, I'm the I-want-it-all-kinda-girl! I have several different single-needle embroidery machines, and a 6 needle and a 10 needle machine. I love and use them all. When the 10 needle machine came out a few years ago, I was going to trade-in my 6 needle but decided to keep it at home and move the 10 needle to my office.
If you are thinking of starting your own small hobby embroidery home business, then you will want to check out the multi-needle machines. Go into your local sewing machine store and ask for them to demonstrate how to free arm embroider using their favorite optional hoops.
Start your home embroidery business today!
Learn the day-to-day business basics you need to lay out a solid foundation for success in 7 online video lessons.Enroll Now »