The idea of designing a quilt without a pattern can seem a bit intimidating at first, but it doesn't have to be. Free-form quilting can be as simple or as complex as you like, and there's no right way or wrong way to do it. Just relax and trust your instincts!
Start with scraps
The easiest thing to do is to start quilting with scraps and add borders. In the Jump for Joy quilt below, I created a central panel out of leftovers from another project and additional scraps, then designed asymmetrical borders using crisp black and white fabrics to frame the piece. This is a small study around 11″ x 14″ that was fun to make and didn't take much time to learn a new technique. It's mounted on a black background.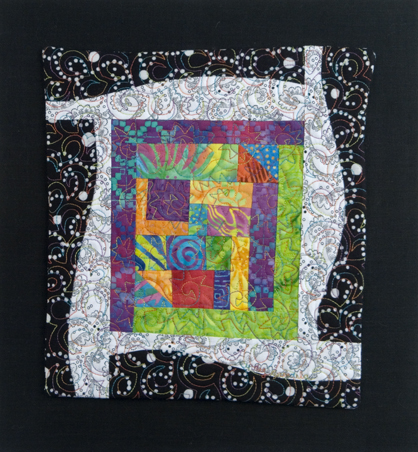 Go with the flow
Pattern-free quilting can be really relaxing, especially if you give yourself permission to go with the flow. You don't have as much control this way, but you also allow for what I like to call "happy accidents" to occur, like when a snippet of color appears in just the right place to add spark to your design, or you discover a new color combination that you might not have thought of before.
One way to get yourself in the right mindset for this is to start with a pile of scraps next to your sewing machine. They can be bits and pieces in any color, or you can choose to stick with a controlled color scheme, like cool blues and greens or warm reds and yellows, for example. If you do go the controlled route, make sure you have a variety of lights, mediums and darks in each color—that's where the fun comes in! In Summer Breeze, below, I made small 3″ – 4″ units of scraps using an "anything goes" scheme of mostly bright fabrics. Just pick up two pieces of fabric, sew them together and keep adding scraps until you have the size unit you want. Then I bordered them with yellow and yellow-orange strips and sewed them together in an improvisational style.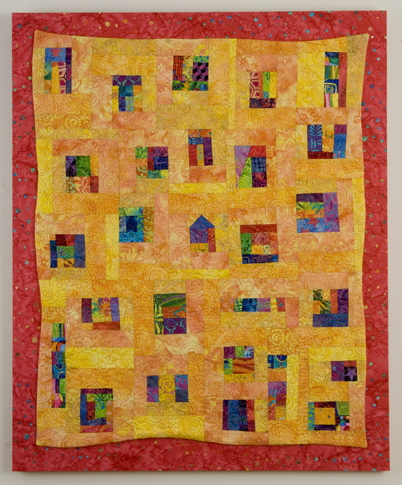 Experiment with stripes
Using angled stripes is another way is to experiment with making a quilt without a pattern. Cut rectangles of different widths out of a group of six or seven fabrics that you like together. Lay two of the rectangles out next to each other right side up and overlap them by about a 1/2″. Cut a shallow angle through each layer. Then when you sew them right sides together, the angle will match. Do the same thing for each rectangle until you have the size unit you want.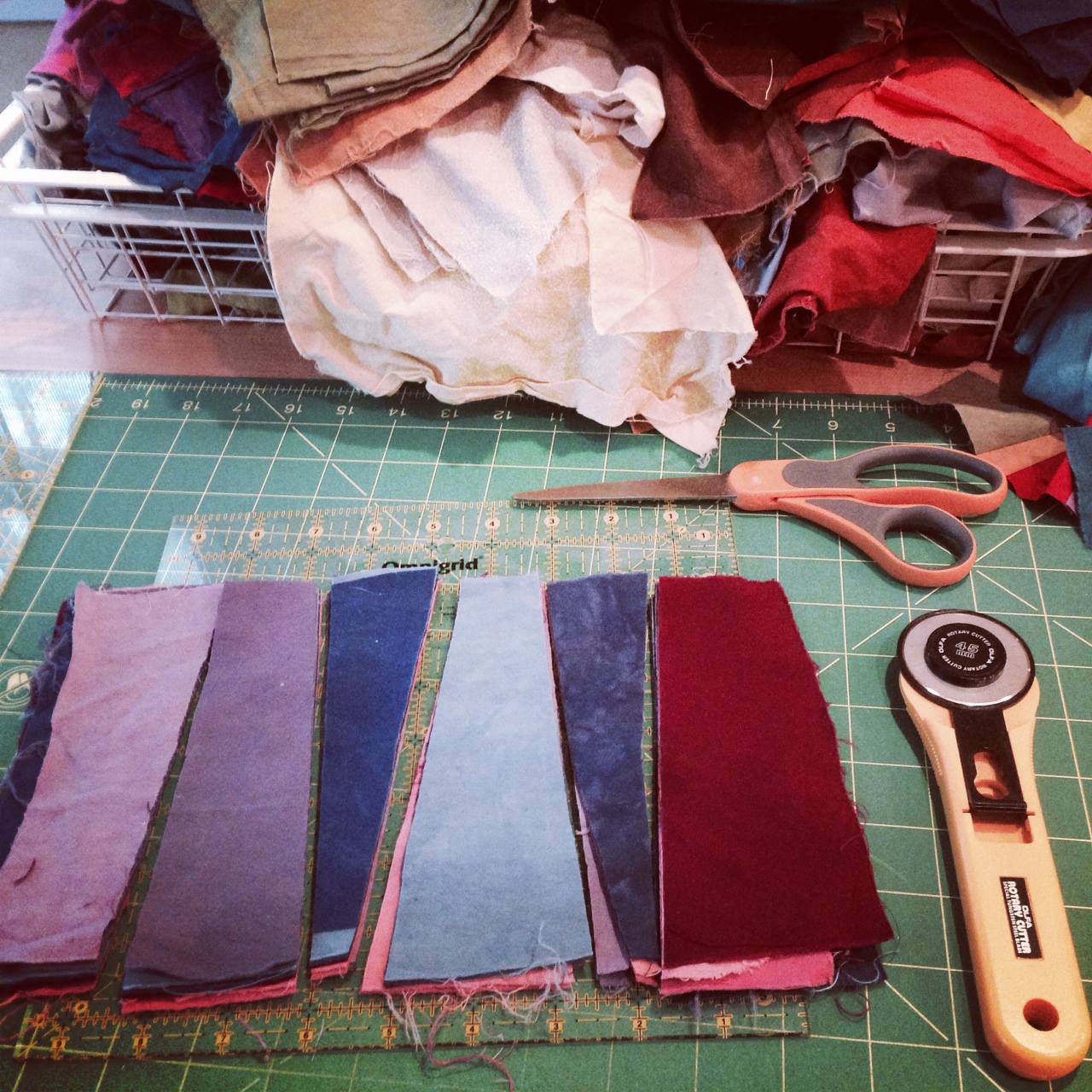 Once the angled stripe units are sewn together, you can create your own design by laying the units out in various configurations until you have something you're pleased with. A design wall is helpful for this. If you don't have one already set up, you can put a piece of batting or flannel up on a wall temporarily to allow you to step back and view the different designs before you sew anything else together.
In Intersections, below, I started out with mostly blue and green stripes, then added some contrasting red and orange to make the design pop. Notice how some of the stripe units are horizontal, some are vertical and the size of the units varies. Both of these design techniques create a sense of activity and motion. The design would be much calmer if all of the units were going in the same direction and were more similar in size.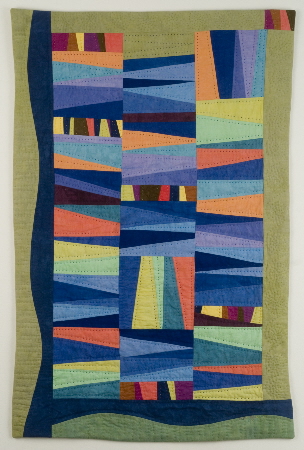 Combine blocks and stripes
Combining these ideas and taking them to another level, you can use improvisational blocks and stripes in the same quilt. Jazz Rhythms, below, is a riot of color and motion, and it was designed entirely free form so that each decision about color and shape influenced the next in an organic fashion. I included some plain red strips to help tie the design together and give the eye a place to rest.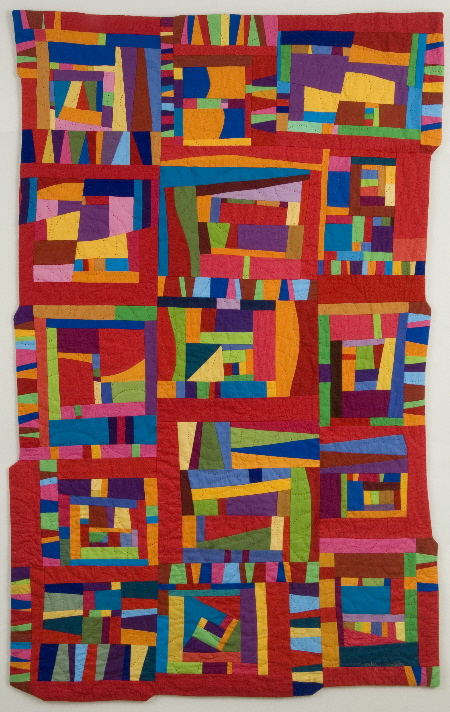 Try the paper bag method
The key to creating quilts without a pattern is not to overthink your choices. Next time you have a few minutes at your sewing machine, put random scraps from 1″ – 6″ in length or width into a brown paper bag next to your machine. Pick out two pieces and sew them together without thinking about it, only switching out one of the fabrics if you have accidentally picked up two of the same fabric. When you have eight to ten pairs sewn, pull out another scrap and sew it on one side of each pair. Continue until you have a pile of fabric units 4″ – 6″ square. Pick out your favorites and sew them into a small place mat or pillow top, adding borders if needed to make it the right size.
Maybe you could do this with a quilting friend or two and make a day of it. You'll be on your way to designing without a pattern before you know it!