The holidays are over, and that means you can choose a project for some selfish knitting! One of my favorite projects to make post-holiday is a shawl.
Not only does a shawl work well as a great winter accessory, but it's also a good chance to play around with color. And if you have a lot of random yarns left over from your holiday knitting, then playing with color can help you de-stash. (Woohoo!)
Here are just a few tips for choosing colors when you're creating multi-colored shawls. The bottom line? Be willing to try anything and everything!
1. Separate colors that might clash.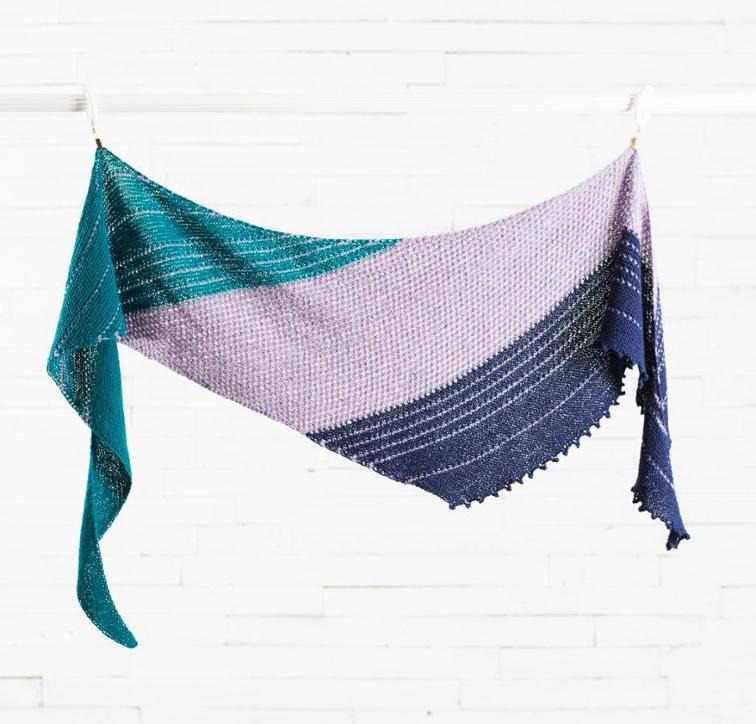 Ashburns Shawl Knitting Kit
While two colors may not work well side by side, it might be possible to break them up with other colors.
When in doubt, place the two possible contenders side by side. Step back for a moment and take a look. Leave the room, then glance at the colors as you walk by. Sleep on it. If you're still not sure, you can always work up a quick little swatch to see the colors together. If they clash, consider adding a different color between them.
2. Don't dismiss variegated yarns.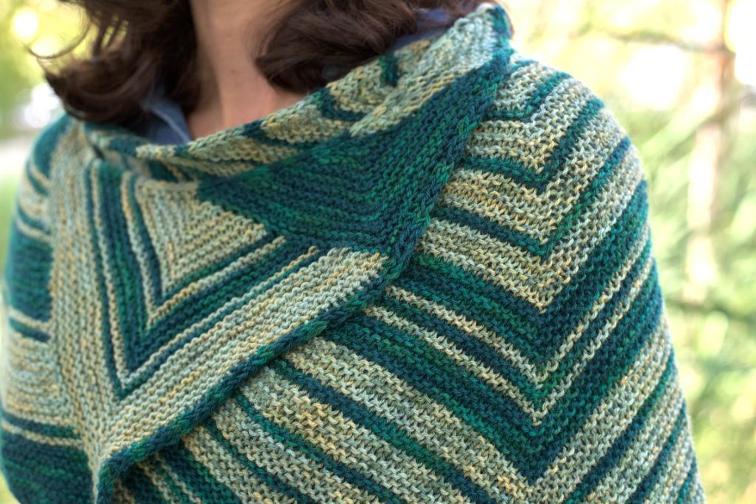 Center-Increase Triangle Shawl by Iris Schreier from the Modular Knitting class
Many knitters worry that variegated yarns won't work well in a multi-color palette — maybe because they're too busy or because they're just harder to combine with other colors. But in some cases, variegated yarns make color combinations easier! Use that variegated yarn to pull in other colors. If your variegated yarn has yellow, blue, and green, for example, find a solid yellow, blue, or green that matches those colors.
3. Fade it!
Fading colors is very trendy right now thanks to Drea Renee Knits' Find Your Fade Shawl. If you have colors that fade well into one another, go for it!
4. Don't be afraid to experiment.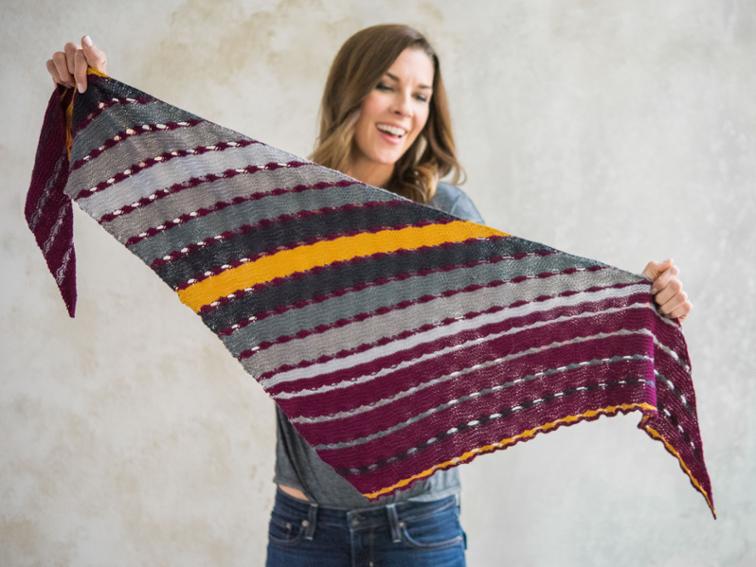 The Joker and the Thief Shawl Kit
The worst that could happen is that you start knitting with a new color and absolutely hate it. If possible, create a lifeline when you're ready to start a new color. Then if you don't like the new color after a row or two, just rip back to the lifeline. It will be super simple to put those stitches back on your needle and start with a different color.
The best thing that could happen? I think The Joker and the Thief shawl pictured above, with its bold yellow stripe, says it all!
5. Combine speckled yarns with solid colors.
Speckled yarns are everywhere right now, and you can combine them with other colors to create fun color combinations. Try to find a yarn that matches one of the speckle colors to really pull that color into the spotlight, or just go for yarns that complement the speckled yarn.
6. Contrast colors.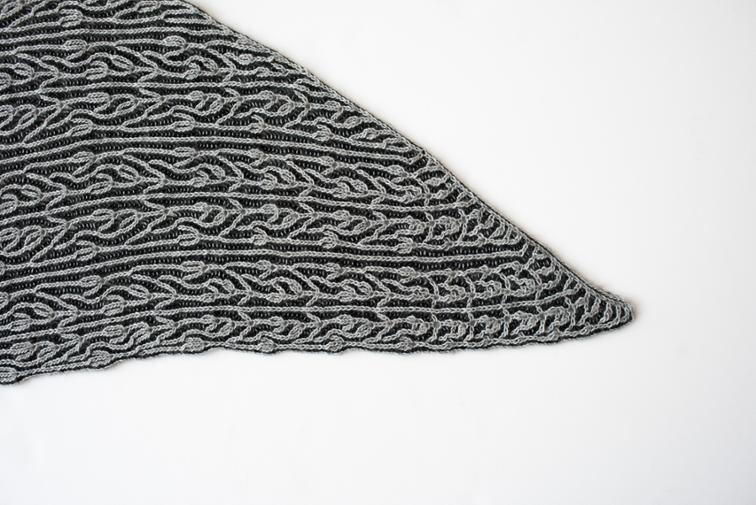 Modern Brioche Lace Shawl by Lesley Anne Robinson in Modern Brioche Lace class
I love a nice gray paired with a neon or a dark color paired with a lighter color. Your colors don't all need to be similar. Sometimes contrast can make a really amazing, unexpected palette.
7. Stay in the same color family.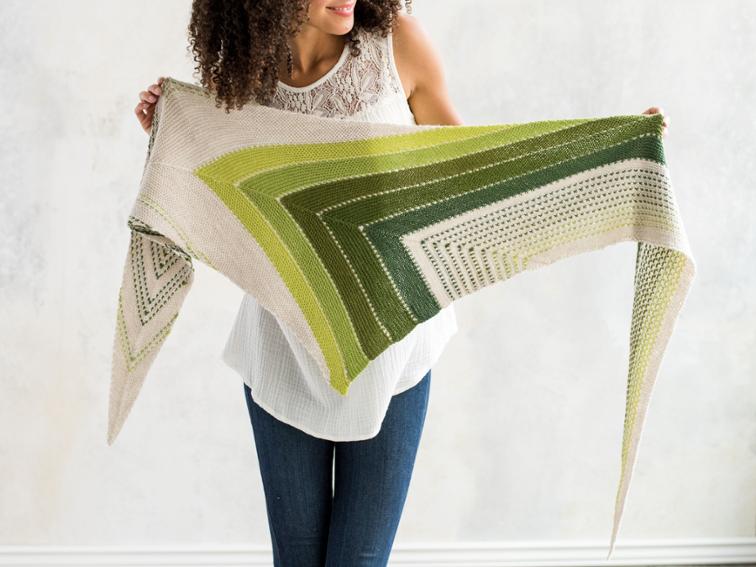 Serenity Now Shawl Knitting Kit
Gather all your blue yarns (or green yarns or red yarns) and take a look at them. Even though they're all totally different colors, don't they look nice together?
The same can apply to any color family. If you're not sure how to create a palette, this is a great starting place. When you feel more confident, you can move on to more daring combinations if you'd like.
8. Use neutrals to your advantage.
Neutrals work well paired with practically any color. They're also great for breaking up colors that you're not certain will look great side by side.
9. Knit with colors you love.
At the end of the day, it doesn't matter what colors look great together or what colors are trending. What matters is what you love and what makes you swoon with delight. Use colors you love in your project, and you'll never go wrong!
Do you have any tips for choosing colors that go together well? What colors do you gravitate toward in your knitting?