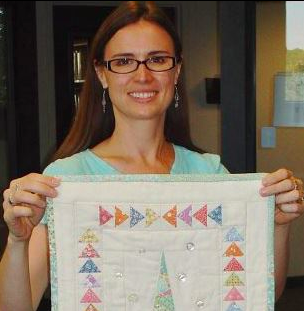 [one_half_last]Meet Bluprint pattern designer Jennifer of Sewhooked. With more than 50 patterns available in her Bluprint store it's clear that Jennifer is absolutely captivated by paper piecing as a medium. She has been designing patterns since 2004, teaches sewing locally, and has been featured on Quilting Gallery and CRAFT, among others. Learn more about Jennifer's start, her favorite designs, and her success with running a Bluprint pattern shop.[/one_half_last]

How did you get started with paper piecing? Not long after I started quilting, I discovered paper piecing. Quilting hadn't really clicked for me yet, but paper piecing really lit a fire for me. I've been drawing all my life and studied art in college, so when I realized images I drew could be created in fabric, I was hooked! At the time, I had been searching for Harry Potter fabric or patterns and was failing to find them, so I started creating my own designs. These patterns eventually became not only my first Harry Potter quilt, but the basis for an online Harry Potter quilting community. Beyond that they led to a free quilt pattern archive featuring work by many talented designers for the website Fandom In Stitches.

What were some of your first designs? Sometime in 2004, I was asked to create a thank you gift on behalf of the non-profit group I volunteer for, The Linus Connection. The idea I had incorporated the group logo, which I decided to paper piece. I sketched it out and The Linus Connection Heart became my very first pattern! Once I'd created that first design, the door really opened for me. Most of what I doodled eventually became a paper pieced pattern and many designs followed. Many were inspired by Harry Potter and other books I loved, but lots of others were created from doodles and images around me every day. Not long after The Linus Connection Heart, I created a special piece for my mother-in-law inspired by a stained glass piece she had made for me. This pattern, My Kitchen Window, became one of my first for-sale patterns. Wingless Wyrm and Tree Trimming are two other patterns I created early on that have continued to be some of my favorites.

What brought you to Bluprint's pattern platform? In 2011, after I'd been designing patterns for seven or eight years, I borrowed the name Sewhooked from my blog and created my pattern company. Initially, I offered small runs of printed patterns through a local quilt store for classes I teach, as well as sold pdf versions of the same patterns through my blog using a third party service. I saw a small amount of success with the online service, but as it wasn't really geared towards quilters or crafters and I had a hard time marketing my work. At the end of 2011, a friend recommended Bluprint as being the perfect match for my shop, so I decided to give it a try!

Have you seen success with Bluprint? My sales immediately increased when I made my patterns available through the Bluprint platform and I am continually recommending it to pattern designers, quilters and crafters. Whether free or for sale, I love being able to update a pattern and know that anyone that has downloaded it will get that update. Bluprint has exposed my work to a new audience and made my patterns more accessible than I ever hoped they could be!

What advice do you have for other pattern sellers? Be open and available for your customers, but most importantly, create what you love. If you're passionate about what you're doing, it will show! One of my rules of thumb is to keep my patterns inexpensive, which I believe makes them more accessible which I do by keeping them simple. I also try to make them more printer friendly by creating black and white patterns and using light colors, which require less ink.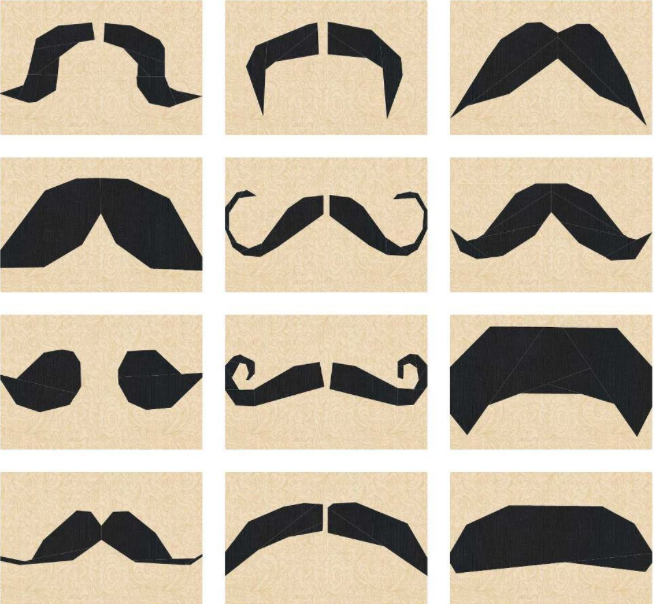 [one_half_last]

We love your Mustachio! pattern; what inspired you to create it? Every year, my local sewing friends and I go away for a weekend in March for a quilt retreat/sewing weekend. We tend to bring fun things to share, the sillier, the better! One year, I brought stick-on mustaches. We had an absolutely hysterical time with those mustaches! We wore them, we stuck them on our sewing machines and drinking glasses. By the time the weekend was over, Mustachio! was already percolating in my mind.[/one_half_last]

Can u tell us a little bit about the history of the beautiful Night's Reverie wall hanging? Night's Reverie was created for a stenciling class I taught for a local quilt store. The idea behind it was to incorporate simple quilting with stenciling. I included both text and imagery to give my students experience cutting different kind of stencils from freezer paper. It was a fun class, and a new experience for my students to incorporate paint on their quilts!

Be sure to check out all the beautiful paper piece patterns available in Jennifer's store Sewhooked. Then meet paper piecing instructor Carol Doak and come back to the Bluprint blog tomorrow for a great paper piecing tip with her!