When making a quilt, "fluff-factor" matters. A wall hanging should have minimal fluff, while a snuggly baby quilt should have lots of fluff to comfort the little one. With so many choices on the market, (over 300 types!) deciding on the perfect batting for your quilt can be difficult.
Here we'll demystify your options.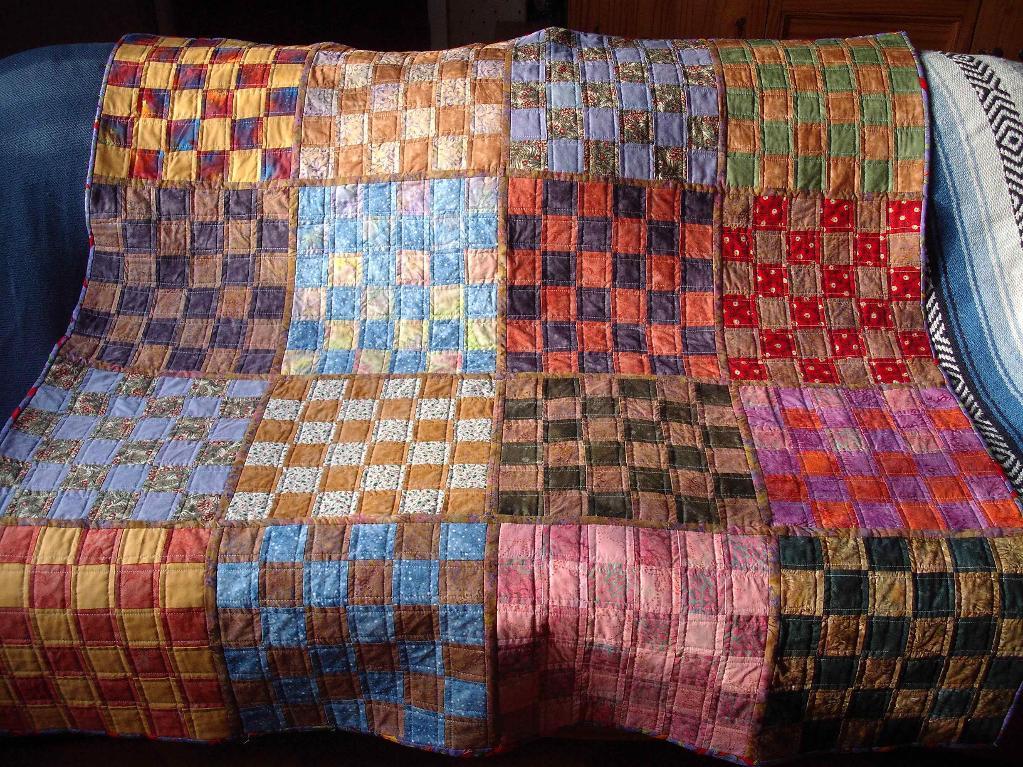 Squares in a Square quilt by Bluprint member Teresa50 in the online class Quilting Big Projects on a Small Machine
When choosing batting try to consider three points in regard to the fluff-factor:
1. What kind of loft do you want—puffy, flat, medium?
2. If you will be using the quilt as a throw or bed quilt how warm do you want it to be?
3. How will you be finishing the quilt—machine or hand quilting or tying?
Choose your loft
The loft of your finished project is a very important thing to consider, as it dictates first and foremost the type of batting you should choose. If you want a very puffy quilt, choose batting with extra loft. However, extra loft batting can be very difficult to hand quilt (unless it is 100% polyester batting), so you will have to machine quilt or tie your project.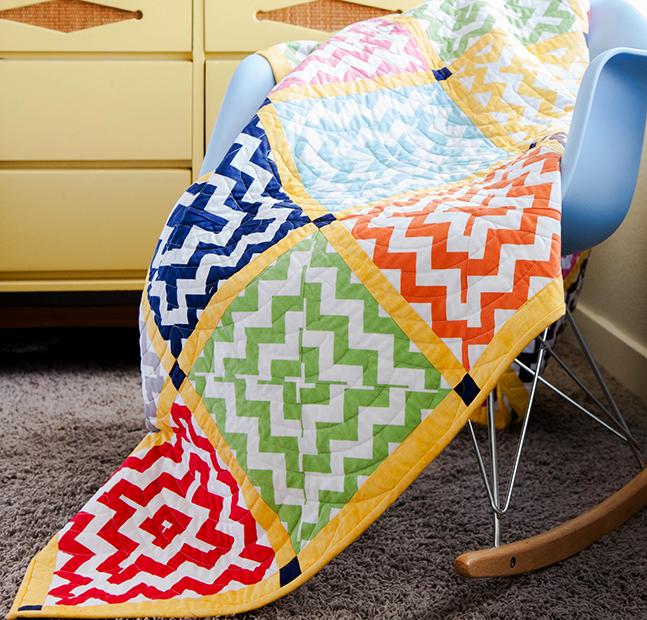 Chevron Squares Quilt Kit via Bluprint Kit Shop
Select your fibers
Once you've decided on the loft you prefer you then have to make the choice between cotton, wool, or polyester batting, or a combination of fibers such as Hobbs 80/20 (80% cotton, 20% polyester). 100% polyester batting produces a very high loft, and it doesn't have to be quilted very close together. This makes a great choice for a baby quilt that will go through the washing machine many times.
Consider how it needs to be quilted
Cotton batting is a wonderful choice for the flatter, more traditional look. However, quilts with cotton batting need to be quilted or secured more closely (about every 4-6 inches). Among cotton battings there are various thicknesses to choose from.
If you choose cotton batting note whether or not your batting has any scrim covering. Those without covering need to be quilted every 1-2 inches. Think of cotton batting like a facial tissue that's been caught in the washing machine—when you wash the batting it shreds just like that tissue. When you quilt your project every 2 inches you create little pockets for the "shredded" batting to migrate to.
Our recommendation:
100% wool batting is a favorite for most quilts. Being a natural fiber wool seems to do everything just right — it gives your project great loft, it can easily be hand or machine quilted, and it provides maximum warmth without a lot of weight. It holds up well over time, and is hand or machine washable. The only drawback to 100% wool batting is its price, but the advantages are well worth the extra cost.
Remember, the quilt you are making is a piece to be used, loved, and enjoyed. Use a batting that will give you the best finished result, and your quilt will last a lifetime!
[box type="shadow"]
Now that you're a batting master, get ready to choose your next perfect project! Check out the Bluprint collection of quilting kits, with pattern and fabric all included, for a stunning finished quilt you'll love for years to come.
Browse quilt kits here!
[/box]
What's your preferred batting of choice?