It's here! Summer, a.k.a. picnics, barbecues, lazy dinners outside (in between water gun fights), and infinite inspiration with one simple stroll through the farmers' market. Seasonal summer foods are made for lazy cooks. While I generally love cooking, it's in this season when I'd often rather be outside enjoying the sun then standing at the hot stove creating elaborate meals.
No, this is the season for tomato toast with basil aioli, grilled corn covered in salty cotija and lime and cherries served over ice. When the food is this good, it's more about assembling than cooking.
We're here to welcome summer by mentioning a few of the edibles we have to enjoy along with the sunshine. Most are very familiar items, but I hope there will be some new ideas here that will spark creativity in your own seasonal cooking.
Here's your seasonal guide to delicious summer cooking!
Tomatoes: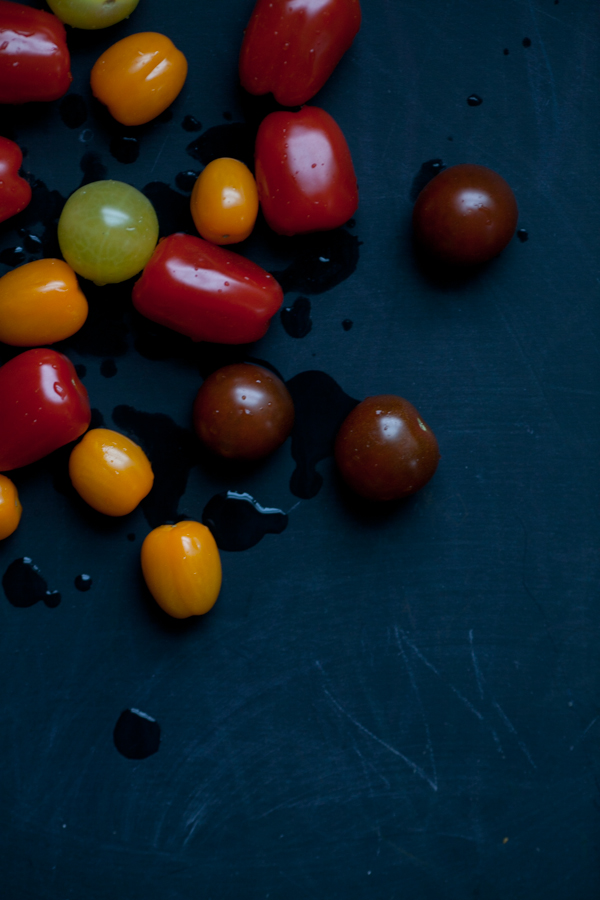 In the northwest, tomatoes really are only worth eating in the summer, unless you roast them to coax out more sweetness. Come late August – September, we prove that our dirt grows some pretty great tomatoes. I buy them in all shapes and sizes and do as little to them as I possibly can because, really, they're pretty near perfect as is.
Tomato toast
You can do tomato toast a number of ways. Grilled bread rubbed with fresh garlic and then a thick slice of tomato, salt, and a touch of olive oil is good. Or, you can do as they do in Spain, which is to rub the crusty toast with the tomato itself. I've grated the tomato on a box grater and topped that on toast. Or, slather the bread with ricotta and then the tomato.
A kicked up BLT
Add minced basil and a bit of raw garlic to some mayonnaise. Spread this onto two pieces of toasted bread. Top with lettuce, tomato, crisp bacon and avocado if you'd like.
Summer's tomato sauce
Blend some tomatoes with garlic, dried or fresh oregano and a bit of olive oil. Toss with cooked pasta. You could also heat this up for fresh tomato soup or served chilled as gazpacho. Top with avocado and cilantro for even more freshness.
Corn: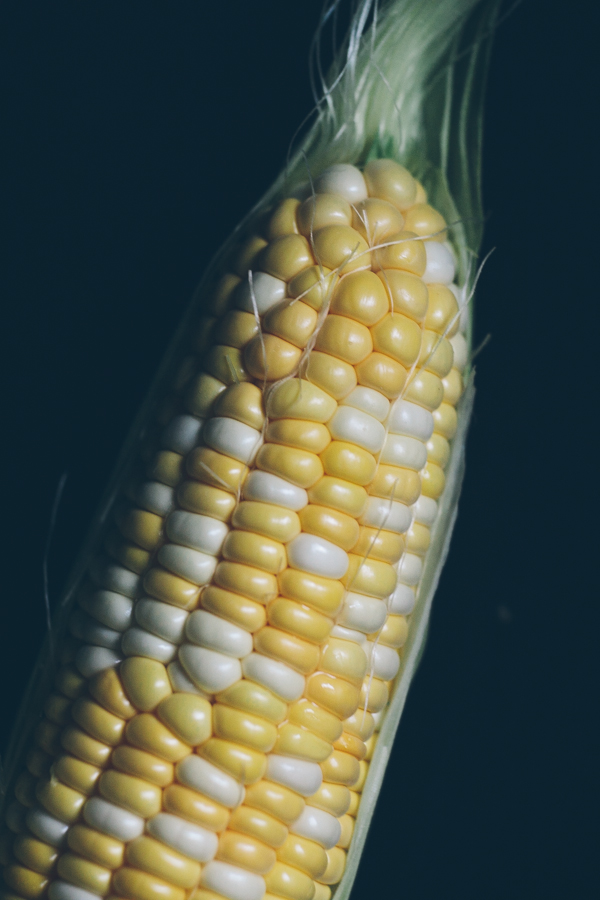 "Knee-high by the fourth of July" is the mantra I grew up hearing. If the hardy stalks of corn don't rise to your knee by the time the fireworks go off, then we know it's going to be a late-season.
Around here the kernels are so sweet I've been known to eat them right off the cob. But if you're not into that, try these other great ideas.
Mexican corn
Grill whole corn cobs with the husks removed until charred, and the kernels brighten in color. While warm, slather mayonnaise, or a mixture of mayonnaise and sour cream over the cob. Top with crumbled cotija (an aged Mexican cheese) and a squeeze of lime. Some like to sprinkle chile powder over it as well.
Corn salad with feta and herbs
Remove the kernels off of cooled, cooked cobs. Toss with olive oil, lemon, crumbled feta and a couple handfuls of fresh herbs such as basil, chives, mint and parsley.
Cherries: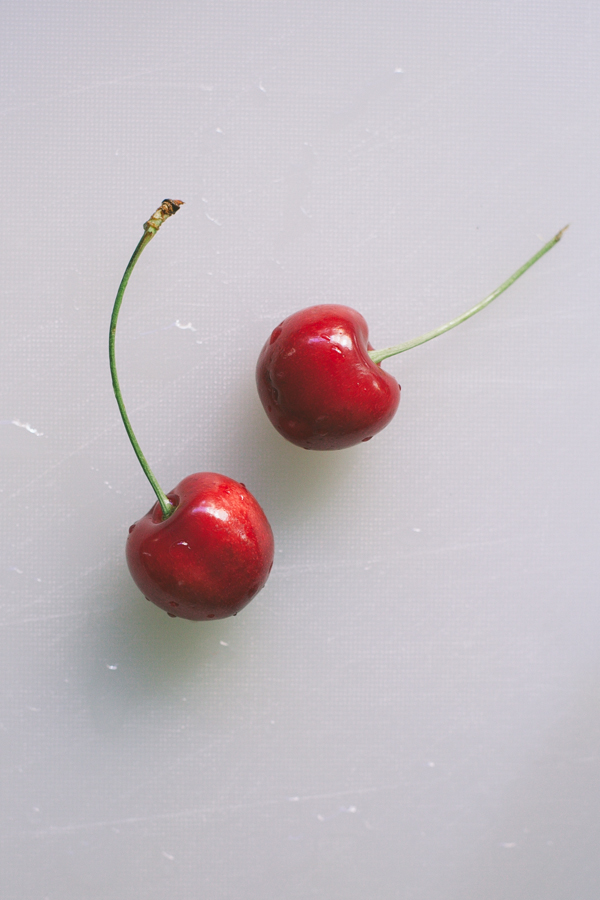 Really there's nothing better than a snacking on a bowl of cherries served over ice. Plus, ice it's the best way to cool down — or at least have fun trying.
White chocolate dipped cherries
That pretty much sums it up. Melt white chocolate over a double boiler with a touch of canola, or other flavorless oil). Dip the cherries into the chocolate then place in the refrigerator to set up. Serve these for a simple summer dessert.
Cherry soda
Combine halved and pitted cherries with a bit of sugar and water. Bring to a boil then turn off the heat and let cool. Add a bit of this cherry syrup to glass and top with club soda and a squeeze of lime juice. Add a splash of cream for a cherry cream soda. Or a scoop of vanilla ice cream for a float.
Roasted cherry jam
In the same way we made the strawberry jam you can roast cherries, sugar and a bit of lemon into a sweet, soft jam without standing at the stove and stirring a pot.
If your interested in the perfecting the craft of making prize-winning jam, you can master creating these sweet spreads in the Bluprint class Jam & Marmalade: The Blue Chair Way.
Peppers: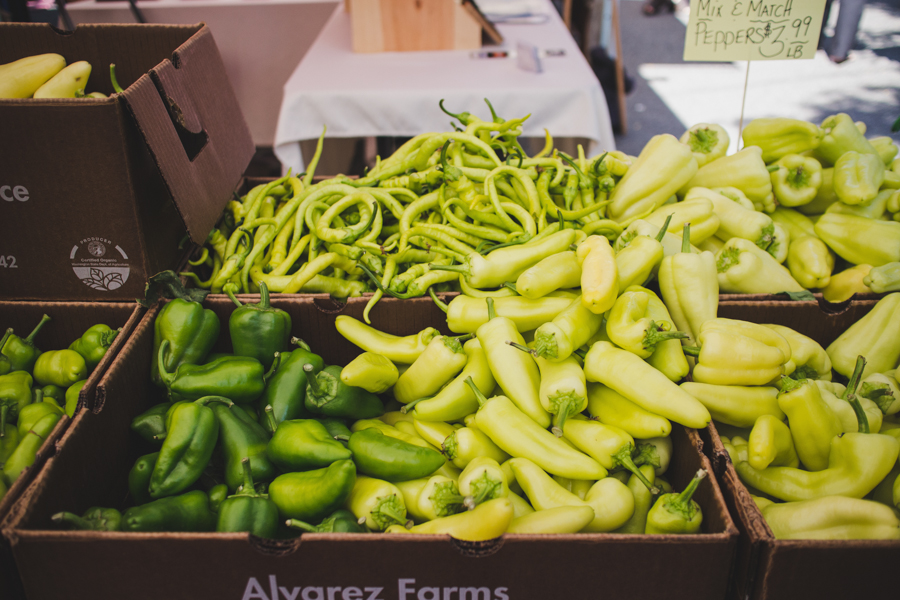 Peppers come late in the summer in a variety of shapes, sizes, and spice levels. Their season is short, so while it's here, I like to roast as many as I can to have throughout the year. Well this is always my intention, but what usually ends up happening is they never make it past dinner.
I'll use those roasted peppers in sauces, soups and served simply as part of an antipasto platter, which is often made a meal in these hot months.
Pickled peppers
Add sliced peppers in varying shades of spiciness (depending on what you can handle) to a brine made up of apple cider vinegar, sugar, salt, water and spices like garlic and oregano. Cook the peppers in the brine until they are soft and plump. Cool completely then refrigerate or can. Use these on grilled sausages, in pasta salads, on sandwiches or as the base for a vinaigrette.
What's your go-to summer meal when it's too hot to cook?