I knit and sew, but never had I ever thought about combining the two until recently. I was working on a knitted dress with tiny little needles, and after finishing the front I just couldn't bare to think about doing it all over again for the back. My friend's suggestion? Make a pattern using knit fabric, then sew the two pieces together to make a mod-looking dress.
Having never used my sewing machine to sew hand knits, I learned a lot from the experience. Fabric can get sucked into the abyss, hand knits can stretch — any number of things can happen. Check out a few tips for using your sewing machine to sew hand knits to avoid any mishaps.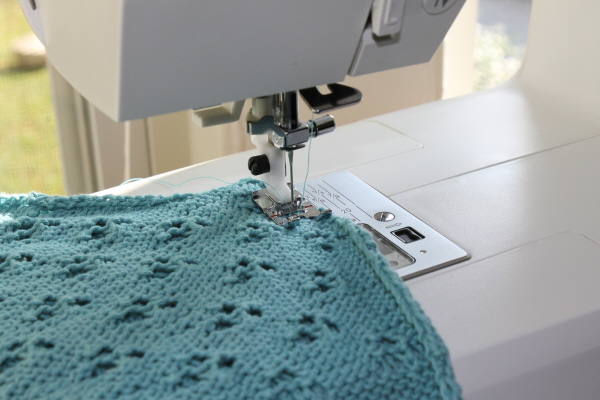 Why use a sewing machine on hand knits?
Sewing machines make seaming knits faster and easier. Think about that time you hand-sewed a fabric lining to that gorgeous clutch. How long did it take? A sewing machine can probably cut that time in half!
Sewing machines can also help out in situations where you need a strong seam. One great example of that is installing zippers. If you're preparing to install a zipper and don't know where to start, check out The Essential Guide to Finishing Handknits, one of Craftsy's latest classes with Anne Hanson. Anne will guide you through installing a zipper, whether you choose to hand sew or use your sewing machine.
Ever tried steeking a sweater? Sewing machines can help with that, too. Why secure that seam with hand stitches when you can give it a quick push through the sewing machine?
Tips for using a sewing machine to seam
Keep seam allowances narrow
If you've ever sewn, you'll know that seam allowance is the space between the edge and the seam. When knitting is involved, you want to keep this space as narrow as possible to avoid bulk in the seam. It's especially important to keep those seam allowances narrow when you're working with garments. A too-wide allowance might alter the fit of the garment.
Baste
If your knitting is super stretchy, you might want to consider first basting the edge with a long stitch to hold everything in place. Then when you sew your seam for real, you'll have those stitches to keep it secure.
Know your yarn.
Avoid sewing delicate knits with a machine. Lace and other fine yarns can easily get swallowed by your sewing machine — a risk none of us want to take!
Practice on swatches.
You knew those swatches were good for something other than getting gauge, didn't you? Save those swatches you knit at the beginning of the project and use them to practice sewing. If there are any problems with the seam, you'll find out about it on a test swatch instead of the real project.
Embrace that zig zag stitch.
All you seamstresses out there already know that the zig zag stitch on  your machine is a knitted fabric's best friend. Hand-knits are no different. Use that zig zag stitch to keep the stretch where it belongs.
Try a walking foot.
Sewers use a walking foot to keep fabric feeding through the machine evenly. This walking foot can come in handy with knits, too. If you're having issues feeding your hand-knits through the machine, try using a walking foot.
Don't forget to enroll in The Essential Guide to Finishing Handknits with Anne Hanson. Anne will show you how to use a sewing machine to install a zipper, plus show you dozens of other tricks and tips for making the dreaded task of finishing a little less painful.
Sign up here! >>
Have you ever used a sewing machine to seam your hand knits? Would you recommend the technique to other knitters?