The most common brand of sewing machine needles in the world is Schmetz. It's the brand that most of us use, and personally, it is the only brand I ever use. They are consistent, reliable and easy to get no matter where you are.
You'll never mix up your Schmetz needles again with this handy guide at your side!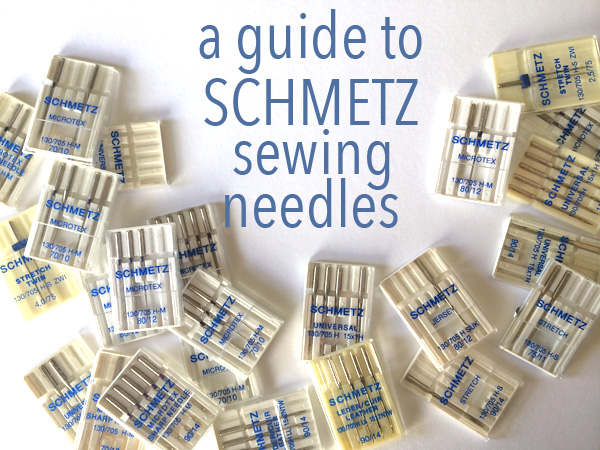 Though many of us use these everyday, many people do not know that each and every needle is color coded with both the type of the needle as well as the size of the needle. It can be so easy to get your needles mixed up when you go from project to project, but never fear! There is a simple process to learning which bands on the needle represent which piece of information, so you will never get your 90/14 stretch needle confused for your 70/10 microtex sharps needle again!
Below is all the information you need to keep things straight, but the most convenient place for this information is in your studio, so I've also created a handy chart for you to download and print to hang up next to your sewing machine for your reference.
Click here to get your own copy!
Determining the band
Each needle is color coded with two bands. The top band represents the type of needle. See below for that information. The lower band represents the size of the needle. To determine the size of your needles, check out the lower band on your needle and compare it to the list below:
Size 60/8: Light green
Size 65/9: White
Size 70/10: Green
Size 75/11: Pink
Size 80/12: Orange
Size 90/14: Blue
Size 100/16: Purple
Size 110/18: Yellow
Size 120/19: Brown
Size 125/20: Black
Size 130/21: Red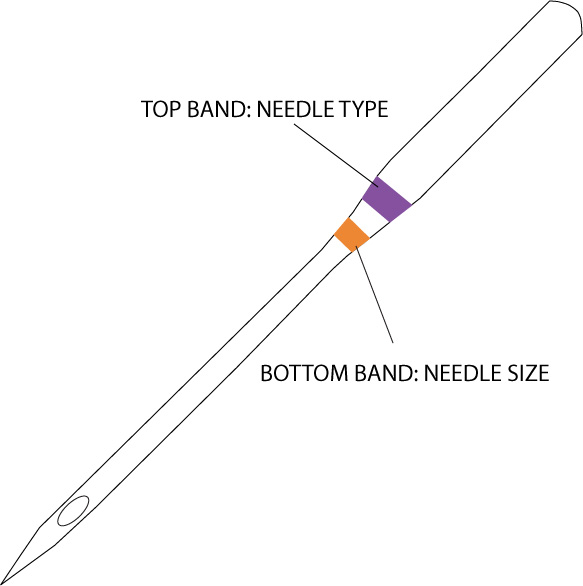 To determine the type of needle you have on hand, reference this list:
Needle Type: Universal Needle
Fabric Type: All-purpose for wovens & knits
Color Band: No color band
Sizes Available: 60/8, 65/9, 70/10, 75/11, 80/12, 90/14, 100/16, 110/18, 120/19
Needle Type: Microtex Sharps
Fabric Type: Woven fibers
Color Band: Purple
Sizes Available: 60/8, 70/10, 80/12, 90/14, 100/16, 110/18
Needle Type: Ballpoint
Fabric Type: Knits fabrics
Color Band: Orange
Sizes Available: 70/10, 80/12, 90/14, 100/16
Needle Type: Stretch
Fabric Type: Elastic fabrics
Color Band: Yellow
Sizes Available: 65/9, 75/11, 90/14
Needle Type: Jeans
Fabric Type: Denim
Color Band: Blue
Sizes Available: 70/10, 80/12, 90/14, 100/16, 110/18
Needle Type: Topstitching
Fabric Type: Exposed stitching
Color Band: Light green
Sizes Available: 80/12, 90/14, 100/16
Needle Type: Quilting
Fabric Type: Layers of a quilt
Color Band: Green
Sizes Available: 75/11, 90/14
Needle Type: Embroidery
Fabric Type: Embroidery thread
Color Band: Red
Sizes Available: 75/11, 90/14
Needle Type: Metallic
Fabric Type: Metallic thread
Color Band: Pink
Sizes Available: 80/12, 90/14
Needle Type: Leather
Fabric Type: Leather and vinyl
Color Band: Brown
Sizes Available: 70/10, 80/12, 90/14, 100/16, 110/18
Free Online Sewing Machine Class
Make your sewing, quilting & embroidery faster & more fun, when you get the most out of your machine!Enroll FREE Now »