I just love wearing scarves… light one in the fall and cozy ones in the winter. Today I'm sharing cozy scarf patterns to sew that will keep you warm no matter what the weather!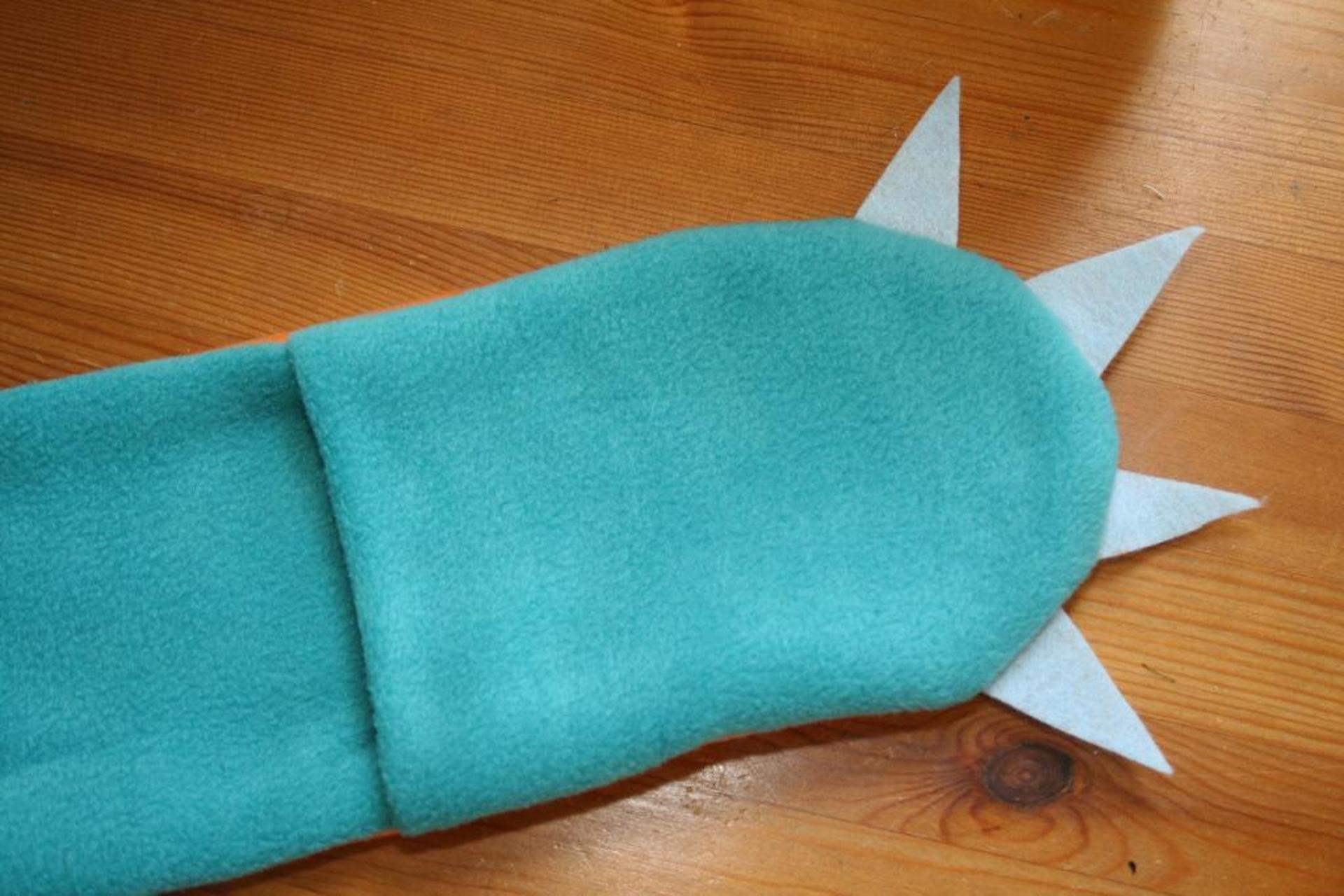 Photo via Bluprint member Tangible Pursuits
1. Claw Mitt Scarf
I love this fleece scarf with  animal mitts on the end! These are also mittens for your little one.
Get the FREE Pattern
2. Pride and Prejudice Scarf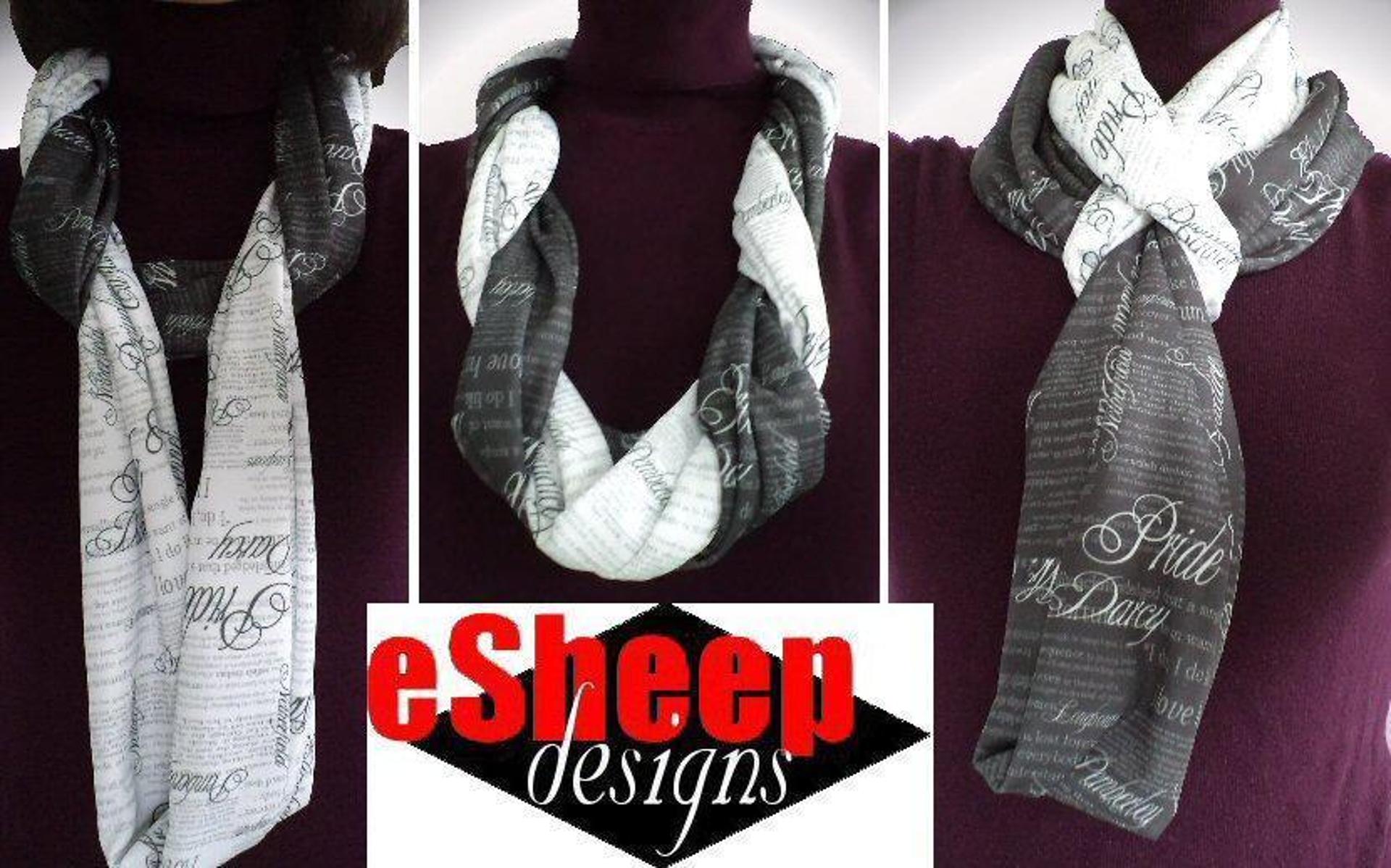 Here's a scarf with several ways to wear it. Which one is your favorite option? The Pride and Prejudice Mobinity Scarf is so versatile and wearable. 
Photo via Bluprint member WNSew's
3. Tassel Scarf
This tassel scarf looks like a fun one to make and wear. Plus, it's a great way to show off a statement print that you can't bear to cut up.
Photo via Crafted Passion
4. Bandana Scarf
Try this Bandana Scarf  by A Crafted Passion. Keep your tiny one warm and drool free.
Photo via Fleece Fun
5. Chevron Scarf
This chevron scarf from Fleece Fun looks so cozy! It's easy to make by sewing two colors of fleece together. 
Photo via Bluprint member Life Sew Savory
6. Braided Infinity Scarf
This infinity scarf looks perfect for those cool fall days — and it's easy to sew as well. It's made with braided fabric and just a bit of sewing. A fun and easy project for cool days.
Photo via The Thinking Closet
7. Camera Strap Scarf
Why didn't I think of this? I always have two things around my neck — a camera AND a scarf. I need this scarf/camera strap combo!
Photo via Polk a Dot Chair
8. Infinity Travel Scarf
How cute and light is this scarf? I love infinity scarves because you can make them with so many different fabrics. This one looks so great for layering while traveling.
class="buttonLook blue">Get the FREE Pattern
Photo via Rae Gun Ramblings
9. Ten-Minute Infinity Scarf
Here's another quick and easy infinity scarf tutorial. Make a scarf in just ten minutes with this couldn't-be-easier pattern.
Photo via Scattered Thoughts of a Crafty Mom
10. Reversible Infinity Scarf
This infinity scarf is reversible. Try it with two fun fabrics for fall. This Reversible Infinity Scarf by Scattered Thoughts of a Crafty Mom looks like a fun sewing project to try. 
Photo via Cherished Bliss
11. Fleece Scarf with Secret Pockets
My boys would love the secret pockets on this scarf to hold all their treasures! This one is going on the "to-sew" list for sure.
Photo via Bluprint member Gina Renee Designs
12. Hooded Scarf
I just moved to a cold weather climate for the first time in 15 years. I need to make this hooded scarf to keep me warm this winter. You can make one too with this pattern for a scarf with a gorgeous hood attached.
Photo via Bluprint member Caffeinated Quilter
13. Frosted Hexagon Scarf
I love the cute penguins on this Hexagon Scarf. How fun is a scarf made entirely of hexagons? Use different fabrics to vary the look.
Photo via Bluprint member Gina Renee Designs
14. Fabric and Button Scarf
I love the fabric and button choice, and this scarf looks really stylish as well as warm. This pattern even comes with a fingerless glove pattern to match!
Photo via Bluprint member Amy Barickman
15. Circles Scarf
What fun! A scarf made with circles. Sew them together in a pattern to create this gorgeous scarf. Change up the fabric to vary the weight and look of the scarf.
Photo via Bluprint member Very Shannon
16. Commuter Cowl
This scarf is so unique, and you can make it even more one-of-a-kind with a fun fabric choice. I want to make it in fleece for those cold winter days.
Photo via Bluprint member PURSonal Preference
17. Zipper Pocket Scarf
This cute fleece scarf has a zipper pocket to keep all your important things safe while out skiing or sledding.
What cozy scarf pattern would you add to this list? Do you have a favorite pattern or tutorial to sew when the weather turns?