Flames lap at the food as if it's as eager for it as I am. A packet of spiced stone fruits sit in one corner of the fire, bread toasts in the other while a cast iron skillet sweetens and caramelizes a shallot in its intense heat. This is open fire cooking. It's real food cooked with little more than flames and hot coals.
It's campfire food beyond hot dogs and s'mores and to me, cast-iron campfire cooking is real cooking.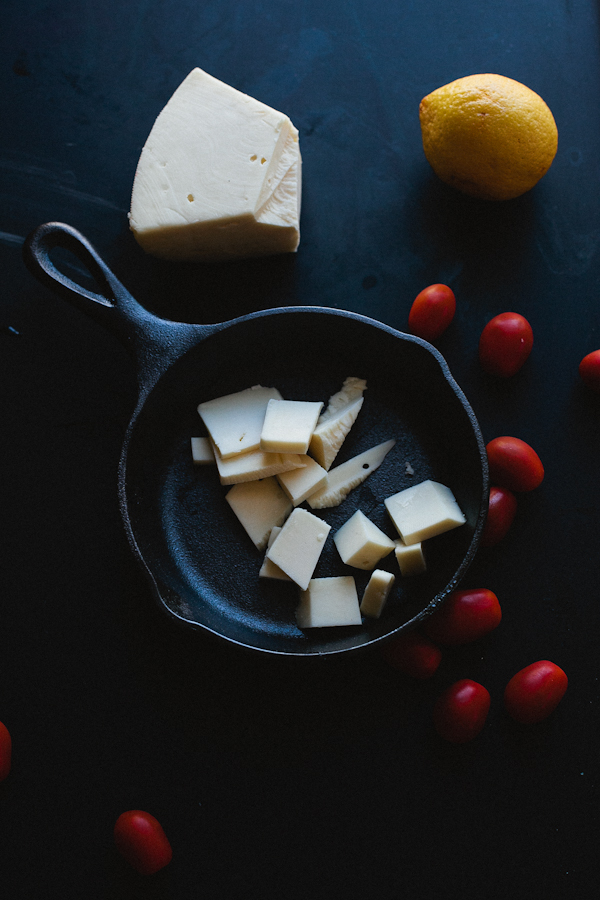 Setting up the fire
When you are cooking over a fire what you are really after are the coals. Their heat is hot, even and more easily controlled.
To get a bed of hot coals you want to get a fire going with a good amount of wood. Let that die down, then carefully spread out the charred wood to create an even cooking surface.
You could also use a chimney starter, as you would for a charcoal grill, in order to get a pile of screaming hot coals.
An ideal cooking fire has a flat layer of hot coals throughout. You can pile the coals evenly to one side if you want to have a hot side and a side for cooking things that need a lower heat – like soups and breads.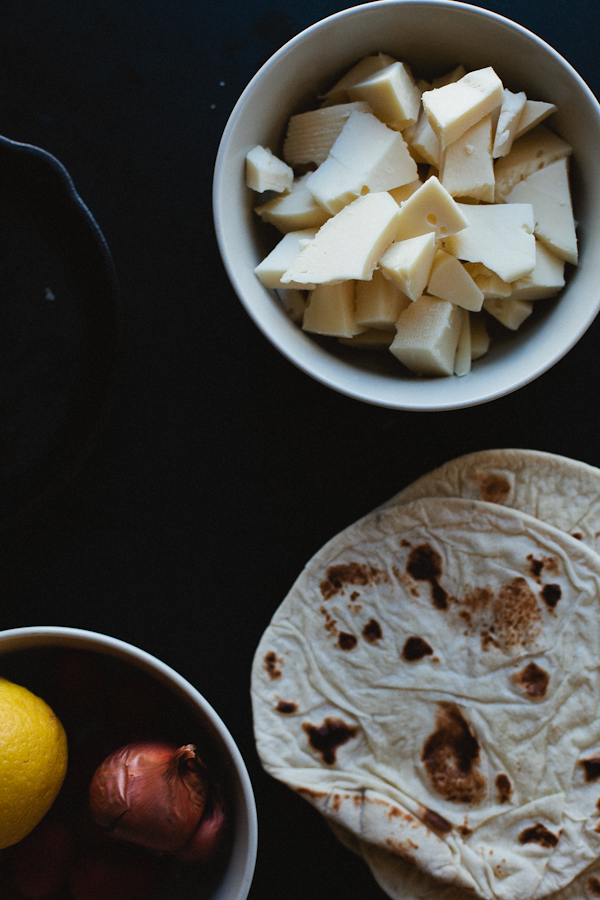 Cooking over the fire
What you'll need:
Tongs: You'll need a sturdy pair of metal tongs. Get a set that is at least 16" long and that can quickly lock and unlock.
Gloves: A pair of heat resistant gloves is a good idea. I don't often use them myself but I feel better telling you all to.
Grill grate: If you want to sear meats, char peppers, toast bread, etc., you'll need a grill grate. This is also useful to place your cast-iron skillets on if you need less intense heat. In a pinch I've used a baking rack before. Set a brick on either side of the fire (or rocks) to rest the grill grate on. You can adjust the grill by adding more rocks or bricks.
Cast iron: I can't say enough about cast iron. It's cheap, dependable, controls heat well and lasts a lifetime if well cared for. I use cast iron in my kitchen all the time – not just for cooking over a fire. I recommend a 12" skillet for just about everything. The Dutch oven is great for baking bread and making soups. My latest cast iron purchase is a 6 1/2" for making fire fondue (recipe below).
Wood, matches, paper: I mean, you probably could guess that you need this already.
A good drink: If you're out by the fire you need something to cool you off. I'm partial to cherry lemonade (perhaps with a splash of gin) but the options are endless. Find ideas for drinks using simple syrups here.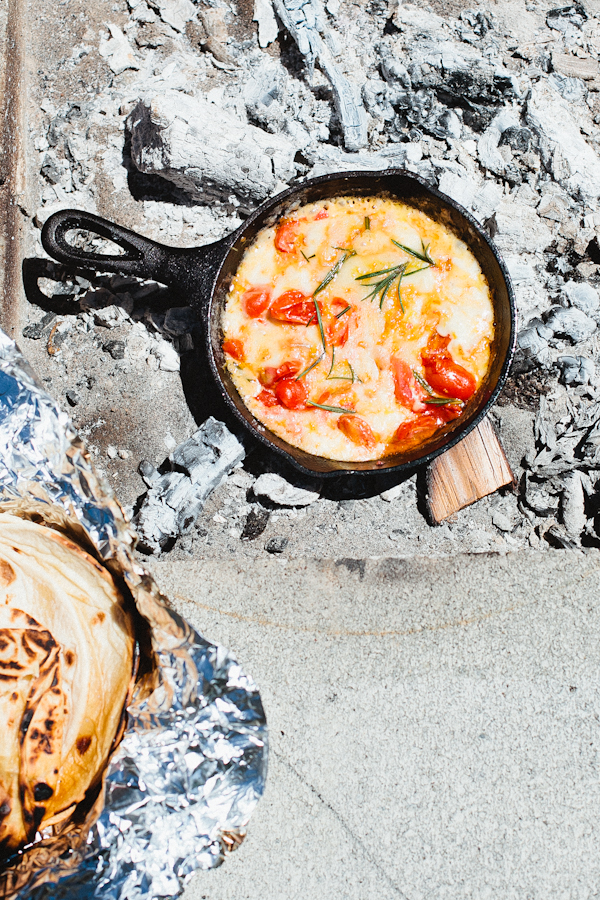 Think beyond s'mores: gourmet campfire cooking ideas
I love thinking unconventionally when it comes to cooking over a fire. I've cooked a leg of lamb, roasted carrots, charred corn, roasted peppers, grilled romaine lettuce and grilled thin strips of zucchini. 
Below are two of my favorite campfire cooking recipes that are absolutely foolproof. 
Roasted stone fruits
1. Simply add halved or quartered stone fruits to three layers of aluminum along with some spices (I sprinkle on some cinnamon, nutmeg and cardamom) and sugar or honey.
2. Fold the packet tightly, then place that in the hot coals until the juices start to run from the packet and you can hear them simmering within.
3. Serve the fruit over vanilla ice cream or if you are camping and in the need for a warm breakfast, serve the fruit over granola.
Cherry tomato and cheese sauté
1. For a fire-roasted appetizer sauté some sliced shallot with olive oil in a cast-iron skillet placed on the coals or on the grill grate.
2. Add halved cherry tomatoes and cook until soft.
3. Toss in about 1 1/2 cups cubed fontina (or any great melting cheese) and cook until just melted.
4. Finish with finely grated lemon zest and fresh rosemary.
5. Serve with warm flat-bread that you tucked into an aluminum packet and warmed in the fire.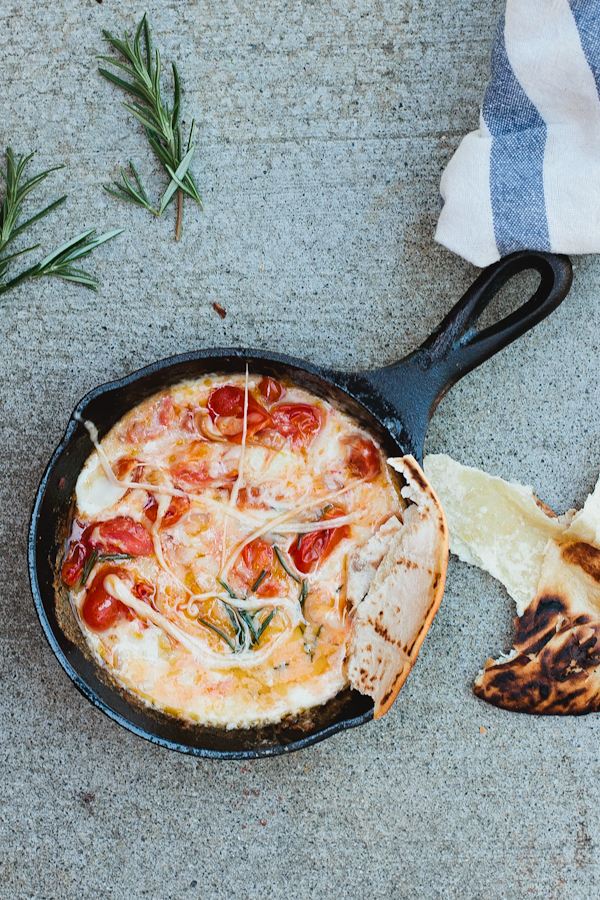 What's your favorite cast-iron campfire recipe?