Self expression in any medium isn't new but the SAORI® hand weaving approach offers fresh perspectives, opening up a world of possibilities for crafters, handweavers and designers. SAORI dares you to discover cloth in ways you didn't think possible! Learn all about this innovative approach that over 40,000 weavers have already discovered today.
What is SAORI weaving?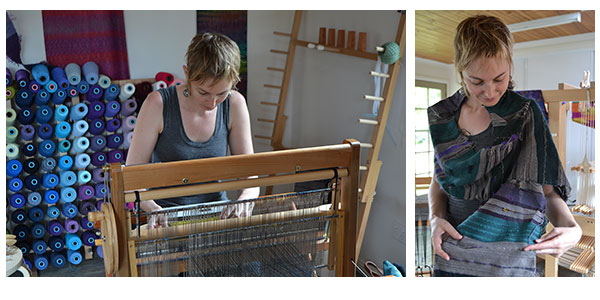 SAORI is used to describe the free-style hand weaving movement that started in Osaka, Japan about 35 years ago. This contemporary hand weaving program, developed by Misao Jo invites everyone to weave freely in their own way using their full creative capacity. I would describe Misao Jo—who is now over 100 years old—as a free-thinking natural innovator, motivator and inspirational teacher. Fortuitously, she has sons following in her footsteps, including Kenzo Jo who is the developer of SAORI looms and accessories. As an energetic inventor he has developed the philosophy of Misao Jo by building practical, improved tools for hand weaving that assist weavers in focusing on weaving cloth without worrying about learning the process first.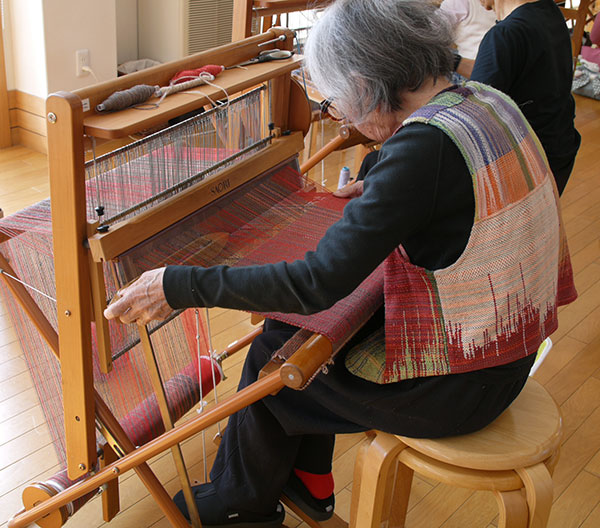 Photo via sampling
What is different about SAORI?
The tools and warps often necessary for hand weaving can impress your friends with their complexity, but can also leave people feeling daunted by what could be involved in doing such a craft. I tend to hear that hand weaving seems "too hard" or "too difficult" to learn. That's the ingenuity of the SAORI method which focuses on weaving and creating cloth as the first step rather than the last.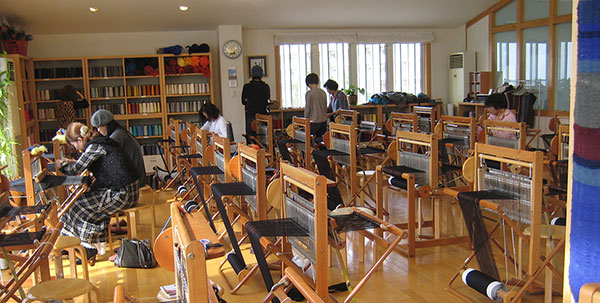 In SAORI studios looms are fully set up ready to be weaved upon. You can weave without learning anything else; just relax and create. Additionally, pre-wound warps on rolls are available so you never have to learn to wind and beam a warp.
How SAORI weaving is taught?
SAORI isn't taught to others in the conventional way, rather this method allows you to discover things yourself in a supportive environment, once the basic weaving process has been learned. As a result, this approach doesn't have the immediate rigor associated with conventional weaving.
Learning with others
One of the most attractive features of SAORI is its ability to offer a socially sustainable practice. SAORI invites people of all abilities, from newbies to experts alike, to be creative in their own unique way and provides encouragement for this to happen. No matter your need you can customize your loom to work best for you. And, when there are trauma and crisis situations everyone is invited to come together to help out. For example, wristbands were created and sold to aid donations for the survivors of the Japanese tsunami March 2011. There is an inherent respect for others as everyone learns from each other regardless of their level of understanding and application.

SAORI is an invitation to the masses to use hand weaving in a way that validates their own experiences and creative expression. Interestingly, the philosophy gives value to the individual but recognizes the need for a relationship and interaction with the group. This practice offers an egalitarian challenge which provides hope and income opportunities.
SAORI weaving structure
SAORI is generally woven with plain weave structure. With the addition of many simple techniques and the fluid use of yarns the cloth becomes unique to you, as it isn't dependent on a pre-set pattern structure. Every textile is unique, just as we are all different.
You literally "paint" directly on the loom with yarn. A SAORI loom isn't necessary to explore these weaves but a floor loom frees your hands entirely to do their creative work as the weaving process is driven by foot pedals. This approach to weaving can be created on any loom that provides the two sheds for weaving, including a rigid heddle loom.
Photo via Bluprint member marialando
Get started with SAORI weaving
If you're ready to dig into SAORI weaving learn more about it here. Get involved in the discussion around weaving in the SAORI way here, discover Australian SAORI here, find a Saori studio or join the SAORI Facebook group.
[box type="shadow"]
Even if you've never touched a loom, you can get started today! Join expert Angela Tong's class Rigid Heddle Weaving as she guides you through preparation and the entire weaving process. Discover a range of finishing techniques as you whip up pretty plaid tea towels, stunning "stashbuster" scarves and more!
[/box]
What about the SAORI way appeals to you?