I was browsing my local quilt shop the other day and ran across a whole display of funky rotary cutter blades. They made me smile, more for the idea of cutting weird shapes with my trusty rotary cutter than anything else. I mean… What the heck do I do with this?!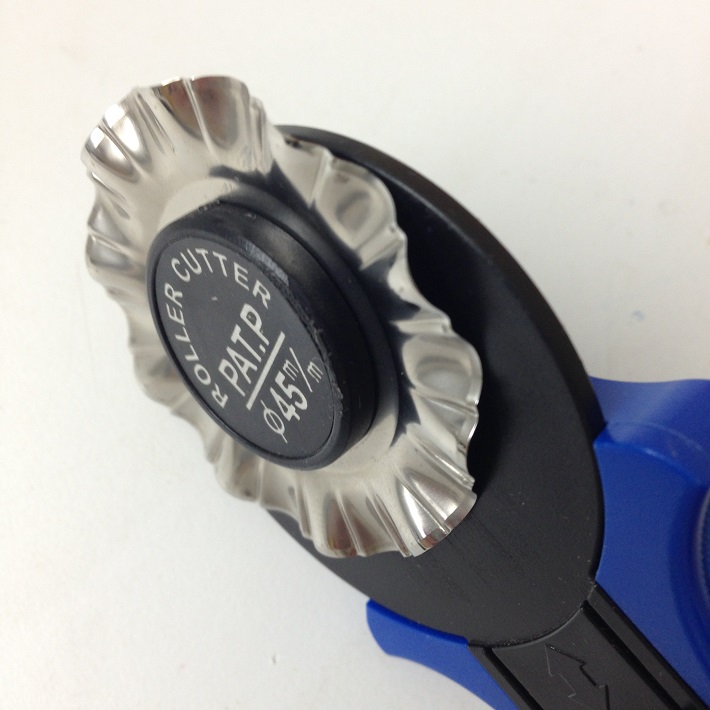 Ever catch yourself asking that question? Me too… Usually as I'm pulling out my credit card to impulsively buy the thing.
Of course this time will be different! This time I'm determined to find some interesting, functional ways to use these weird blades in real projects. I really don't want them to end up in the Drawer-of-Doom — the place where all my impulse-buy gadgets end up when I either can't figure out how to use them, or can't think of a project for them.
Cutting fabric with funky blades
Here's the line up: Below we have from left to right a pinking blade, Victorian blade, and wave blade all ready to pop into my trusty Fiskars 45 mm rotary cutter and get busy!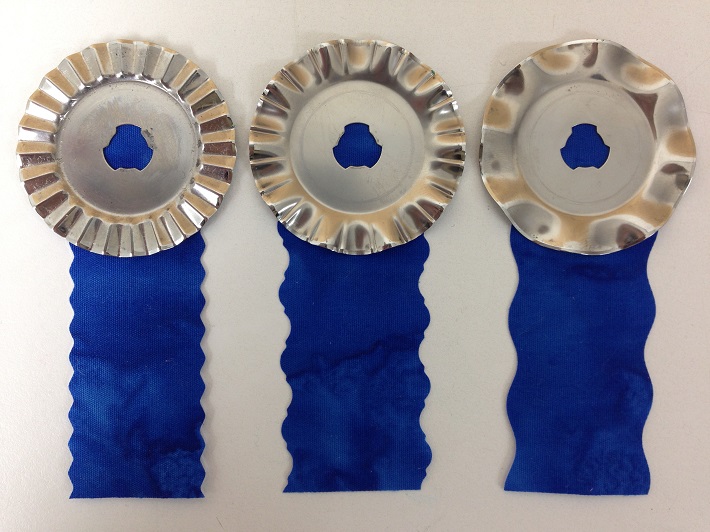 But it's not quite that easy. I learned in Laura Wasolski's class Hand Stitched Collage Quilts that you shouldn't use your normal mat and rulers with wavy edged blades. The pinking blade in particular could easily nick the edges of your ruler, and you will put more pressure on the blade as you cut, which could leave a deeper impression on your cutting mat.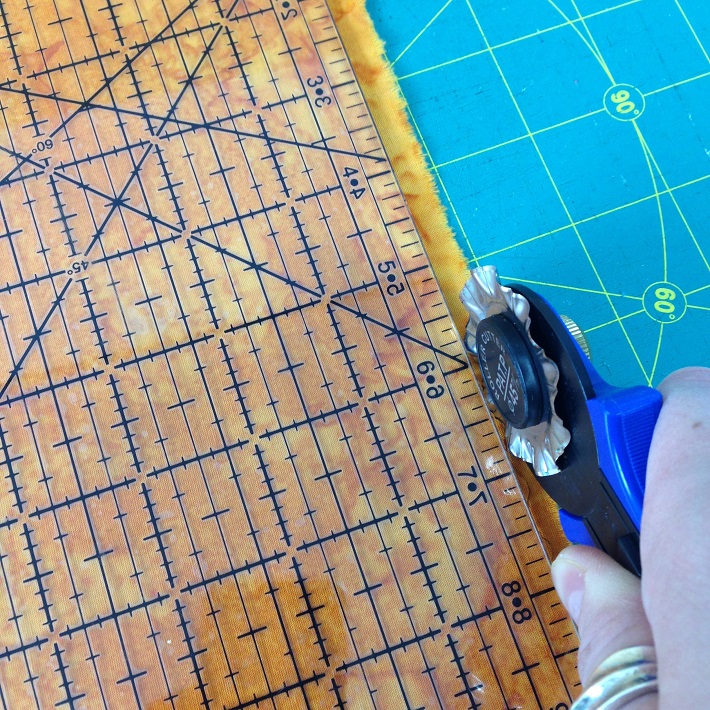 So arm yourself with a spare mat and ruler, or just flip your mat over to the back, and attach the blade so the flat center section rests nicely against the cutter. I'm using a super cheap Fiskar's 45 mm rotary cutter that is compatible with EVERYTHING so all of these blades fit just fine.
Cutting paper with funky rotary blades
I decided to first test the blades on paper and had fun making a stacked card with various edges. For this I cut out a 4 x 6 inch rectangle with the pinking blade, a 3 x 5 inch rectangle with the Victorian blade and a 2 x 4 inch rectangle with the wave blade, then stacked and glued the cards together.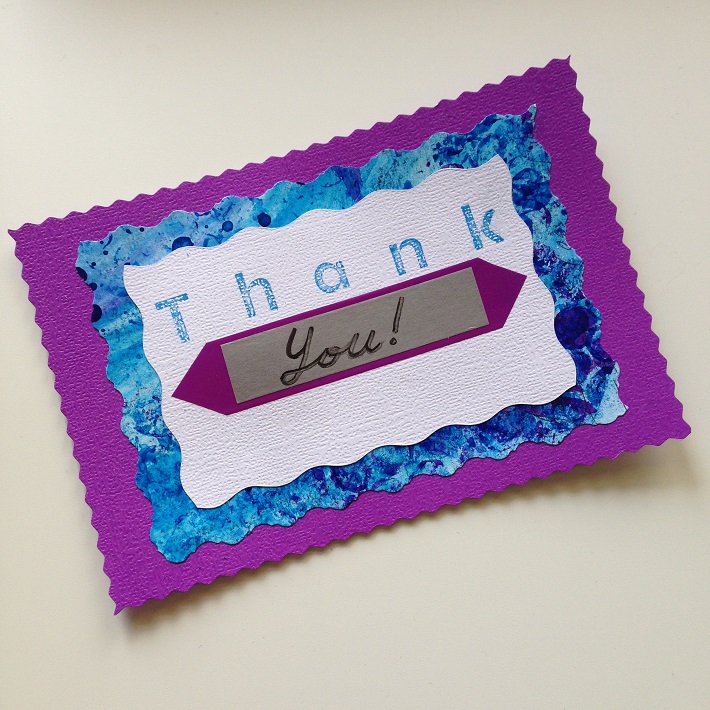 I added a bit of washi tape and stamped "Thank you" on top to make a very nice card. You could easily customize this project a million times with different colors, blade combinations, and cutting sizes.
But what about cutting fabric with these funky blades?
I think these blades have a lot of creative uses in paper crafts, scrapbooking or multimedia art, but how do we use them for quilting? I think Laura Waslowski was definitely onto something using decorative blades with fusing fabric.
Fusible web generally gives fabric a stiffer, more paper-like quality and quilters often leave the edges raw, which would allow the detailed edges created by the blades to really shine.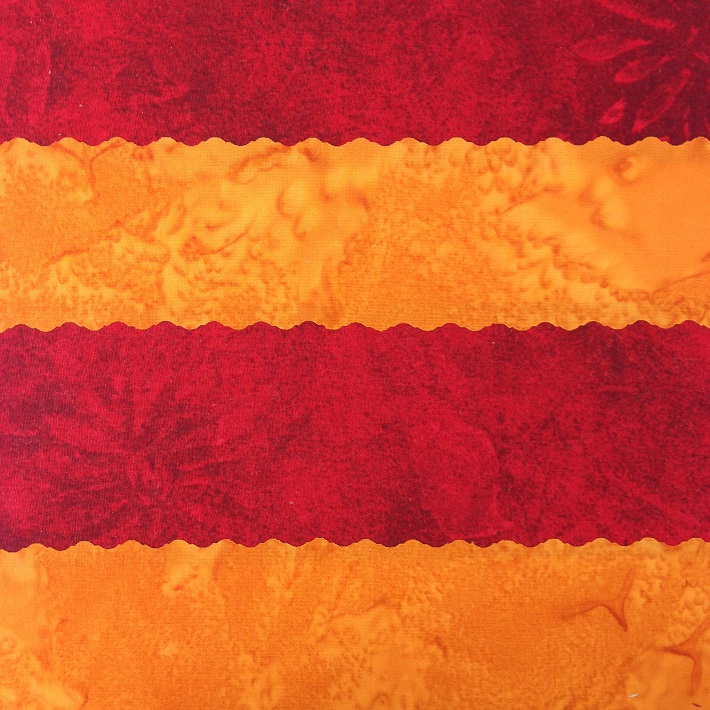 I gave this a try with several scrap fabrics and slashed long strips using the decorative blades, then fused them together over a 10-inch square of fabric. To finish the edges a bit, I stitched 1/8 inch away from the edge.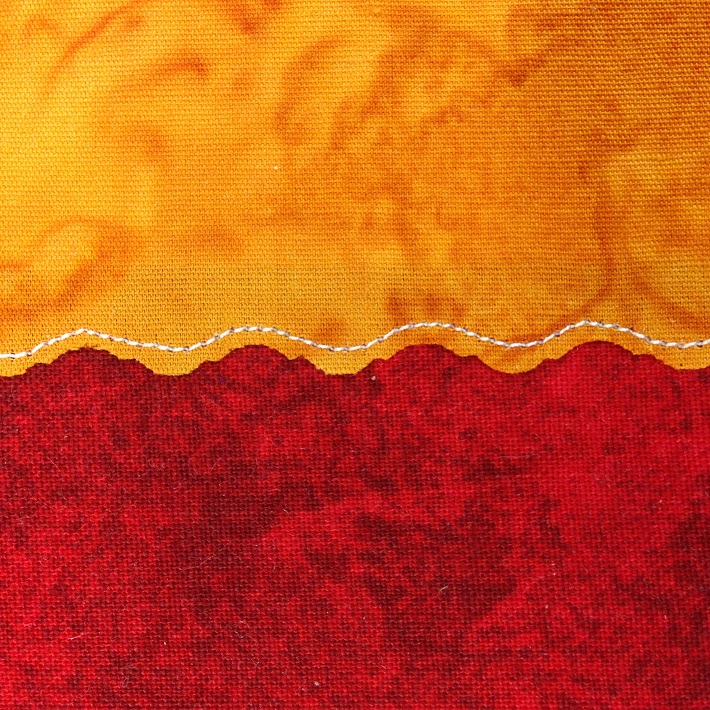 But how long will this detailed edge last? Would it work for a bed quilt?
I threw the block in the washing machine to check and here's the result: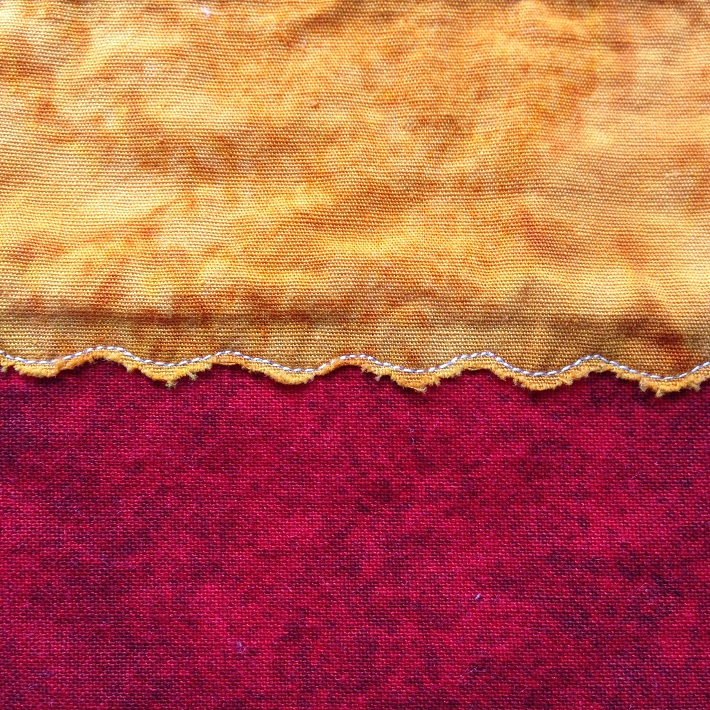 If you have a serious allergy to frayed threads and raw-edge appliqué, clearly is not a technique for you. Personally, I think raw edges can add a fun texture to the surface of quilts, especially those designed for kids.
Ultimately I think these funky, novelty blades are a good buy for decorative/art quilt projects, and certainly well designed for paper craft and multimedia art. Pick up a funky blade today and see what creative projects you can come up with!
Let's go quilt,
Leah Day